With the nights closing in, colder days and the leaves on the trees finally turning shades of red, orange and yellow, our gardens take on a completely different feel. There are some flowers which hold on until the early frosts but most of the interest in the borders is confined to the form and habit of trees and shrubs as well as those evergreen perennials, bamboos and grasses which retain their colour throughout the year.
At this time of year the hard landscaping design in a garden comes into its own. Paving, steps, paths and vertical structures are much more obvious without the abundance of colour from the planting. As we live in a part of the world where our gardens are viewed predominantly from our homes and drives for many months of the year, the design of patio paving and choice of specific paving slabs is crucial to a successful hard landscaping scheme.
Pale sandstone paving with its soft, creamy tones add warmth to a shady spot. In our sawn sandstone paving range there are three products which look fantastic in both a contemporary or traditional setting – beige, harvest and buff sawn sandstone.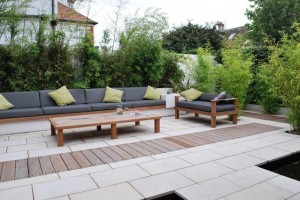 For a formal patio design the paving could be edged with sandstone setts and set off with box hedging. Low walls can be finished off with matching coping stones. For late Autumn interest shrubs such as Mahonia, Viburnum tinus and Abelia are in flower and in winter, the Sarcococca (winter box), Hamamelis (witch hazel) and Lonicera fragrantissima all give a good show. The warm colours of the sandstone slabs, not only look good against winter interest planting but complement perennials and annual with hot coloured flowers and deep wine coloured leaves.
In our Indian sandstone range, the palest colours of mint and fossil mint would also work well with this colour scheme and look inviting even on the dullest days.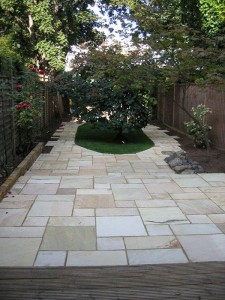 The advantage of riven Indian sandstone paving is its textured surface. In a rural setting or informal design, the designer might choose Raj Green Indian sandstone patio slabs as the grey green colour tinged with yellow, pink and brown tones well with both cool and hot planting schemes.
In shady, north-facing situations the designer and landscaper will be careful to select the best paving colour to suit the low light levels of that particular location. For a sunny west- or south-facing patio the choice is much wider as darker paving, such as some of the granite or slate paving looks stunning in this setting.[picture of granite and slate] In this circumstance, plants with grey, grey-green or purple foliage and flowers from the cool side of the colour spectrum, such as blues, lilacs, silvers and whites, create a sophisticated look. In winter, silver birches with their white bark make a spectacular contrast to dark paving slabs. For the full range of paving products and colours take a look at our website.
So, it's not all 'doom and gloom' in the garden in the run up to Christmas as thoughtfully chosen paving not only extends the usability of outside spaces well into the winter but also adds interest while the plants are dormant.