Little extras. Good or bad? It all depends on what they are. And this year we've turned a little extra that you'd rather not see a surprise that should get you smiling all year.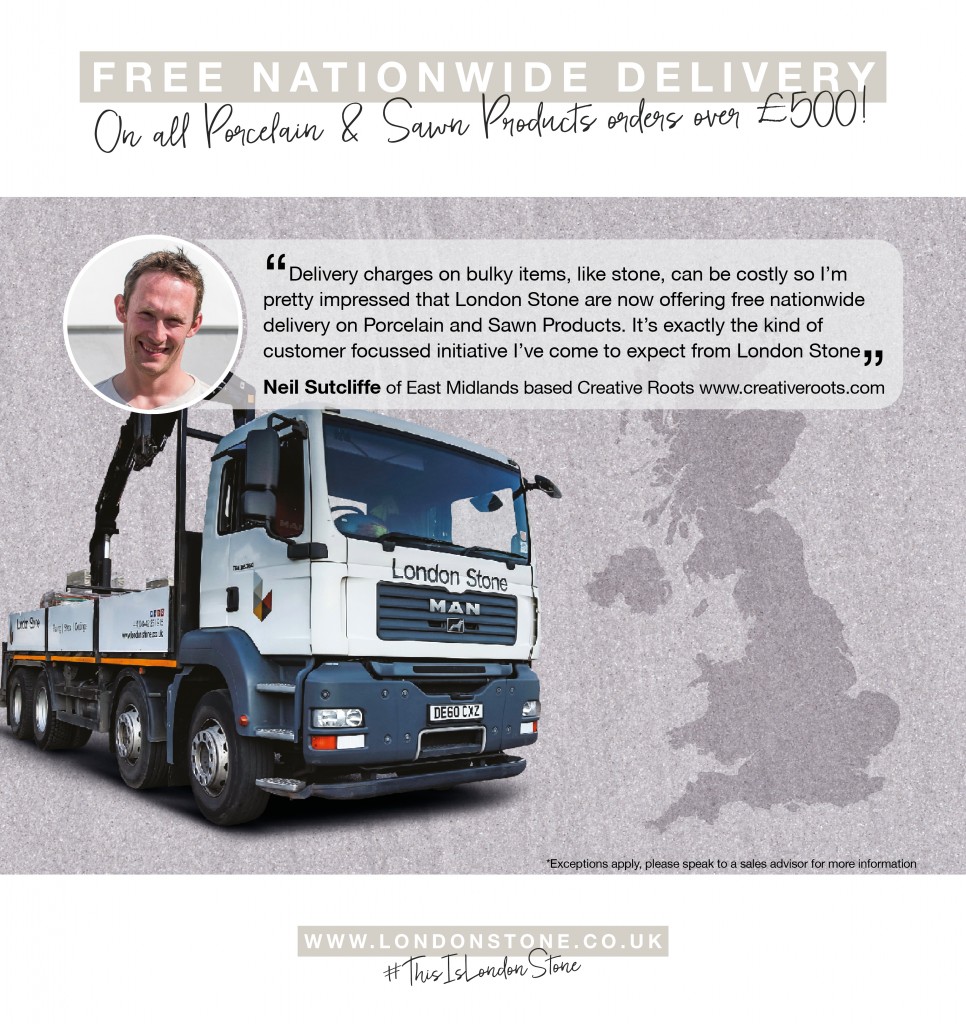 Neil Sutcliffe of Creative Roots certainly likes our offer!
For the whole of 2017, delivery is free on all orders of Porcelain and Sawn Products over £500*. Yup, no charge. After all the turmoil of last year and the uncertainty of this year's economy, however,  we thought the least we could do to start the year off with a bang is ensure you get a better margin on profits and have fewer calculations to make.
And with twenty-three different colours and styles in our Porcelain range—including wood and concrete effects, a cost-effective alternative to Belgian Bluestone, and a lovely range of popular greys, all with matching coping and step treads and immediately available to keep your work schedules humming—it'll help you keep on trend with some of our most up-to-date products.
Trendy Black Porcelain. Image supplied by Aye Gardening
We've included Sawn Products as well, to ensure you don't miss out when choosing some of the most enduringly popular natural stone pavings—Blue Grey Granite, Beige Sawn Sandstone, Contemporary Grey Sandstone (don't forget it comes with a flamed finish too now) among them.
We hope it'll help you enjoy all the more an aspect of our customer service that we're really rather proud of. If your project is in delivery zone A, we deliver in our own fleet of vehicles, so we have complete control over the quality of the service you receive.
With a fleet of six hiab trucks for crane offloading and two transits for restricted site access, we make sure we get your delivery as close to the position you want it as humanly possible. This year, we're adding to our fleet with an 11-tonne hiab truck, to get the better of street parking and narrow roads.
And after introducing text messaging last year to let you know when your delivery is soon to arrive, this year we're upgrading to computerised PDA deliveries, which should save time and ensure a smooth transfer on site.
So, if we haven't had the chance to wish you a Happy New Year already, let us do so now with 2017 offering one less calculation to make, one less fee to pay and just a tad more profit.
*Exceptions Apply, please speak to a sales advisor for more information