New Product - Porcelain Slabs Project Packs - giving you more design options to suit any budget
We have yet more exciting news for you! We're always looking for new solutions to make your job easier and we listen to your suggestions! At the request of many of our landscape contractor clients, we've launched porcelain project packs in our most popular colours.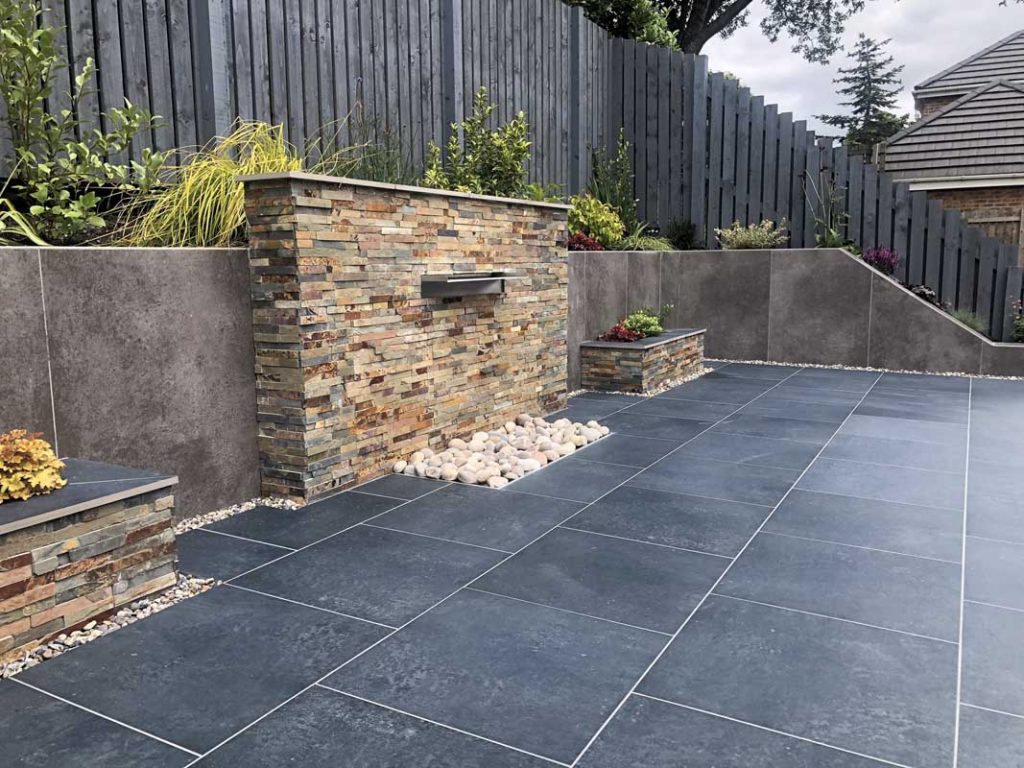 Manor Prestige Landscapes used Charcoal Porcelain - now available as a Project Pack - in this stunning upper terrace
Porcelain Slabs Project Packs - New For 2021
The idea is pretty simple – you can now order a 4 sized project pack. Priced at just just £32.00 + VAT per m2. The packs are available in the most popular colours from our Budget Range:
Charcoal Porcelain
Cream Porcelain
Kandla Grey Porcelain – coming soon!
Light Grey Porcelain
Platinum Grey Porcelain
Steel Grey Porcelain
Andy Stedman used Light Grey Budget Porcelain on this beautiful scheme in Petworth
We know how much work it requires to put together great looking porcelain project and want to help you out. These packs open a wealth of design possibilities. Many Landscapers are used to laying natural stone in a '4 flag random pattern' but why not do this with porcelain? These packs allow you to combine a modern material with a more traditional laying pattern. The mixed sizes also offer you the opportunity you to get creative in your porcelain paving scheme whilst also retaining excellent value-for-money.
Porcelain tiles are already the perfect choice for anyone looking to pave an outdoor area. They are durable, low-maintenance, and a easy to clean. What more do you need for outdoor paving? With the option of these project packs, we now offer the outstanding choice of porcelain paving at an attractive price point. Project packs are the perfect way to create a complete paving scheme, with a unique design, without needing to separately buy different sizes.
Cream Porcelain, courtesy of Hythe Garden Landscapes - you can now purchase this material as a project pack
You spoke – we listened!
We heard you when you told us that offering project packs in our porcelain would make a handy addition to our already extensive product range. We hope by making this introduction we save you both time and money. Our main focus as a business is finding out how to make our customers experience better – this is why we listen when you tell us what you want.
A 'random' laying pattern - perfect for a project pack - no 'cross-joins' here!
We will continue to be a customer lead business and any feedback from our clients is always greatly appreciated.