This year RHS Chelsea is a first for London Stone as we supply stone for gardens in every category: Show, Fresh, Artisan, Trade and even the RHS's own Greening Grey Britain Garden, designed by Ann-Marie Powell.
The RHS Greening Grey Britain Garden for Health, Happiness and Horticulture by designer Ann-Marie Powell will feature Golden Stone Porcelain.
It's been a mad few weeks, but we incredibly proud to appear in so many places, and for designers whom we've supplied in previous years. Forgive us if we blow a small trumpet here, but these are top-notch talents who are happy to keep coming back, knowing that they can absolutely rely on us to go the extra mile to ensure perfection.
So, who's having what?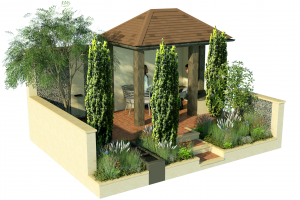 The Pro Corda Trust - A Suffolk Retreat garden by designer Frederic Whyte
Freddy Whyte's A Suffolk Retreat, built by Living Landscapes, is using Harvest Sawn Sandstone. This is in the Artisan category and is sponsored by the Pro Corda Trust, a music and educational charity that has done pioneering work with children with educational needs. Harvest, being a Natural Stone Paving, will perfectly suit a garden showcasing some of the best traditional Suffolk craftsmanship. The sandstone tones beautifully with the muted colours that Freddy has chosen to create a calming space that is so necessary for children with autism.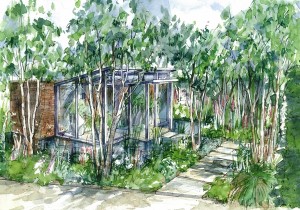 The Hartley Botanic Garden by designer Catherine MacDonald
This year is a first for Hartley Botanic too as, not only do they have their regular trade stand, but they have their first show garden, built by Landform Consultants and the Landscape Skills Academy, designed by Catherine MacDonald, in her fourth year at Chelsea.
Grey Yorkstone stars in both gardens, so it's a chance to view its different characters. The Hartley Botanic Show Garden on the Main Avenue features a chunky Sawn Grey Yorkstone, and on the Trade Stand you'll see our latest alternative: Fine Brushed Grey Yorkstone, flamed to create a completely different style and texture.
The Modern Slavery Garden Campaign by Juliet Sargeant
Two designers have jumped at a new material that we'll be launching soon: Sintered Stone. Really interesting, it's created in a highly controlled environment from refined natural materials, resulting in a really hard material with similarities to Porcelain and Granite. We'll obviously be telling you more in the future, but at Chelsea, you'll be able to see it in The Modern Slavery Garden, designed by Juliet Sargent and built by The Outdoor Room.
Sintered Stone also features on the Solus Decor trade stand, chosen by designer and contractor Jack Dunkley to show off Solus's hand-cast cement fire pits, water features and tiles. We're really looking forward to seeing the end results in both these gardens.
Talking of new materials, it would be surprising if Porcelain, the big arrival of recent months, weren't going to appear and it does. Designer Nic Howard is giving David Harber's stand a chic, modern edge with Silver Grey Porcelain. Laid by Langdale Landscapes, and will be a great complement to David's dramatic abstract sculptures. And Ann-Marie Powell has chosen Golden Stone Porcelain to tone with bright colourful borders, bringing warmth to the RHS plot that's all about inspiring people to make the most of their front garden.
Qatari Diar - The Chelsea Barracks Garden by designer Jo Thompson
Finally, never say we don't bust a gut to give you exactly what you want. The Chelsea Barracks Garden by Jo Thompson, also built by Landform, will be paved with Basaltite, which we've ordered specially from Italy. Known for its mid-grey conformity, it's ideal for urban style, and we're really looking forward to seeing it in Jo's modern re-imagining of a traditional rose garden.
Phew! That's eight gardens in all, our most to date for an RHS show. As you can imagine, the past few weeks have been a flurry of precision measurements, cutting, laying out, checking and rechecking, but it's an absolute privilege to support our top designers and contractors at the biggest show of the year.
We can't wait to see the results in a couple of weeks' time.