Jamie Butterworth Blog – Development Days – Half Time - We take a look a the days already delivered in spring of 2018, and look forward to what is to come in autumn/winter.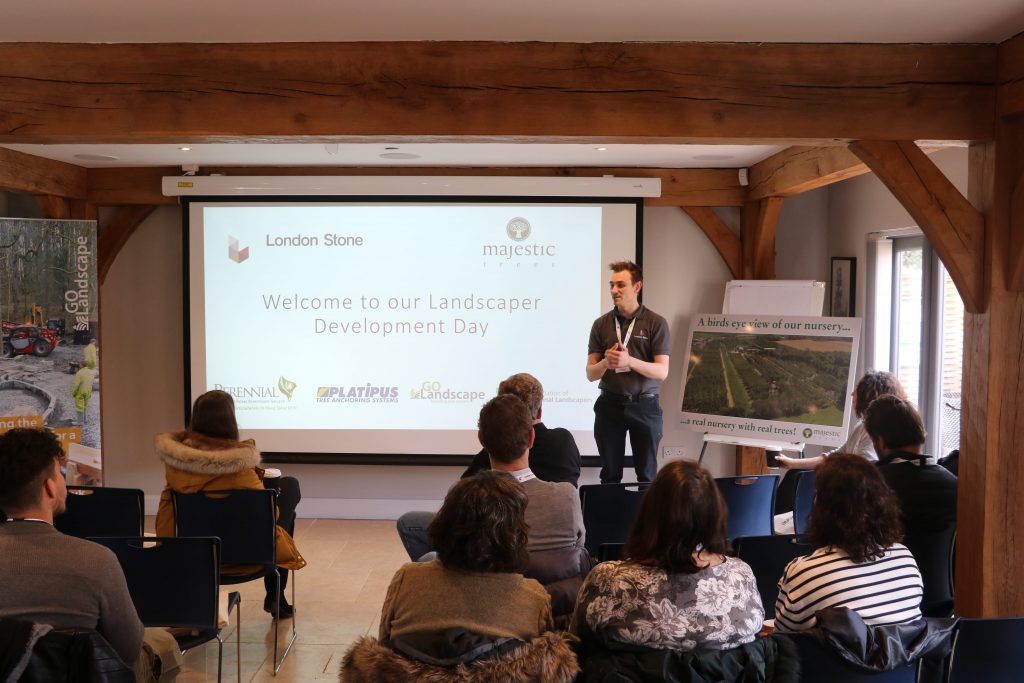 Jamie Butterworth introduces our inaugural Development Day at Majestic Trees, March 2018
Before the holiday season starts in earnest, we thought that this would be a good opportunity to not only look back on what has been a jam-packed seven months but look forward to what we have upcoming for the Autumn and winter. An extension of the spring Development Days, covering new topics, with the aim of broadening knowledge and improving skills.
Through these events, we have raised over £1,500 for Perennial, and are on track to raise our years' target of £3,500. Every penny from our development days goes directly to supporting the great work that Perennial do.
Steve McCurdy speaking to guests at Majestic Trees, established in 2002
Our spring series opened in March, with a brilliant day held at Majestic Trees in Hertforshire, and included talks from John Ward, Majestic Managing Director, Steve McCurdy and Platipus tree anchoring. A great informative day that involved a tour of the tree nursery, but also practical demonstrations on handling and moving of large trees, essential when on site. (Majestic Trees Development Day blog can be found here.)
Scotscape was our second event, hosted by Business Development Manager Niall McEvoy who talked us through everything from designing, to installing and indeed the long lasting benefits of green wall systems. It was a fascinating day that helped lead to London Stone to installing a Scotscape green wall in our new North London Showroom. (Our Scotscape blog can be read here).
London Stone take inspiration with a Soctscape Living Wall at our North London Showroom
Hillier Nursery was next up, facilitated by the main Hillier HQ in Romsey, we were treated to a unique insight into the world of commercial tree growing on a large scale, and run by Jim Hillier; we weren't short of inspiration and education.
Hillier Nursery's HQ in Romsey, Hampshire - a stunning setting in which to learn about horticulture
Our final day was held at Hortus Loci, show plant aficionados, with a day that involved not only a brilliant tour of the seventeen acre nursery by CEO Mark Straver, but also talks from Tom Harfleet (Former Head of Show Development for the RHS and now Head of Horticulture at Seedlip drinks), but also Marina Christopher of Phoenix Perennial Plants and Humaira Ikram of KLC and Redscape Design. That's a lot of inspiration and knowledge!
Thanks to everyone who supported and attended our spring Development Days - we hope you enjoyed them as much as we did!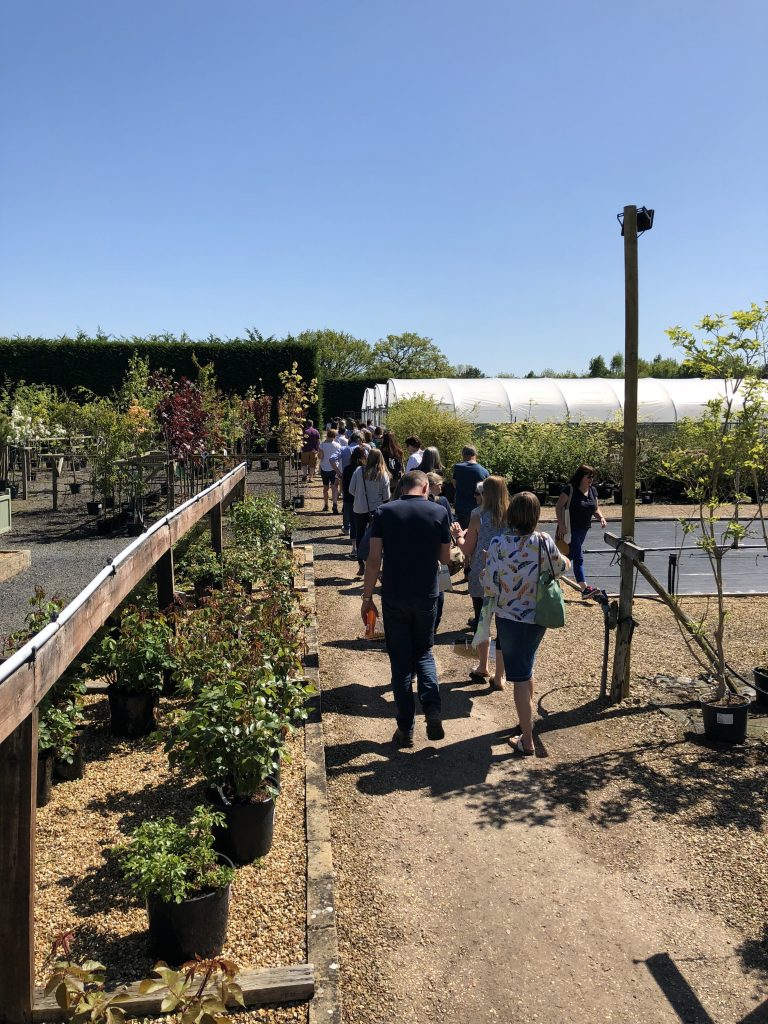 Garden Designers and Landscapers tour Hortus Loci nursery in May 2018
Over the next few weeks, we will be formally launching our full Autumn/Winter Development series, after the success of the days we ran this spring and summer. With designers, landscapers, horticulturists and suppliers all getting involved. Our autumn dates look to cover everything from collaboration, aftercare, installation, through to trees and much more. Exact dates and locations will be revealed soon, but to give you something to get your appetite going, here's a brief overview of what we have in store:
Perennial's Sue Brisden talks to guests at Majestic Trees about the important work that the charity undertake
September - Malvern Autumn Show - 'Student Day' - looking at careers in horticulture and how to make the most of the opportunities available. Plus, a sneak peek of the show the day before it opens to the public.
October 2018 - 'We're Better Together' - How collaboration between garden design and landscaping can lead to beautiful gardens.
October 2018 - 'Autumnal Trees' - improve your knowledge in both growing and supplying trees.
November 2018 - 'Aftercare shouldn't be an afterthought' - highlighting the importance of aftercare and regular maintenance in gardens and outdoor spaces.
December 2018 - DesignBoard Theory and Installation – learn and develop the skills you need to be au fait with DesignBoard composite decking.
To register interest in any of the Autumn days, please email Jamie directly at jamiebutterworth@londonstone.co.uk, these days will all be on a first come first serve basis. Students can have free access to all events, whilst we ask for a £25 donation to Perennial to those professionals wishing to join us.
In the meantime, have a great holiday, enjoy your August, and we look forward to seeing you all at one (or more) of our autumn series.