The world of colour was given a jolt at the end of last year when not one, but two Colours of the Year were announced. In case you're not up to speed on this obviously important world event, Pantone®, the arbiters of pigment, declare "a colour snapshot" of what is happening in our culture, expressing mood and attitude.
No, OK, I'll understand if you don't exactly embrace that idea. However, humour me for a moment. The pairing of Rose Quartz (yes, pink) and Serenity (a sort of baby blue) was chosen because, it was announced when the news broke: "As consumers seek mindfulness and well-being as an antidote to the stress of modern day lives, welcoming colours that psychologically fulfil the yearning for reassurance and security are becoming more prominent."
Or—translated—many people want to create a calming environment as respite from our increasingly stressful lives. And we can say that, in the natural stone world, we're having our own "colour snapshot" moment (see where I'm going here?). Grey is definitely grabbing the limelight, and has become increasingly popular over the last few months.
Is this because people are seeking out a calm, consistent colour to create surroundings that soothe the spirit, or is it that grey has hit the fashion hotspot? Either way, when we spotted what was happening last year we leapt into action to ensure that you and your customers remain at the cutting edge. Included among our new on-trend greys this year is Graphite Grey Limestone.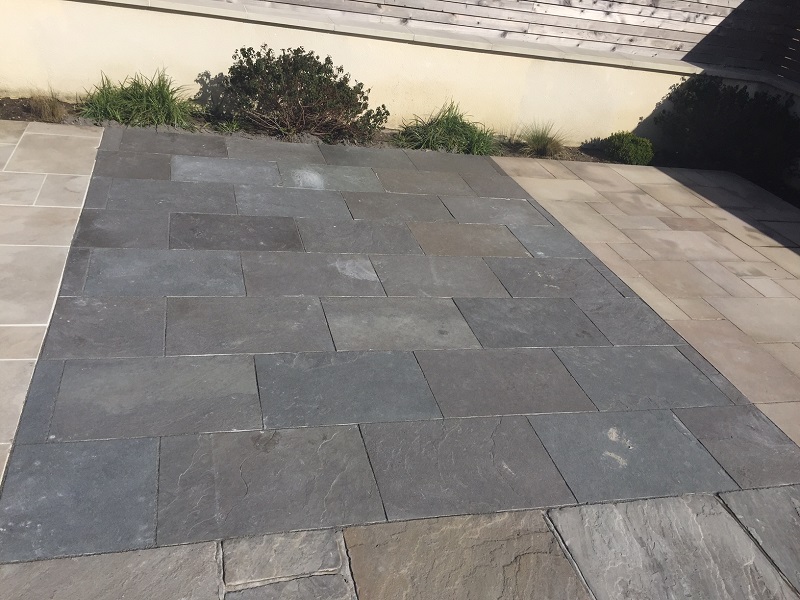 It's got beautifully rich, consistent colouring and, with the naturally split surface adding subtle ripples of texture, works well in traditional settings. The riven surface is kept in hand by the machine-sawn edges, though, making it at home in a contemporary setting too.
We've been busy installing our new products at our showrooms, so you can visit to see exactly how they look. Here's a picture of it at Coolings, Knockholt.
A sneaky check of the Pantone® website revealed that suggested colour pairings for Rose Quartz and Serenity include a number of greys, remarkably close to the colour of Graphite Grey Limestone, wet and dry. That's another plus: grey works beautifully with so many colours that it's an ideal backdrop to strong, hot-coloured borders and gentle, pastel drifts—of Serenity-blue nigella and quartz-pink mallow, perhaps?
If you look around, you'll probably spot Pantone® colours in all sorts of products this year, from soft furnishings to cosmetics. For a calming oasis, you don't have to look any further than our new Graphite Grey Limestone.