London Stone and Form Plants are excited to announce a business partnership! Learn more about this exciting new soft and hard landscaping partnership.
London Stone are excited to announce a business partnership with Form Plants. Combing forces to bring you quality plants and everything else you need to transform your outdoor space from one place.
About Form Plants And London Stone
A magnificent Magnolia Soulangeana Shrub - available now via the London Stone e-commerce website
Form Plants offer quality plants, all locally grown, at competitive prices to give you value for money. Their team of expert horticulturists ensure that each and every plant is grown to be the finest quality. With top service to go along with quality products, there is no better place to turn when transforming your garden. With over seventeen acres of premium quality stock available, a tailored range of over 34,000 plants and growing daily, the extensive range has something to suit every design.
London Stone managing director Steve Walley says, "Myself and the team at London Stone intend to be hands-on at Form. London Stone will not be silent partners. We'll be working very closely with Jamie and his team to impart our expertise and hopefully help Form to avoid making some of the mistakes we have made along the way. These are very exciting times and this is a partnership that we guarantee will offer benefits to the landscaping industry."
Each product has a clear and concise, descriptive product page to answer your questions
Service
The perfect supplement to the extensive range already available from London Stone, you can now order your soft landscaping in one place. The job of transforming your garden just became easier. Offering the same outstanding London Stone customer service, you can expect nationwide delivery from 24 hours! You can also take advantage of Form's Click and Collect Service from the nursery located in Dorney, Windsor.
Not only are the plants competitively priced, but they also come with an abundance of specification information. You can expect full plant descriptions, photographs, growing information and plant requirements online to help you choose the right plants for your next project. Trade discounts are available.
A comprehensive range of soft landscaping materials for you to order alongside your natural stone or porcelain - now live!
The Range
The extensive and stunning range of plants will beautifully transform your garden whatever shape or size. The comprehensive collection of container-grown hedging units start in impressive 35 litre pots: perfect for adding privacy and creating stunning borders.
Create a striking topiary garden with our container-grown topiary collection. Available in all shapes and sizes, from cones, domes, balls, beehives, pyramids and more. Topiary makes an impressive focal point in your garden project. Available year-round, let us help you find the right plant.
Garden shrubs are all available starting in 10 litre pots - an essential for any garden. The collection of multi-stem and specimen trees will bring that instant 'wow' factor. Dalefoot peat-free composts complete the range, to ensure your plants get off to the very best start.
Launching later this year are perennials, grasses and ferns will be added to the range. Ensuring you can create a complete garden scheme in one place. Also available will be stunning Specimen Olive trees from industry leading growers, Villaggio Verde.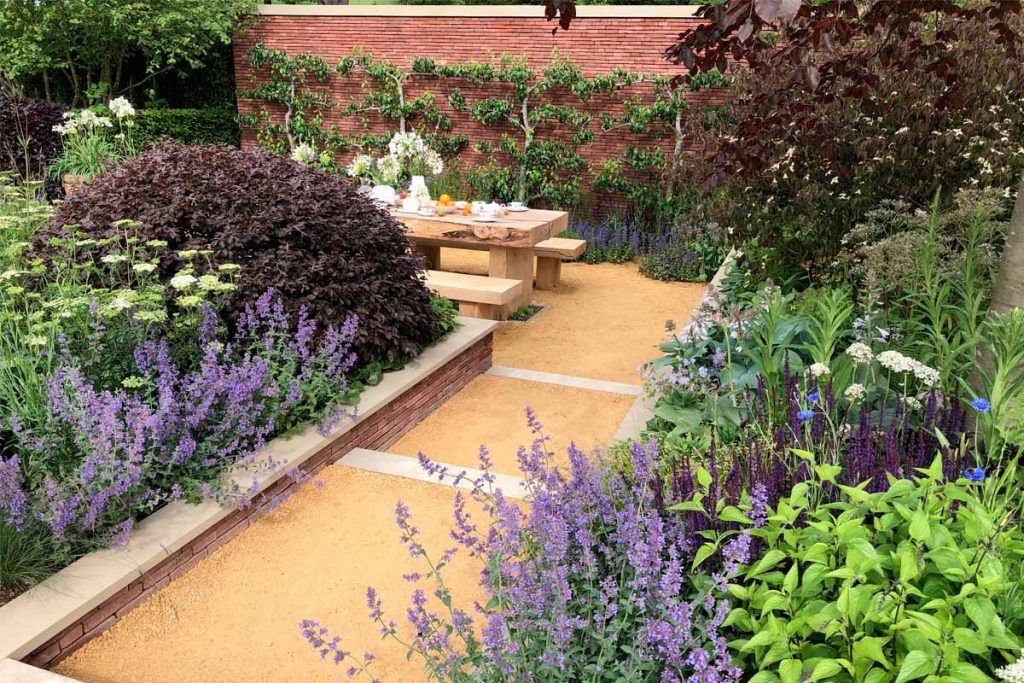 Form Plant's Managing Director Jamie Butterworth's trail-blazing 2019 RHS Chatsworth Garden for Wedgwood
Plant Health
Plant health, as with any reputable nursery is the number one priority. All specimens at Form Plants are regularly checked & inspected by DEFRA to ensure that all the latest plant health guidelines are adhered to.
Every plant delivered will have a plant passport attached. This gives you peace of mind that we have taken care of everything. To combat the threat of Xylella, every Olive Tree is individually DNA tested and will be accompanied with its own unique certificate.
Both Form Plants and London Stone are dedicated to ensuring that your delivered plants are of the highest quality. Thus freeing-up more time for you to focus on designing and building your perfect garden and landscape.