Clients like to throw in a challenge, and for Chris Harrington of Harrington Porter, the challenge in designing a small garden in Fulham was to find the outdoor equivalent of existing interior flooring.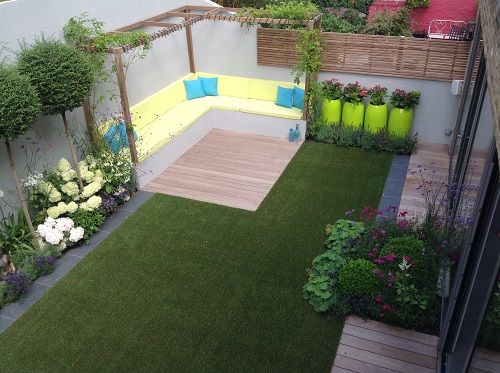 Picture courtesy of Harrington Porter.
Although it plays only a small part in the design, it was vital to track the right paving down. The brief demanded a garden to complement the interior.
"We were very pleased to stumble across Slab Coke Porcelain as it was such a good match for the ceramic tiles indoors," he says. Here at London Stone, we weren't surprised. With the variety of finishes and colours available in Porcelain, it's always worth checking out the possibilities in this sort of situation.
The Slab Coke Porcelain is virtually indistinguishable from the interior tiling. Picture courtesy of Harrington Porter.
Would he use Porcelain again? "We're using it more and more," says Chris. "We would always use Porcelain as our first choice. It's less messy to cut, though you do need skill and the right equipment." Chris uses a wet saw to cut. "If you've got the skills, you can be very, very accurate."
Iroko decking and trellis matches furniture indoors, and blends the bicycle shed into the garden. Picture courtesy of Harrington Porter.
How else did he unite indoors with out? Well, paving sorted, Chris turned his attention to the other elements and chose Iroko decking. It not only picks up the colour of the wooden furniture indoors, but contrasts nicely with the Porcelain in colour and texture. This detail was all the more important because, as the client works from home as a therapist for disabled children and needs easy access, there was no scope for creating different levels. "We combined them for interest," explained Chris. "Small gardens are all in the detail."
Colours outside echo colours inside. Picture courtesy of Harrington Porter.
With lime-green and pastel-pink splashes indoors, Chris chose these colours for the soft furnishings of the outdoor seating and the tall planters, reinforcing the connection between the two spaces. To ensure there was no distraction from the uniting factors, he also kept storage sympathetic to the design by building a bespoke bicycle shed from Iroko trellis.
The result is an inviting garden that very much feels part of the overall living space of the house.
And if you've only had experience of the thinner, ceramic floor tiles, this is what Chris has to say:  "Since thicker Porcelain came in, it's much more adaptable. For thinner tiles, we used to pour a concrete base—which means bringing in a lot of material to a small garden—and then glue them down, because they're so thin. Porcelain you can lay on wet cement."
It's that sort of detail that gives Porcelain its appeal.