At RHS Flower Shows 2021 we're supporting designers and landscapers with a wide range of materials. Take a whistle-stop tour with us, looking at the Show history of some of this year's products
As some sense of normality begins to return to the world, so do flower shows. So far in 2021, designers have integrated our materials into gardens at Hampton Court Palace Garden Festival and Tatton Park Flower Show. Our products are also appearing, currently, at BBC Gardener's World Live and, soon, at Chelsea Flower Show. Read on to hear about our presence at these garden shows, both past and present.
Hampton Court
This year at Hampton Court we supplied a ten different materials to a variety of gardens. Products included Jura Grey Limestone, Contemporary Grey Sandstone, Designboard Classic Charcoal, Gromo Antica Clay Pavers, Slatted Softwood Fence Panels, Mirage Sandstone, Golden Sand DesignClad, Stone Grey Clay Pavers, Florence Grey Porcelain and Kota Brown Limestone. This extensive collection of materials produced an amazing outcome at the shows. Read more about this year's Hampton Court show here.
Many of these products have been favourites at previous shows. In 2018, Tim Simpson integrated Jura Grey Limestone into his The South West Water Green Garden at Hampton Court, built by Rosebank Landscaping. Our Designboard Classic Charcoal appeared at BBC Gardeners World Live 2018 and 2019. It was also used at RHS Malvern Spring Festival 2019 in the Zeta: Memories Of Home from Anastacia Yakovleva and Keyscapes.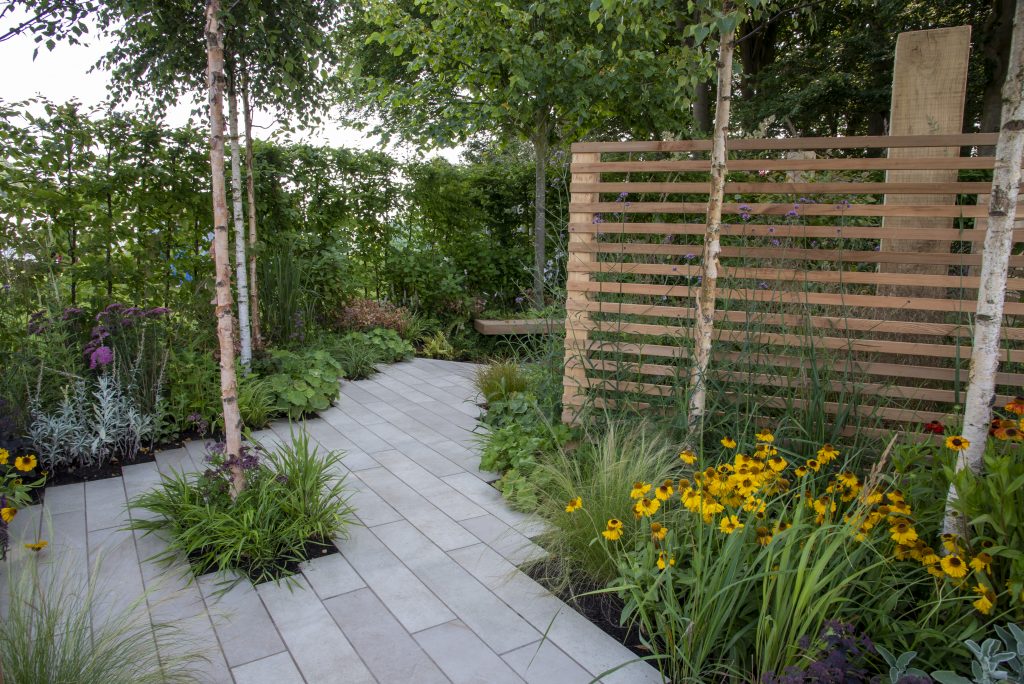 Tatton Park
At Tatton Park this year we supported five gardens and trade stands. Here there was a slightly less varied display of products, but the results were equally impressive. At this garden show we supplied Florence White Porcelain, Mint Sandstone Edgings and Copings, Seville Clay Pavers, a 100mm thick Grey Yorkstone step feature, Cream Porcelain Planks and London Mixture Clay Pavers. If you want to know more about our presence at Tatton Park this year, read more here.
Our Florence White Porcelain was last featured at a show in 2019 at BBC Gardener's World Live. Here steps, risers, and stepping stones formed the beautifully integrated design by Alexandra Hollingsworth Garden Design and J Smith And Son, Subterranean Sanctuary.
Our various Mint Sandstone products are always a popular choice with designers. Mint Sandstone Circle, Setts, and Copings were used in 2019 at RHS Malvern Spring Festival. Used in The Redshift Garden from Julie Bellingham, Rockhopper Garden Design and J. Drewe Landscaping & Maintenance Ltd. At the same show Tumbled Mint Sandstone was used in Ikhaya: Home, designed by Stacey Bright and built by Keyscapes. And, shifting to the vertical, Kristian Reay chose Mint Sandstone Wall Cladding for his The Phytosanctuary Garden at RHS Tatton Park Flower Show 2019. Expertly built by Steven Foxcroft Landscapes, it won both Gold and Young Designer awards.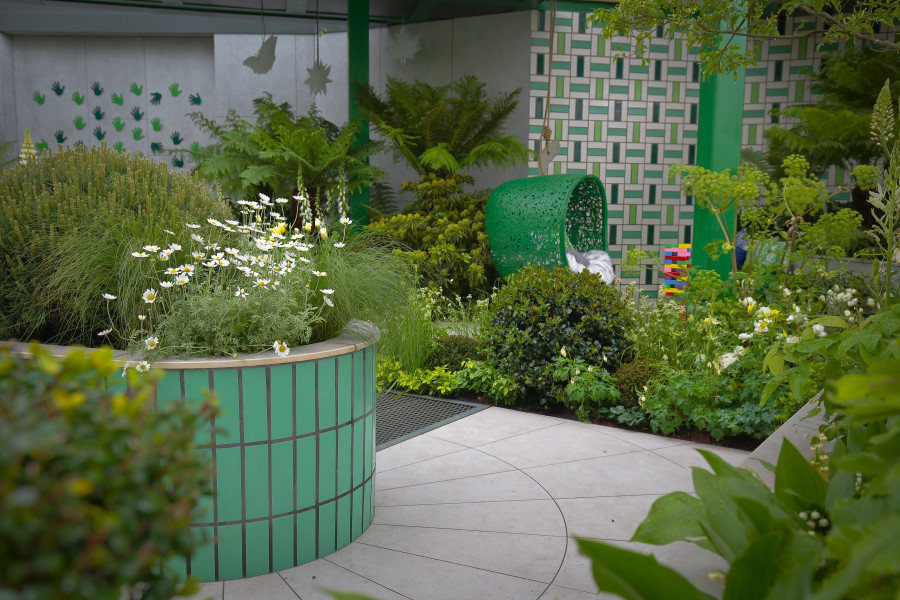 Chelsea
Chelsea Flower Show is quickly coming up and we could not be more excited. It is, of course, the most important date in the landscaping industry calendar and you can expect a full debriefing once it's opened. After missing a year due to Covid-19, Chelsea is back with a bang. It'll be a special moment to see landscapers and designers back where they belong.
This year we are supplying materials for three gardens and a trade stand. You'll find our Heathermoor Buff Yorkstone, Black Granite Paving and complementary Steps, and our Light Grey Porcelain all at Chelsea. When featuring in previous show gardens, our Black Granite has always made a statement. At RHS Hampton Court Palace Garden Festival 2019 Black Granite Planks featured in the Silver-winning Crest Nicholson Livewell Garden from Aleksandra Bartczak, David Jarvis Associates and Bespoke Outdoor Spaces, Writtle University College. Our Black Granite Paving also looked impressive when paired with DesignClad Vulcano Roca in A Place to Ponder garden from Matt Haddon, at RHS Tatton Park Flower Show 2018.
This week is BBC Gardener's World, and here you will be able to see our Light Grey Porcelain Planks. We hope to see a great attendance at both and Chelsea. Find all of the above mentioned designers and landscapers here.