Materially Raising The Profile Of Greenfingers At RHS Chelsea - learn more about this wonderful charity's show garden
"In terms of PR, we were inundated," says Greenfingers' Director of Fundraising and Communications, Linda Petrons. "We had a really good response. Hopefully Greenfingers is now recognised as a national charity."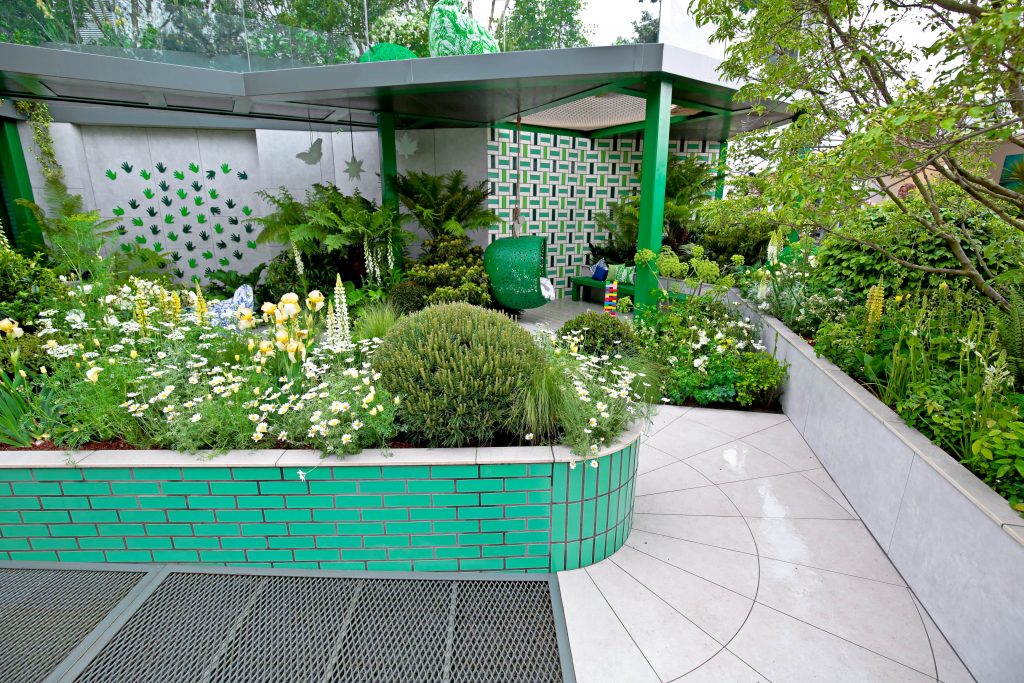 The Greenfingers Charity Garden, RHS Chelsea 2019
This was Greenfingers' first garden at RHS Chelsea, made possible by the generosity of a private donor, and, as one of Greenfingers' charity partners, we were excited to contribute.
Greenfingers creates well-designed outdoor spaces for children's hospices where life-limited patients can play or relax with their family, friends and siblings. Central is the belief that spending time outdoors offers children and families, who are under considerable stress, a vital opportunity to benefit from being in the fresh air, engaging with nature.
The show garden, designed and built by Kate Gould, made quite a splash. "We were on the Chelsea show on TV most days, in most of the national papers, and social media and website hits over the week went sky high," says Linda.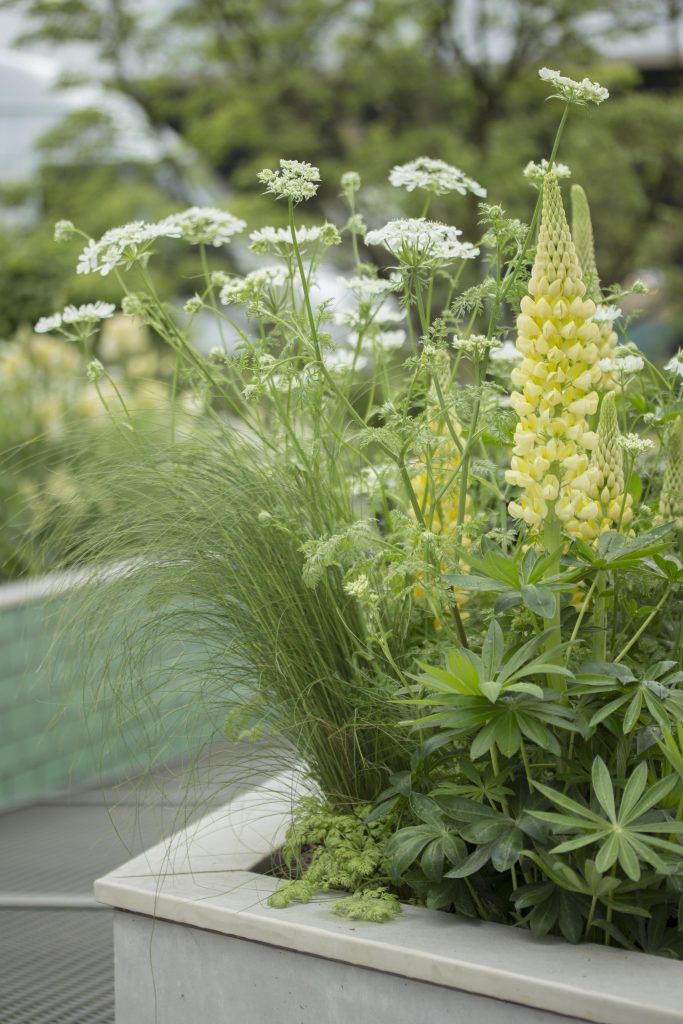 Kate's planting palette of greens and yellows was complemented by the hard landscaping materials - all grey!
Elements of the garden, which had sloped walkways and wouldn't have required a lot of maintenance to keep it looking good, will relocate to Richard House Hospice in East London. Kate had the brief to make a step-free, totally accessible space that was suitable for wheelchairs. "And a sensory experience," says Linda. "That's all part of the story." In fact, Kate has been reported as saying that designing the Greenfingers garden has changed the way she's thought about garden design.
With three of our top-performing materials featured in the garden, our Project Design Manager Piotr Przytula had his work cut out. At ground level, Florence Grey Porcelain - one of our competitively priced Premium Porcelain range - was cut radially to create flow and movement around the curved end of the raised bed. "This was the first time we've tried to cut a curved element in Porcelain," says Piotr. It looked gorgeous.
Around the corner, though, a design conundrum presented itself. Originally the plan had been for Porcelain to be laid but a laying pattern proved difficult. "There were a lot of angles," explains Piotr, "We tried different designs and layouts but nothing looked quite right." The solution was to change materials entirely.
Florence Grey Porcelain, RHS Chelsea Flower Show 2019
DesignBoard Greenwich had already been chosen as decking on the upper storey, a particularly striking feature of the design connected to the ground by a water-powered lift. (This meant patients would get a bird's eye view of the garden beneath - lovely to be up high when you're used to looking up all the time from your wheelchair.)
It also appeared as cladding on the wall approaching the lift, making an interesting change in texture from the Porcelain paving and the DesignClad (which we'll come to later). The green hint in the Greenwich colouring made it an ideal complement for Kate's tranquil green and white planting. Kate decided to use DesignBoard where Porcelain had originally been intended. Laying DesignBoard across the irregular-shaped space not only smoothed out awkward angles but made a pleasing echo of the narrow lines of glazed bricks facing the raised bed.
And the change in textures increased the sensory element in the brief. The approach was already over metal grates. "When I saw them," says Linda, "I thought, for a child in a wheelchair, this all added to the sensation."
DesignClad in Hydra Argen was the backdrop for the water feature. This demanded specialised hole-cutting to accommodate the waving hands that were part of the feature and we put the work out to a company that offers water-jet cutting. "We used the water jet to drill 6 mm holes in the DesignClad," says Piotr. "Using a drill would have taken much longer and risked a lot of breakage."
DesignBoard Greenwich on show at Chelsea, on the second storey of the Greenfingers Garden 
And time is always of the essence when it comes to Chelsea gardens. When there were last-minute changes to the wall of the water feature, Piotr immediately set to cutting DesignClad and it was delivered the same day.
The Greenfingers Charity Garden attracted gardening's elite band of presenters. "We had Monty Don, Joe Swift, Adam Frost on the garden," says Linda, "but it was really nice to meet the guys from London Stone that we hear about but never see otherwise - [Creative Marketing Manager] Anthony Macson and Piotr."
We loved meeting everyone too and were thrilled to share in the excitement of Kate's Silver Gilt award for this, her first Main Avenue design. "Lots of people had never heard of the charity before," says Linda, "but lots said it was their favourite garden and should have won People's Choice."
Greenfinger's signature logo - a child's hand, used as part of a calming water feature, RHS Chelsea 2019
We couldn't possibly comment! But we're delighted that our hard landscaping has contributed to a garden that has raised the profile of such a worthy cause. Greenfingers has, in the last twenty years, created 55 gardens around the UK and has a waiting list of hospices waiting for one to be built.
Don't forget that if you're a garden designer or landscaper, you can sign-up to our free Landscape Specialist Scheme which offers you a free business profile on our website, a welcome pack and free on-site training opportunities. You'll trigger a £10 donation from us, split equally between Greenfingers and Perennial. Go on, make us give them a bit more, today!