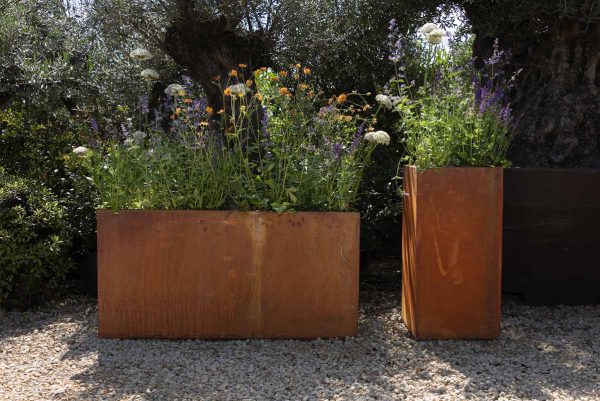 New in, our range of quality metal planters.
Our range of Corten Steel planters has just landed, and we want to tell you all about it.
About the range
The new range of metal plant-pots includes four shapes that are all available in a variety of sizes. We wanted to bring you the best possible quality, which is why each of the planters in made from Corten Steel. Long-lasting, durable and hard-wearing, the planters are sure to stand the test of time.
Supplied in a part-weathered finish, planters have a stunning rustic feel that is the perfect complement to lush greenery. They are well suited to contemporary gardens and urban environments. Over time, the appearance of the planters will change, weathering into a beautiful orange-brown colour, with a thin layer of oxidation that will protect the steel from any further corrosion.
More about each of the planters
Each of the planters has hidden 15mm feet. These feet, as well as aiding drainage, give the impression that the planter is floating above the ground. Adequate drainage is, of course, an important quality you should be looking for in your planters. With drainage holes, water can flow out of the bottom of the planter. However, to avoid staining paving beneath, ensure drainage over surfaces is restricted.
The cube planter is available in 4 sizes ranging from W 300 x H 300 x D 300mm - W 600 x H 600 x D 600mm. A cube planter is perfect for smaller spaces, or those who like the tidy uniform sizing.
Our cube trough planter comes in 6 sizes from W 600 x H 300 x D 300mm - W 1600 x H 400 x D 400mm. Slightly longer than the cube planter this size is a great choice for adding stunning definition to an entrance way.
The tall cube planter is also available in 4 sizes from W 300 x H 600 x D 300mm - W 600 x H 1200 x D 600mm. These planters are a great way to make a real statement. Position them around the garden and create impressive focal points.
Finally, the tall trough planter comes in 6 sizes from W 600 x H 600 x D 300mm - W 1600 x H 800 x D 400mm. Trough planters are great for vegetable or herb gardens but can also look good filled with plenty of plants of all shapes and sizes that complement each other.
In situ
We wanted you to see exactly how the planters would look in your own garden. So we took the new planters down to our friends at Form Plants. Here Jamie Butterworth and his staff planted some of their stunning perennials in the planters for us to take in situ photos. We felt that this was the perfect way to show you just how impressive these planters can look. Form Plants have also written a useful blog about the planting process to help you achieve this look in your own garden.
Take a closer look at each of the planters and imagine them in your own garden.