The 2017 Landscape Show took place this week. Every year we create a different theme on our stand, and this year we gave half of our stand over to emphasizing just how important it is to us to offer you a good service.
We know you value a company that really looks after you—and that's exactly what we aim to do—so, after asking for your feedback earlier in the year, we thought about what you said and designed some changes to make sure you know how much we value you.
Here's what's happened:
Our Sales and Estimating Team has increased in man (and woman) power. Last month we answered 82% of phone calls in person within a minute.
Our new 11-tonne lorry with HIAB is now in service, making it easier to deliver to busy urban streets.
We've reviewed our stocking systems. Bulk stock for the 2018 season will be available two months earlier than in 2016.
We've added stock on the ground at our South-East London Showroom, which is available for collection from 7 a.m.
The South-East London Showroom is also undergoing a full refurbishment, while the Trade Counter at Langley is already fully refurbished.
We have installed two new Four-Axis CNC machines at our Bespoke Stone Centre to increase production capacity and productivity
Part of our service is also to bring you some of the most interesting innovative materials on the market. Last year, we launched DesignClad. This year, we're introducing DesignBoard, a truly contemporary take on composite decking.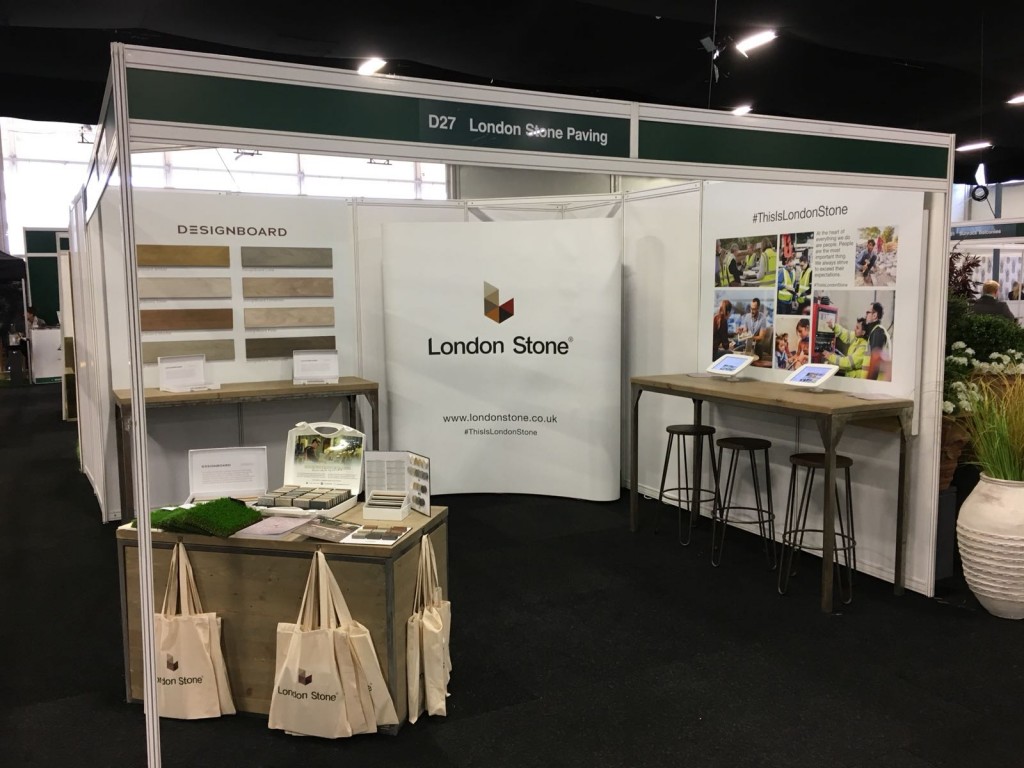 DesignBoard is ideal for designs that blend decking with contemporary paving, as it combines very consistent base colours with a grooved and brushed surface that brings just enough texture and tonal variation to provide interest and a natural look that you just don't find elsewhere in this style of composite decking.  Combine this with its non-slip, virtually no-maintenance advantages and we were hoping you'd like it.
Well, the Landscape Show is always a good place to find out if our hunches are right and at the end of the show Anthony Macson, our Creative Marketing Manager, summed up the response. "DesignBoard's had a really good reaction from designers and landscapers. Even I've been surprised by how positively it's been received."
There have been some kind words on Twitter too. Craig McGibbon, of Craig McGibbon Garden Design tweeted:
"I received my DesignBoard sample box today—have to say the boards seem to be the most attractive looking on the market!"
The sample box was also on our stand. It's free to everyone joining our Landscape Specialist Scheme, and, as always, it drew plenty of attention. That now contains samples of our RevoTurf artificial grass, DesignBoard, DesignClad and Millboard composite decking, as well as Porcelain and Natural Stone paving.
If you're already a member of the Scheme and would like the latest additions to the Welcome Pack, then just give us a ring or send us an email to info@londonstone.co.uk and we will get the new items dispatched to you on a next day basis. If you haven't yet joined, then it's a very good reason to fill in the registration form. Designers and Landscapers have told us how useful they find it to show to clients.
It was great to see so many people we know at the show, and to meet newcomers. We'd like to thank you to everyone who took the time to visit our stand.
If you were here, you'll know we had a prime position just by the bar this year which meant if you needed a chat we could sit down comfortably with refreshments. We're already looking forward to seeing you in the same spot next year between 18th and 19th of September. Put it in the diary!