One stone, two very different moods. At Hampton Court Flower Show this week you can see our Egyptian Limestone in both The Macmillan Legacy Garden and Living Landscapes City Twitchers Garden.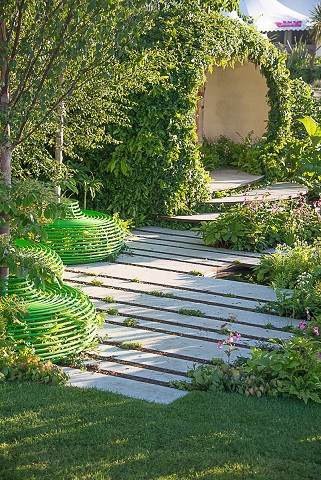 Photo: Jonathan Ward
The Macmillan Legacy Garden (won Gold) was intended as a design for a shady spot (though it's baking in sunshine in its position in the show), so the pale-coloured paving was carefully chosen for its contribution to dimly lit areas. Designer Anne-Marie Powell said, "Egyptian limestone brings light into the garden. The colour also goes really well with the birch bark as it's got a slight apricot shade." As well as up-lighting the planting, it leads the eye to unexpected corners.
Photo: Helen Gazeley
Anne-Marie went for bespoke paving slabs, sandblasted and brushed. Generally wide with narrow tread depth, they were laid with birch litter in between, as you'd find if they and the trees had been companions for several seasons. Variations in the paving slab sizes encouraged the visitor to slow up when reaching the pool and crossing the rill.
Photo: Helen Gazeley
Over in the Summer Gardens, Sarah Keyser of CouCou Design used the limestone in a completely different way in a garden built by Living Landscapes. Her aim is to show it's possible to combine contemporary design with wildlife-friendliness.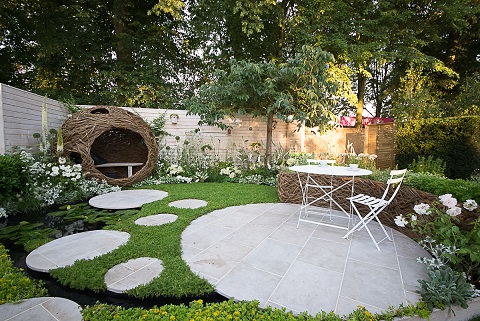 Photo: Jonathan Ward
Here standard-sized paving slabs were put together and then sawn to create round islands in the lawn of chamomile. Mortar lines are matched or, where that's not possible, strictly parallel across the garden. The work was done on site so that Sarah could have more flexibility in size and placement.

Photo: Jonathan Ward
"I wanted the stone as light and evenly coloured as possible," she said. With these needs in mind, she had considered porcelain paving, but decided she preferred the finish on limestone. "I asked for sandblasting and brushing because I wanted it really matt and chalky. It's nice that London Stone offer different finishes as it gives you different colour options." (Without the sandblasting and brushing, the stone would be a much more prominent beige.) "And it's a natural material," she added, "which I think is nicer."
Photo: Helen Gazeley
The result is a contemporary feel, where the paving picks up the white-washed cedar fencing and makes a contrast with the woven willow. It won the garden, put together by Living Landscapes, Silver Gilt. What we at London Stone particularly love is that two gardens using the same stone have created such very different moods.

Spot the ball: Look carefully at the City Twitchers' rear border and and you might see a white spherical bee station – it's there to provide sugar solution for hungry bees when nectar is in short supply.