With Hampton Court Flower Show about to open, here's a sneak preview of the seven gardens which will feature hard landscaping from London Stone. They're very different designs, which has been fun for us, as it's given us the chance to show off the wide choice of natural stone paving. First up are the Show Gardens:
The Macmillan Legacy Garden
Designed by Ann-Marie Powell and built by The Outdoor Room, this uses our Egyptian Beige Limestone to pave a community space on the edge of woodland. It's a calm, tranquil place for groups and individuals to sit and contemplate. A tree pierces the roof of the pod shelter, bringing nature inside. Sponsored by Macmillan Cancer Support, the garden is mostly planted in green and white, the colours of their logo, so expect to see lots of ferns mixed with white herbaceous blooms. The creamy double-flowered Rosa 'Macmillan Nurse' ('Beamac') is included – a useful cultivar as it tolerates partial shade.
Scotty's Little Soldiers Garden
Designed by Graeme Thirde and built by Harrington Porter Landscapes, this is one of two gardens that use our Buff Sawn Yorkstone. It's a walk-through garden, which is always a treat, and progresses from a turbulent beginning to an ordered endpoint. The charity supports over two hundred children who have lost a parent serving in the British Armed Forces and this progression echoes their progression through life.
Over in the Summer Gardens we have:
HUG (Healing Urban Garden)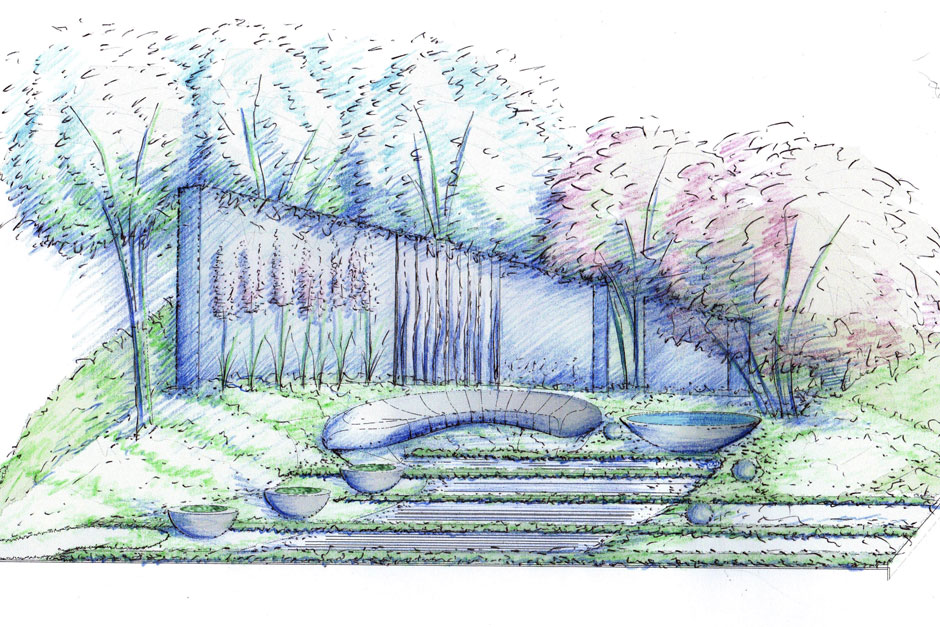 Another serene space, this time designed by Rae Wilkinson and built by Living Landscapes. HUG uses curves to create organic forms and combines them with silver, blue and maroon planting that includes herbs, grasses, Eucalyptus and Cercis. These should blend beautifully with the Kota Blue Limestone that Rae's chosen. The garden offers soothing shelter for an urban setting.
Living Landscapes City Twitchers
Living Landscapes are busy, with this being their second build in this category. Designed by Sarah Keyser of CouCou Design, it's filled with lots of curves and circles, including a spherical wicker bird hide. Planting, of course, is biased towards bird-friendly blooms and is likely to include wild carrot, foxgloves, honeysuckle and love-in-a-mist, as well as Eryngium giganteum 'Silver Ghost' and Rudbeckia occidentalis 'Green Wizard'. Egyptian Beige Limestone will, we think, make a lovely warm contrast with the chamomile lawn—a feature that implies more sitting and watching and no ball games!
 The Wellbeing of Women Garden
Built by Tattersall Landscapes, this is the work of three designers—Wendy von Buren, Claire Moreno and Amy Robertson (all at an RHS show for the first time)—who felt strongly about raising awareness of Wellbeing of Women, a charity dedicated to improving the health of women and babies and funding research into gynaecology and obstetrics. Stepping stones (supplied by yours truly in Buff Sawn Yorkstone) mark each of the five decades of the charity's work, leading to a central stone engraved with "Our research is your family's future" (ditto). Planting is feminine in purples, blues and whites to echo the charity's logo and includes plants that have proved useful for women's health such as Taxus baccata, Betula utilis, Vitex agnus-castus and salvias.
Finally, there are the World Gardens. The other two gardens in this category conjure up Boston and Charleston, USA. These two are more exotic and both use Classic Travertine, but in different forms, which gives you a good chance to compare the two:
The Spirit of the Aegean
Strong geometric shapes provide the structure here, in a design by Esra Parr, built by John Wood Garden Design Ltd. It aims to transport you to visions of ancient sites, lime-washed villages and distil the Aegean landscape and Esra's chosen Classic Travertine Honed and Filled. Bright shrubs, airy planting and turquoise water around shady seating make sponsor Noble Caledonia hopeful that you'll be moved to travel with them to the real thing.
The Turkish Ministry of Culture and Tourism: Garden of Paradise
With a very different feel, this garden, designed by Nilufer Danis of Lotus Design Studio and built by Landform Consultants uses enclosure, water and shade to evoke early Turkish Islamic gardens of the tenth century. Rosa x damascene and bougainvillea add strong colour, and a large plane tree cools a corner as water splashes and trickles. Look for the Classic Travertine Honed and Unfilled, which we think will add to the sense of history and age in the design with its interesting texture. Don't miss the yin and yang elements, represented in upright cypresses and productive fruit trees.
More to Celebrate
This is the 25th anniversary of Hampton Court Flower Show, so there are bound to be loads of knowing references on trade stands and elsewhere. An extra-special feature has been created to celebrate: a 900m2 maze featuring a giant silver 25. (Bet it'll be easier to exit than from Hampton Court's original maze, installed 1700 and still puzzling visitors today.)
This show is a bit of a landmark for London Stone too. Out of thirty gardens, we're supplying natural stone paving for seven of them – that's over 20% and our record so far! *polishes fingernails and looks modest*