It was never going to be easy making Crohn's Disease look appealing so when Bowel Disease UK approached us about creating a garden we spent time discussing what this was all about.
Andrew Fisher Tomlin
The inspiration for the garden that we have created for the RHS Hampton Court Palace Flower Show focuses on the fact that Crohn's Disease is more often than not a life-threatening disease that mainly affects young people. It costs the NHS more to treat a Crohn's sufferer over a lifetime than to treat a cancer patient. Relaxation and stress reduction are key components of living successfully with Crohn's, a role that gardens and gardening can fulfil.
The garden has messages about plants, hydration and youth to help?engage with visitors and raise awareness of this debilitating disease, the challenges it poses and the research that Bowel Disease UK is funding to beat it.
The concept
The garden belongs to a young gardener living with Crohn's Disease. Someone who likes to collect unusual specimen plants alongside more familiar plants in a small city garden. This is a contemporary plant-lovers space with both the shade and the sun of a typical terraced house garden. It has a small area for relaxation in the day and night. A fire pit gives a focus to the small seating area and reflects the feeling that comes from having Crohn's Disease. The water and regular misting are a nod to the importance of hydration and regular water intake for bowel health.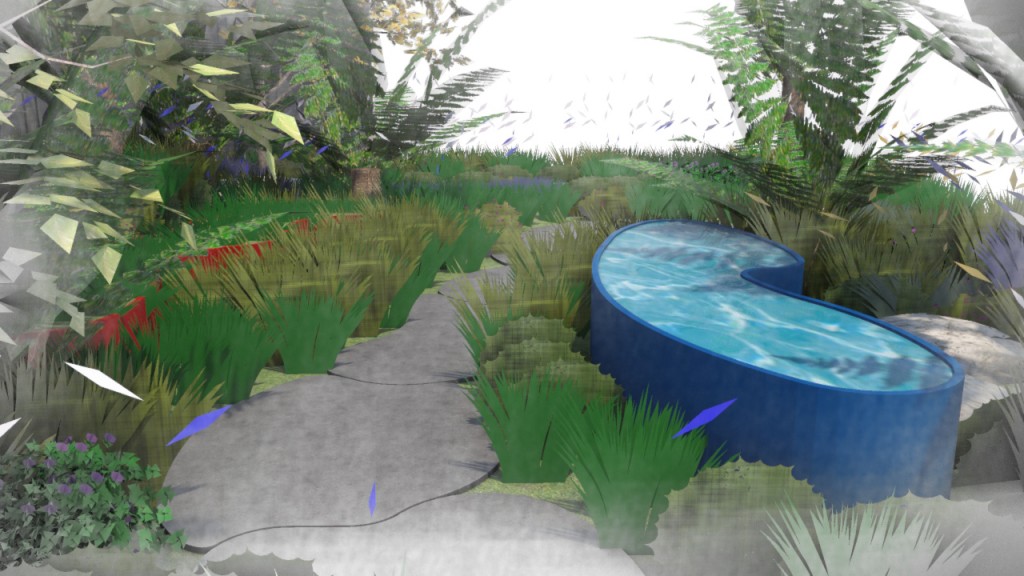 The Bowel Disease UK Garden for Crohn's Disease
Our designs are all very individual and reflect the tastes of our clients. We create many gardens in the UK that would be thought of as quite traditional with British stone and a strongly structured backbone of plants. When we design for more modern homes we seldom use the rendered concrete styling popular with many designers that you see winning SGD and BALI awards. This is possibly because our more modern gardens are created overseas where we are recognised for a much more fluid, relaxed vibe, something that we have developed over the years particularly in the Caribbean, Mediterranean and Australia.
At the RHS Hampton Court Palace Flower Show we wanted to bring this more relaxed style to a UK audience as well as celebrating many of the more unusual plants not normally found in the UK but familiar to us overseas. We're also just a little obsessed with new technology and techniques and so our garden for Bowel Disease UK has the new London Stone Sintered Stone which allows us to create that fluid styling we like so much and show off the opportunities that new technology in paving production and technology can offer.
The plants are the focus of the story. We have included a few plants that are currently related to bowel health research but as these in themselves would not make a garden this is not the main function of the garden. A collection of tree ferns creates a mini jungle whilst further into the garden sun-loving exotics reflect the plant enthusiast's eclectic tastes. These exotic but hardy plants are combined with familiar garden plants demonstrating the use of more unusual specimens in a UK garden