Lifestyle garden furniture is a must-have for every garden
Our gardens are our sanctuary. By incorporating lifestyle garden furniture into your garden you can make the most of your space and enjoy all that your garden has to offer.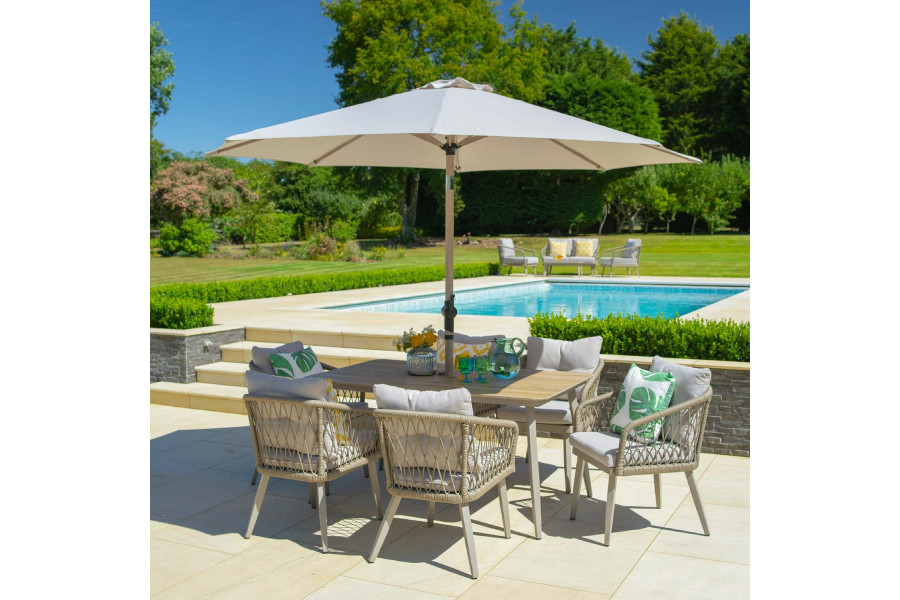 Why you need lifestyle garden furniture
Spending time in the garden should be a pleasant experience for all. With the right garden furniture for your needs, you are sure to find yourself spending more time outside. Breathing in the fresh air is a great way to relax and unwind. Being outdoors, getting back to nature and getting some vitamin D is a simple way to reduce stress and better your physical and mental wellbeing.
With the perfect garden space you can find yourself and your family enjoying all these benefits and more. Creating that space starts with finding the right garden furniture to encourage quality time outside.
Fit for purpose
The first thing that you want to consider when choosing your garden furniture is what you will be using your garden space for. With so much choice available, it can be overwhelming to know where to begin. Think about how you intend to use your garden; this is key. The clue is in the name: lifestyle garden furniture. It should suit your lifestyle.
Family friendly
If your garden is going to be a place for your family to enjoy evening meals or games night, then you should consider something with comfortable seats, enough room for everyone and a parasol to offer shade and shelter. Our Saratosa 6 Seat Dining Set & Parasol is the perfect choice for a family looking to get the most from their garden.
Small and cosy
For those who have a small space or just want to enjoy quality time with their favourite person, a bistro set is the perfect choice. Available in a variety of metal and rattan finishes, there is a set to suit every style of garden.
Social Setting
Perhaps you are more of a social butterfly and your outdoor space will be all about entertaining friends. If this is you, then one of our large modular sets is perfect. There is plenty of room for everyone to gather around comfortably to enjoy alfresco dining, a drink and some good conversation.
Ultimate relaxation
Don't forget that there is furniture designed specifically for relaxing and lounging in the garden. An egg chair can be a great place to curl up with a good book and a coffee. A sun lounger is ideal for soaking up that vitamin D. Our Monaco Stone Daybed is the perfect place to enjoy an afternoon nap.
Find the perfect garden furniture to suit your lifestyle and start enjoying more time in your garden.