Let's take a look at why garden furniture is so expensive.
With increasing demand for garden furniture, it can be easy to find yourself asking, why is garden furniture so expensive?
There are a few reasons for the price tag, which we will investigate in more depth, but it really comes down to construction and materials. You want furniture that has been made to survive long-term outdoors. You want materials are made to withstand all types of weather – snow, rain, humidity, sun, and more. As well as that, the pillows or cushions on your furniture should be stain- and weather-resistant. It can be tempting to go for the cheapest price possible on outdoor furniture, but you are paying for what you get. The cheap stuff tends to be lightweight and flimsy and will not have the qualities to withstand a life outdoors.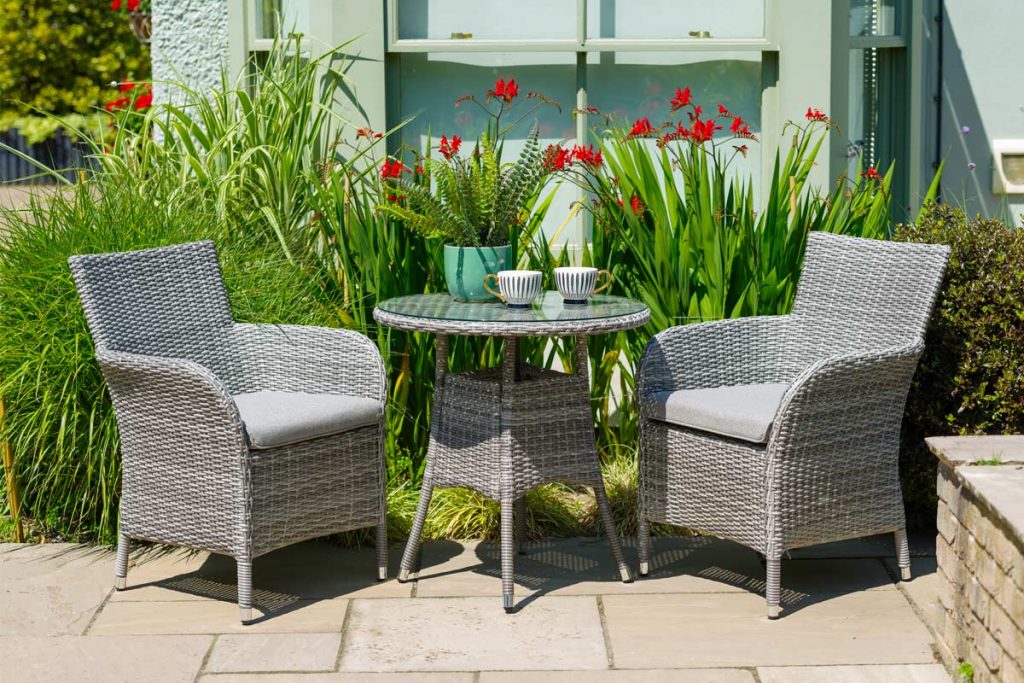 The Purpose
It's tempting to question why you can find yourself paying the same, if not more, for your outdoor furniture as for your indoor. Although you will likely be using your indoor furniture more often, the purpose of your garden furniture is very different. Unlike your indoor furniture, your outdoor furniture must be weatherproof, as well as comfortable and attractive. Some outdoor furniture is not fully weatherproof and therefore will not stand the test of time outside.
An Investment
Your garden is an extension of your home and should be given the same amount of care and consideration. This includes ensuring you purchase garden furniture that is fit for purpose and will continue to look its best for years to come. Not just this but being outdoors is great for mental and physical wellbeing; having a space that you can truly enjoy will encourage the whole family to spend more time outside. Therefore, top-quality garden furniture is a great investment. The cost of your garden furniture is proportional to how long it will last. A more expensive set now will last you year after year, whilst an inexpensive set will need replacing every couple of years.
The Material
Your chosen material for your garden furniture can influence the cost of the item. Top-quality materials will inevitably impact the cost of your garden furniture, but they are incredibly long-lasting. In comparison. cheaper, lesser quality items will often need replacing after 1-2 years.
Rattan
Rattan furniture is a popular choice for garden furniture and for good reason. It's actually made from synthetic rattan, as original rattan furniture is made from palm strands—not something that will last in the British weather! Not only is synthetic rattan attractive but it is extremely durable, which makes it one of the best materials for outdoor furniture. Good quality rattan can be expected to last a minimum of 10 years, but the furniture's durability is affected by how it is made. UV-resistant, rattan is a practical choice for leaving outdoors. You will also find that many of our rattan pieces come with a quality warranty.
Metal
For metal furniture that will stand the test of time outside you should be electing for powder-coated aluminium. This ensures the metal is resistant to corrosion when exposed to the elements, as well as reducing the chances of fading over time due to sun exposure. You will find powder-coated aluminium to be a feature of many of our garden furniture sets.
Wood
If you are looking for wooden garden furniture you will need to ensure that this is quality wood that will not rot when exposed to the outdoors. You may also want to consider treating wooden furniture to ensure its durability.
Cushions/Upholstery
The addition of cushions may increase the overall costs of your garden furniture. This is because you will need a cushion that will properly drain liquid, to avoid mould build-up. The cushion fabric will also need to be a more porous material that will dry effectively. Other qualities of a good garden cushion will include being able to withstand the elements, sun exposure, and to properly ventilate.
Now that you have a better insight into why garden furniture is so expensive, shop our quality garden furniture.