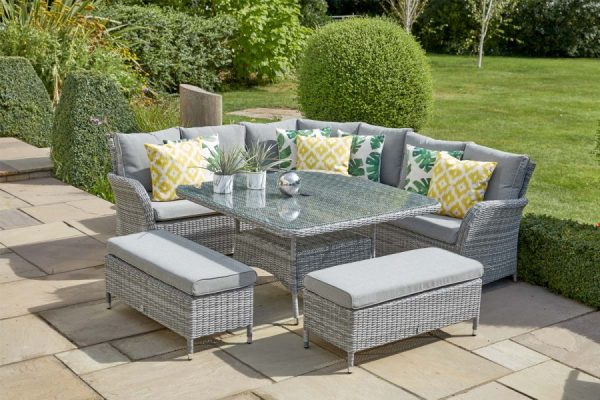 What Makes Our Grey Rattan Corner Garden Furniture Special?
Grey rattan corner garden furniture is a popular choice for the garden for several reasons. Although we supply a wide variety of garden furniture, in this blog we will delve deeper into the qualities of two of our most popular choices, which are both grey rattan corner sets.
Both our Monaco Large Square Modular Dining Set and Provence Modular Dining Set match the product description of "grey, rattan and corner". These sleek, contemporary pieces of garden furniture are the perfect place to relax and dine with friends and family. Here is why they are the perfect choice for your garden.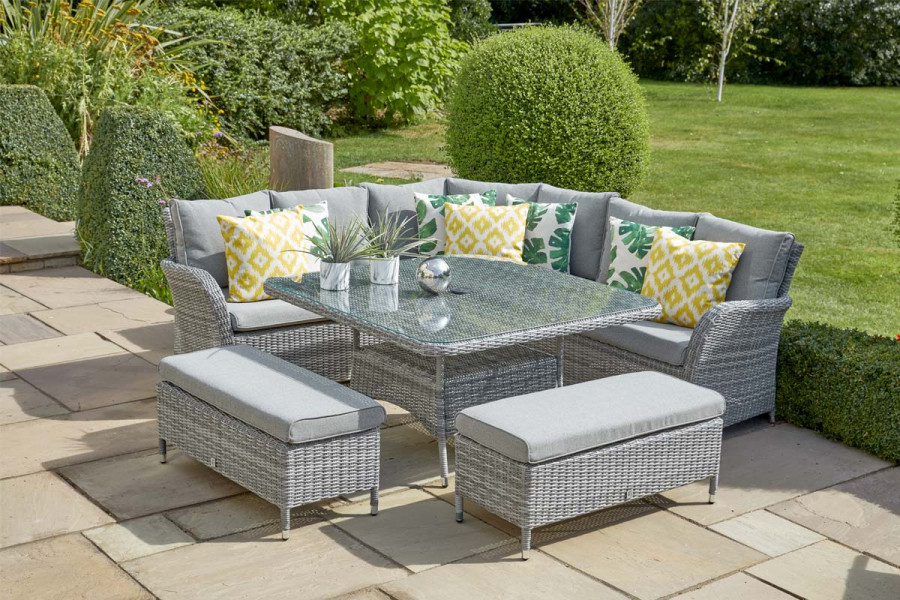 Our Monaco Large Square Modular Dining Set is the perfect space to spend the day relaxing in the garden. 
The colour
Grey is the colour of the moment. Cool and contemporary, it complements a range of other colours. Grey's easy to dress up or down. You can go bold with it, pairing it with plenty of bright tones like yellow, orange, blue, pink, whatever takes your fancy. Incorporate these colours with throw pillows, accessories for the table, or surrounding planting. Alternatively, for a more monochrome feel, keep the colours neutral—whites, blacks and other tones of grey will keep it sleek and stylish.
Grey furniture will look right at home wherever you place it. Whether on the decking, patio or lawn, these sets will never look out of place.
The material
Stylish
Rattan furniture has been growing increasingly popular and it is easy to see why. It is elegant, versatile, stylish, low maintenance, and all-purpose. The woven texture has a classic feel that is instantly recognisable! Highly sophisticated and guaranteed to look on-trend for years to come, the design will effortlessly blend into a country chic and modern minimalism setting alike. The design effortlessly adds a touch of elegance to any garden or outdoor space.
Comfort - Our rattan furniture sets come with added cushions for comfort. However, you can also add a few more throw cushions for that extra bit of comfort, as well as customisation if you want to play around with different colour fabrics. Rattan is also a flexible material; this not only means that it is more comfortable to sit on, but also that the design options are endless.
Sleek and stylish our Provence Modular Dining Set is the perfect addition to any garden. 
Light but durable
Unlike wooden and some metal furniture, rattan is extremely lightweight. This light weight makes it easy to manoeuvre and move around your garden to chase the sun. However, just because it is lightweight doesn't mean it is weaker; rattan is still an extremely durable material that provides your garden with luxury that lasts.
Weatherproof
Synthetic rattan is weatherproof, this means no rushing outside to put it away during unexpected showers. With over 160 rain-days each year, this choice of material is ideal for UK gardens. Rattan furniture will easily withstand those typical British showers, so you will not have to worry about bringing it inside during extreme weather events. This means that your synthetic rattan will have a longer lifespan than natural rattan, which is more prone to elemental damage.
Our summers are often spent jumping from heatwave to rain in a matter of hours, which means that choosing the right type of outdoor furniture can be a real headache. As well as being waterproof, rattan is also resistant to UV rays so you should not expect to see much fading or wear and tear in warmer weather. In addition to all of this, rattan is also more resistant to both frost damage and moss growth compared to other types of materials, so you will not need to bring it in during the winter months either.
Create a snug space to enjoy your garden from with our Monaco Dining Modular Set. 
Easy to maintain
Rattan is easy to maintain, especially when compared to other types of furniture. Simply use a soft washcloth and regular washing up liquid to clean as and when it is needed. To get into all the little nooks and crannies you just need a small brush. If you want to be sure to keep your furniture looking its very best you can also purchase furniture covers.
Versatile
Not only is rattan the perfect option for outdoor use but more and more people are also opting to bring it inside. Conservatories especially benefit from this look as they are the perfect gateway between your home and the outdoors. Perfect for merging the inside of your home with the outside.
Our Bergen Large Square Modular Set is ideal for gathering friends and family around to enjoy alfresco dining. 
The shape
You do not need a huge garden to enjoy the benefits of a rattan corner sofa. One of the main benefits of buying a rattan garden corner sofa is that they can fit snuggly into a corner, allowing you to fully enjoy the space of your garden. By tucking your furniture neatly into a corner you can maximise the space available to you. They also provide the perfect place to host evening drinks with friends or enjoy a family BBQ. With adequate and comfortable seating, you can easily get everyone together to enjoy the garden
Now that you know more about why our Monaco Large Square Modular Dining Set and Provence Modular Dining Set make such good choices for your garden, shop the range now.