What Is The Best Metal Garden Furniture?
When you are transforming your garden into your own personal oasis you want to be sure that you are getting the best metal garden furniture. The best quality will last for years and stay looking its absolute best.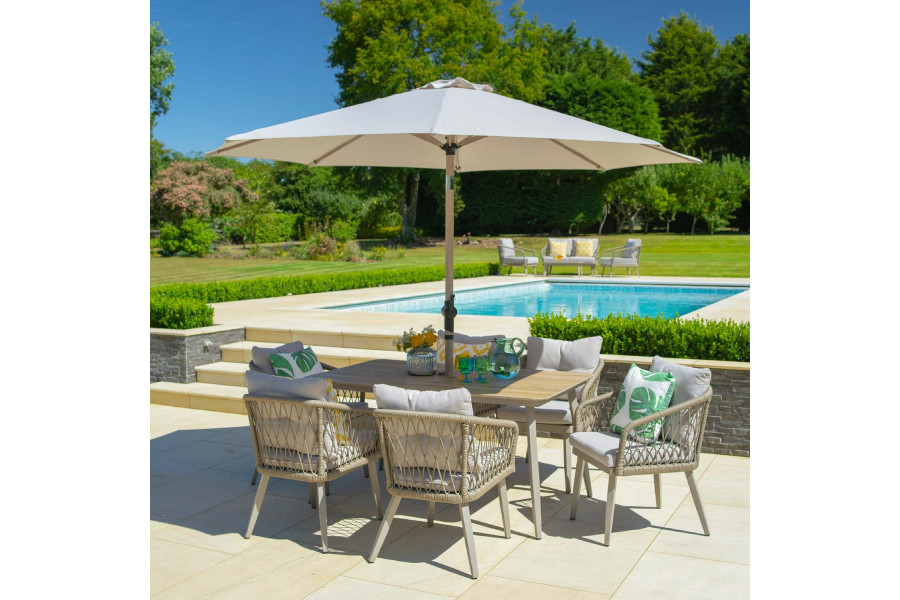 Create that summer holiday feeling in your own garden with our Saratosa 6 Seat Dining Set & Parasol. 
Metal garden furniture is sleek and contemporary and makes a stylish addition to any garden. It is easy to add your own personal touch to this style of garden furniture. With a couple of throw cushions, a few accessories on the tabletop and maybe a throw blanket for when it gets colder, you can make this style of furniture your own. Not only is it a stylish choice for your garden but also a practical one, if you choose a good-quality, long-lasting set. So, what qualities should you be looking out for?
Durable Frame
Choosing a durable frame is arguably the most important part when choosing your garden furniture. You want to be sure that your frame will last and provide you with a sturdy base to enjoy your furniture for years to come. There are a few good choices of metal when it comes to garden furniture—Iron, Steel and Aluminium. Each has its own pros and cons, as well as distinctive appearance, so you will need to decide which best suits your garden.
Relax and unwind in the garden all day long with our Milano Deluxe Modular Dining Set Adjustable Table.
Iron
Pros
Wrought-iron garden furniture has a stylish appearance, is strong and durable and, if it is powder-coated, it is weatherproof.
Cons
As it's not the most comfortable of materials, you will require a garden cushion or two. Iron furniture can be extremely heavy to lift and manoeuvre; this can be an issue if you need to move the furniture to safely store it. If the iron is not powder-coated, you will need to apply a rust protector.
Steel
Pros
Like iron, steel is very sturdy material. However, it is lighter than wrought iron. Stainless steel is also a good choice for the garden as it is rustproof.
ConsSteel furniture can get very hot when the sun is shining on it directly, not ideal for enjoying the garden in the summer months. Outdoor cushions are a necessity to keep you from burning yourself on any exposed metal, and preferably these should be made from a weatherproof, fade-resistant fabric. Like iron that is not powder-coated, if the steel is not stainless you will need to apply some sort of protective coating to prevent rust.
Instantly transport yourself to a Parisian Cafe with our Devon Bistro Set. 
Aluminium
Pros
Aluminium is by far the lighter material compared to steel or iron. It does not rust and is very durable. It also more affordable and easier to maintain. Many manufacturers of outdoor furniture now powder-coat the aluminium, which means it can be resistant to fading and UV light, as well as rustproof. The powder coating may also come in a range of colours.
Cons
As with steel, if your aluminium garden furniture is not powder-coated, it can become hot to touch during sunny days.
Arguably, aluminium is therefore the best choice, and this is certainly our opinion. Our garden furniture is made from double powder-coated aluminium so that you can be sure it is the best possible quality. Weatherproof and rustproof, as well as stylish, it's furniture that you are sure to find stands the test of time.
Enjoy long evenings in the garden with our Milano Lounge Firepit Set Highback Cushion Armchairs set. 
Other qualities
Our metal garden furniture has several other features that make it the superior choice for your garden! Wood-effect aluminium tabletops, which have been hand-brushed and slatted for a super realistic effect. The tabletop is then set into the aluminium frame to create a seamless and elegant finish.
All our furniture also features our innovative season-proof cushions. Water-repellent, UV-resistant and quick-drying, these cushions can withstand whatever the weather has to throw at them. The cushions also have easy-to-remove zip covers, for quick and easy cleaning as and when it is needed.
With a range of styles and colours to choose from, as well as stacking options and armchair choices, our range of garden furniture has something for everyone.
Now you know what qualities you are looking for when shopping for garden furniture, browse our range and see how it compares.