Discover the answer to your burning question - what is synthetic rattan made of?
Rattan furniture is a firm garden favourite. Real rattan can be expensive, and much harder to maintain, when compared to synthetic rattan. With synthetic rattan you get the same attractive, classic appearance, but it is much harder-wearing and longer-lasting, so what is it made of?
What is it made of?
Synthetic rattan is made from man-made fibres. This is what makes it sturdier and more durable than the natural materials of the real thing. The fibres are woven in the same way as real rattan, to give it the same classic wicker feel and appearance. The fibres are then coated with UV additives that prevent fading over the years, as well as giving protection from general wear and tear.
Our ranges of rattan garden furniture are made from EverWeave; the multi-tonal strands are the secret to its authentic wicker look. The fibres are woven around a coated aluminium frame, to produce a long-lasting product that can be left in the garden year-round. Read more, including how to look after your rattan furniture, in our Beginner's Guide to Weatherproof Rattan Garden Furniture.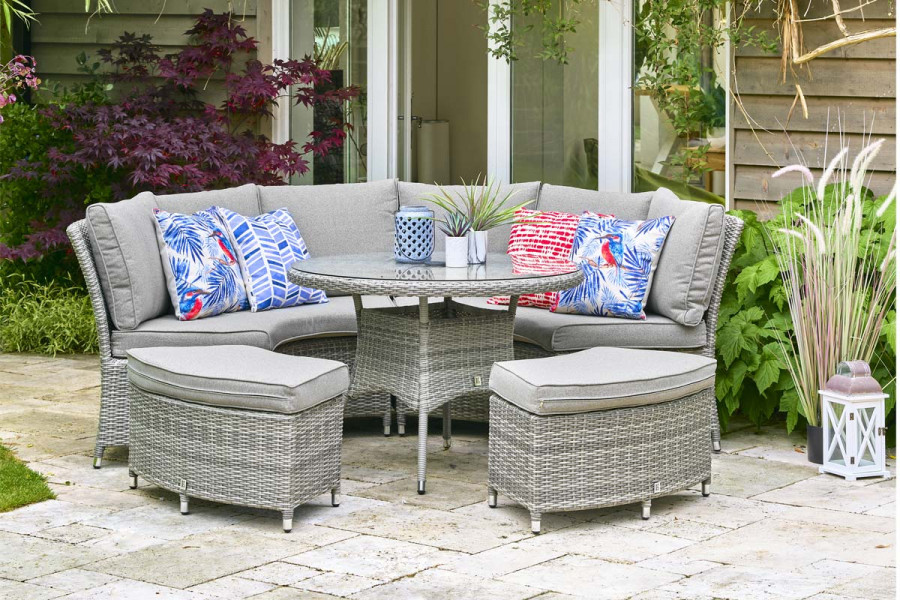 Real rattan vs synthetic
Real rattan is a perfect choice for furniture because it is flexible and easily available. Although rattan is one of the strongest woods available, it does not particularly suit the British climate. It tends to rot when exposed to the damp conditions that are so familiar to us. This means that you cannot always leave your rattan furniture outside.
Synthetic rattan, or rattan effect, is a much better choice of furniture for the UK. The weatherproof qualities, such as resistance to UV rays and damp conditions, make it the better choice. Everweave even has the eco-credentials of being made from partially recycled material. When the synthetic rattan we sell looks just as good as the real thing, why would you not choose this more durable option?
Explore our full range of styling and long-lasting rattan furniture.