Make 2021 the year that you stay at home and relax - use a Rattan Sun Lounger to create the ideal staycation
It is no secret that this past year hasn't been the best for holiday makers. Many of us have re-evaluated how we live our lives and our priorities. With uncertainty around when life as usual will resume why not look into make the perfect staycation destination in your own garden.
Create the perfect holiday destination in the garden by relaxing on a rattan sun lounger. Kick back, sunbathing or enjoying that book that you just haven't been able to get round to reading just yet. Weather not that warm? No problem! Grab a blanket and a cocktail and just enjoy the peace and tranquillity of being outside.
Use A Rattan Sun Lounger To Create The Ideal Staycation - you can almost smell the lavender!
Why should you have a staycation?
Save Money
You can save a lot of money by staying home for your holiday. The average cost for a 10-night holiday aboard is £947. By staying home, you can save a tonne of money whilst still having an enjoyable and relaxing time. Why not instead invest that money in your garden? Quality garden furniture will have you enjoying year-after-year of happy times in your garden.
Find yourself more relaxed
A week at home can feel far more relaxing than a rushed trip, in an unfamiliar place, crammed with activities. Have you ever arrived home thinking, "I need a vacation from my vacation,"? Then you can understand. No panicked packing, rushing to the airport, arranging transport, or stressing about making the most of your holiday. Instead, stay home and relax in the garden. You won't need to put your towel on the sun lounger to reserve a good spot!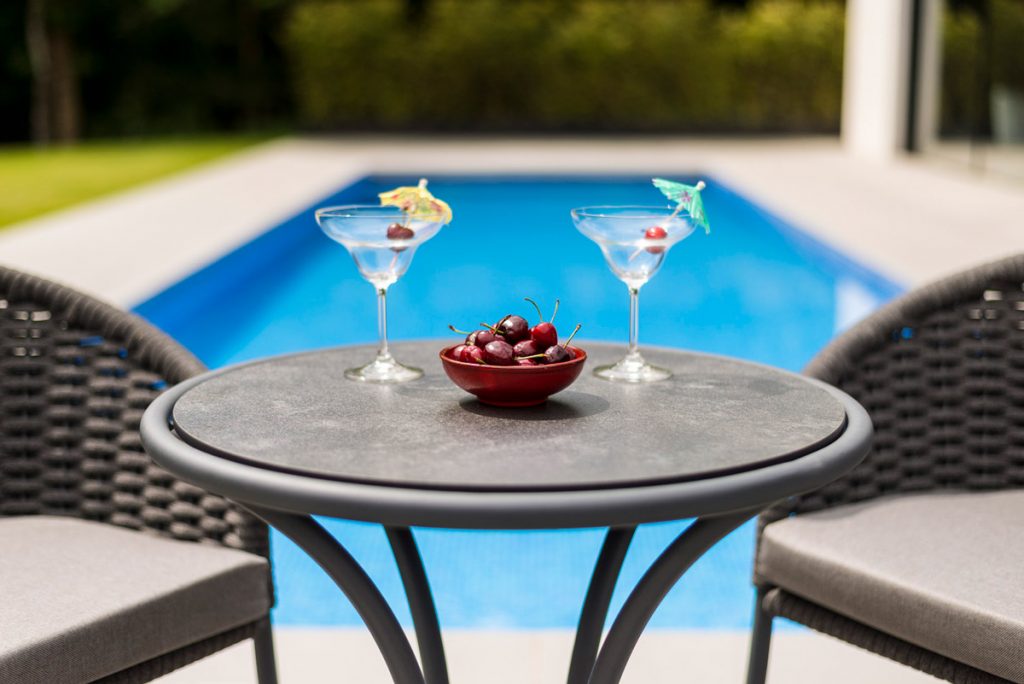 Cocktail anyone? It's your staycation - relax and enjoy it!
Reconnect with the family
Staycations give you the opportunity to reconnect with your family. Instead of packing your precious time off with endless activities and distractions, take the time to slow down and choose quality activities to enjoy as a family. A staycation allows you to spend time with your kids in the comfort of your home. Enjoy some quality time playing games in the garden or drawing together on a picnic bench.
How to make the most of your staycation
Disconnect and Disengage
It is the perfect time to take a few days off work. Many people are working from home now, which is the perfect storm for blurring the lines between work and downtime. So, let go of your schedule - take a break from the monotony of real life.
Forget about time. Most of us will lose track of time when we are on holiday, recreate this feeling at home by hiding away all the clocks, taking off your watch and hiding the clock on your phone for a few days. You will be surprised to discover just how relaxing this small action can be.
Dappled sunlight and good food - what's not to like?
Another trick is to stop watching the news. You wouldn't watch it whilst away on holiday so why watch it on your staycation? Most of the news is negative anyway so go without it for a week.
Unplug from social media as well. See how you feel after a week off from Facebook and Instagram, you may be surprised to find that you feel happier and more relaxed. Connection is key during lockdown, but it is also good to take a little break from it every once in a while. Try to make your staycation device free, even if that is just in certain areas; i.e. in the garden. It may feel strange at first, but you will soon adapt and quickly find that some time off the socials is a good thing.
Lastly, don't forget to forget about your emails! Just because you are at home, do not be tempted to check them. Turn on your auto-reply to messages and leave them until you get back. Challenge yourself not to check your emails for the entirety of your staycation.
Now that you have disconnected with the modern world, reconnect with natural. Get outside, enjoy some fresh air and sunshine on your face.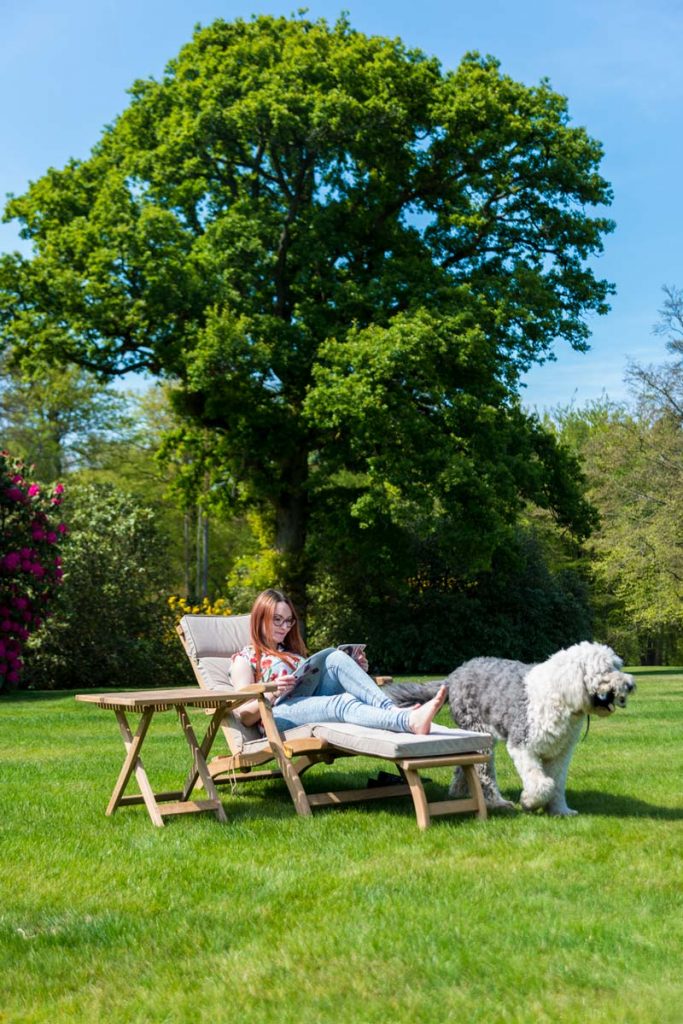 A good book on the lawn is the ideal way to ensure you're relaxed at home this summer
No Chores Allowed!
It is easy to fall into the 'chore trap' of spending time off to do housework. Get all your chores and errands finished before your staycation begins and focus on relaxing instead. It can be hard to ignore chores when you are home, this is a common problem for many. Instead of focusing on family time or enjoying you time off, you can find yourself spending too much time doing chores and housework.
Now that the chores are taken care of you can focus on yourself for the week. Spending your time relaxing or enjoying quality family time.
Plan Some Fun Activities
Having a few activities pre-planned will allow you to make the most of your time off.
Put a fancy picnic together in your garden. Dust-off your picnic basket and find a lovely spot in the garden where you can stay put for an afternoon with your family. Pack some sandwiches, snacks, and drinks, and you are good to go. Either gather around on the garden furniture or lay out a blanket.
Camp out. If the weather permits, you could even sleep out under the stars in your own back garden. This is a great option for those with children. Dig out that old tent or those sleeping bags that have been gathering dust, or just some blankets and lay on the sunbed. Have a BBQ and some drinks to hand and spend the whole evening in the garden.
Now that you know how to make the most of your staycation book your time off now! Shop all the products mentioned in this blog here!