It's not every day a TV company asks if you have a project suitable for their TV series, but this is exactly what happened to Paul Newman of Paul Newman Landscapes, based in Welwyn Garden City.
Beola Bianca Porcelain Paving and Steps. The rum shack was partly made out of the pallets in which materials had been delivered. Picture courtesy of Paul Newman Landscapes
"TwoFour, a production company, were making a new home renovation series for ITV called Home Game," says Paul. "We feature in episode five."
If you missed it, you can still catch up with the series via ITVHub. Each week, a handful of projects is featured, with the accolade going to the one that adds the most value to the property for the least cost.
Paul's project involved the complete overhaul of a tired-looking back garden with decking and sloping lawn.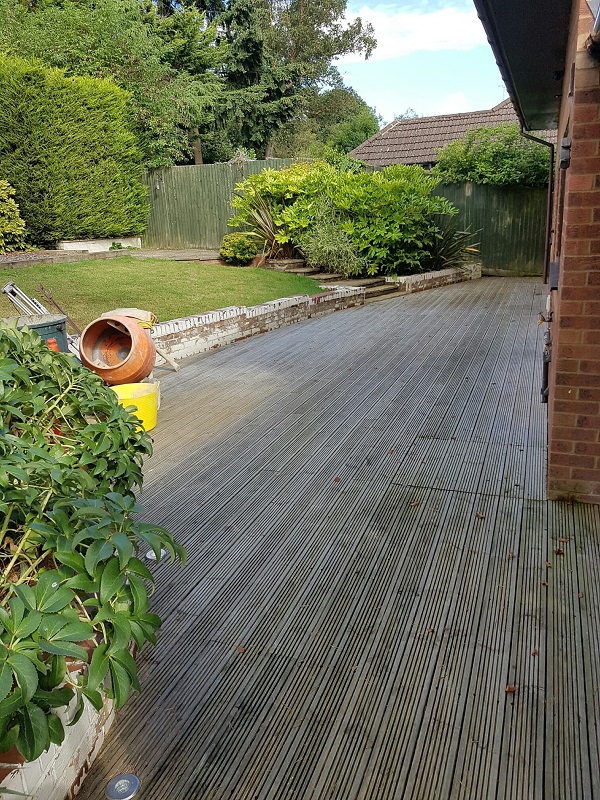 The Welwyn garden before work started. Picture courtesy of Paul Newman Landscapes.
Gerry and Caroline, the owners, wanted a garden for entertainment as well as their own enjoyment, with a feel of a luxury hotel. "I want people to come round and think, Wow, this is amazing," said Caroline.
A complete transformation was planned, including a jacuzzi, new walling, raised deck area with a 'rum shack', Porcelain Paving, planting, and LED lighting.
With 120,000 tonnes of earth to shift—to create a patio at the same level as the decking by the house—the weather could have been a disaster, as the soil was dumped in a holding area on the driveway prior to being removed. Not a single drop fell during the groundwork, not a neighbour annoyed by run-off.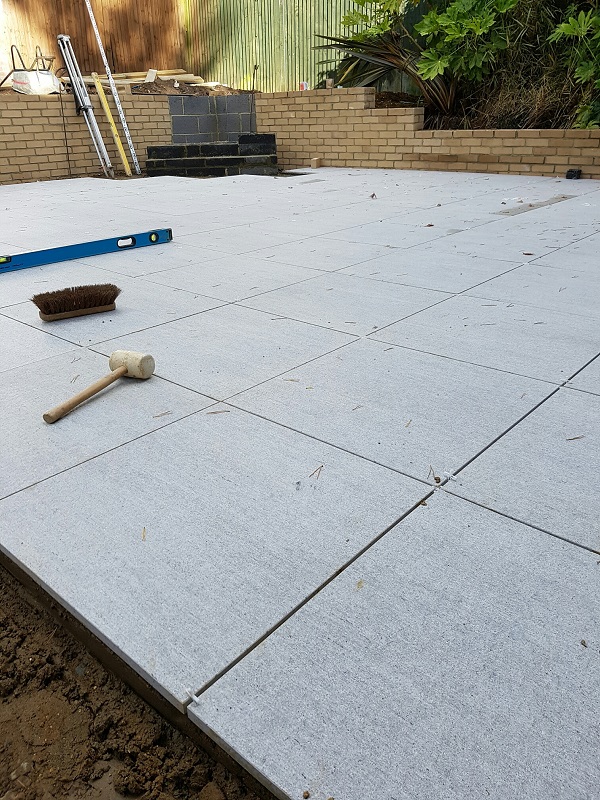 Beola Bianca Porcelain Paving, awaiting pointing. "It's a pleasure to lay," says Paul. Picture courtesy of Paul Newman.
For the large patio area and steps up to the rum shack, Paul chose Porcelain. The area measures 65m2, so he used the 600 x 600 format, with a change in laying direction to define the jacuzzi area and create interest.
"I chose Beola Bianca because it's quite a dark garden," he says. "There are a couple of large trees, and it's north-facing, so there's not a lot of light towards the house. Beola Bianca is light-coloured, and also extremely hard-wearing and low-maintenance.
"We installed an ACO HexDrain Brick Slot drainage channel system, to take care of surface run-off." This has an unobtrusive profile which fits well with contemporary paving.
For pointing, Paul used Ardex-Flex FL in Snowdrop, one of the ten popular colours we stock. "I use Ardex because it's tried and tested," says Paul. "It's got a bit of flex in it, a fine-grained finished, goes in lovely and sets within a couple of hours. It's also got the best colour range, so you get a very close colour match to the Porcelain."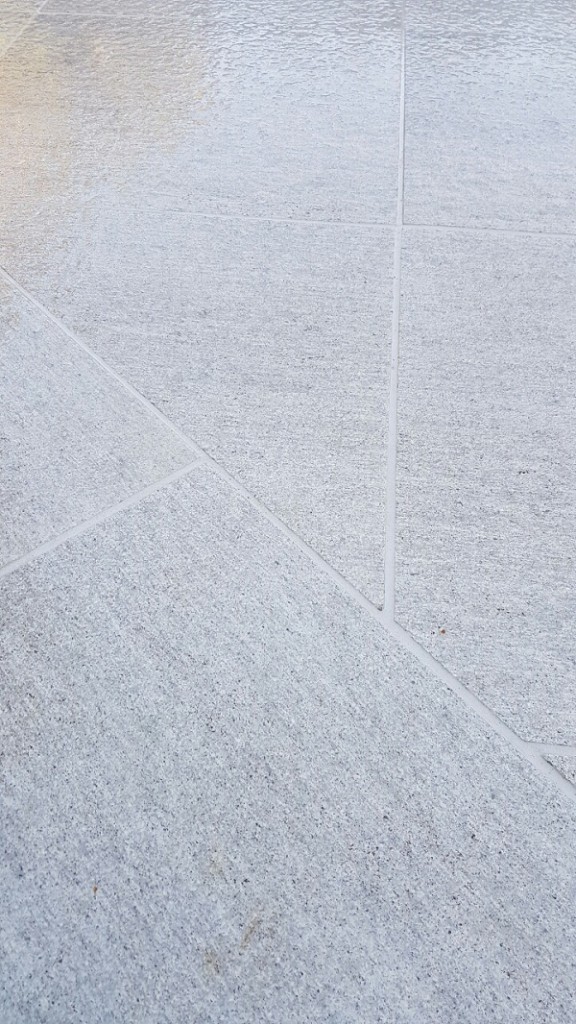 Ardex Snowdrop offers an excellent match for Beola Bianca Porcelain. Picture courtesy of Paul Newman Landscapes.
The build had an added dimension, because of the programme. At least no film crew got in the way – because the producers left it all to Paul and Gerry. "They never left us a camera," says Paul. "I think they had so many programmes to make, they were short of equipment, but they told us to send in any footage we could, and still images. The client did some filming. At the end of the job we had an interview with the production company."
When you watch, you'll see it's very much a before-after whistle-stop tour of what was done, but nothing could underplay the transformation. By the end, the estate agent was stunned at what had been achieved.
Did Gerry and Caroline's property gain the greatest increase in value? Well, you'll have to watch to find out (their garden features in the last quarter of the programme), but that wasn't the most important thing. "The value that it's going to give us will be a lot more," said Gerry at the start of the work, and afterwards Caroline was cock-a-hoop at creating "Barbados in Welwyn".
Porcelain Paving is increasingly popular for builds like this. Picture courtesy of Paul Newman Landscapes.
It's becoming increasingly clear to us at London Stone that Porcelain is taking off for specs like this one. It provides just what clients want, being easy to look after and retaining its good looks with very little attention; with thirty different styles and textures to choose from, there's almost certainly something to match your clients' needs and expectations. And don't forget that this year we're offering free delivery on orders over £500 (some conditions apply).
Paul agrees (no, we didn't flourish any knuckle-dusters!). "Porcelain is the way forward," he says. "It's a pleasure to lay. Clients want low-maintenance. It's not porous. There's a good finish. And London Stone stock a fantastic range; it's good value for money."