Making Space For Green Living At RHS Malvern Spring 2019 - read about this year's show and the gardens which London Stone supported
Good things come in small packages - that's pretty much the message behind Green Living Spaces; the design category that's just had its second year at RHS Malvern Spring this month. It's there to show that you don't need a huge space to have a beautiful garden.
The Redshift Garden by Rockhopper Garden Design, RHS Malvern Spring Festival 2019
They also, we think, show that good things come from London Stone! We've been privileged to provide natural stone and porcelain to nearly all the gardens in the category and not only did the designers put our paving in some gorgeous settings, but we're very happy to have supported young designers who are all at the start of their careers. On the evidence, we're sure we'll be seeing far more of them at shows in future!
First, though, let's look at the Silver award-winning 'The Redshift Garden'. In this show garden, built by J Drewe Landscaping and Maintenance Ltd, designer Julie Bellingham of Rockhopper Garden Design represented the expanding universe in horticultural form.
It was one of two gardens to use our Mint Sandstone, here in a sandstone circle, setts and copings. By way of a contrast, and creating a neat border that outlined the circular shape of the seating area, Julie added Midnight Black Limestone Setts, their dark, even colouring acting as a foil to the lovely range of pastel tones that make up the Indian sandstone.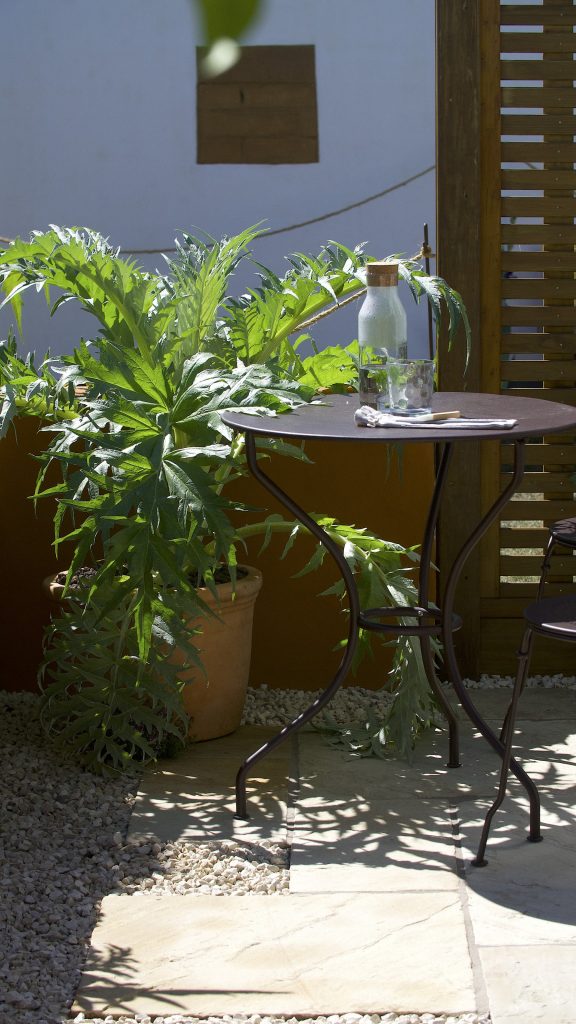 Ikhaya: Home, designed by Stacey Bright, RHS Malvern Spring Festival 2019
Mint sandstone was also the choice in Green Living Spaces of designer Stacey Bright, who travelled from South Africa to create the Silver-award winning 'Ikhaya: Home' (which means 'home' in Zulu).  A minimalist space planted mainly with edibles, it was designed as an escape from city living and built by Keyscape Design and Construction. Tumbled Mint Sandstone gave the hard landscaping a softer profile, which chimed with the wooden planters and fencing, and its pastel shades toned with the rusty colours of the terracotta pots and walling.
Nearly 40% of Britons live in rented accommodation and the Green Living Spaces gardens each include a shipping container to represent an interior linked to a 6 x 3 m outdoor space.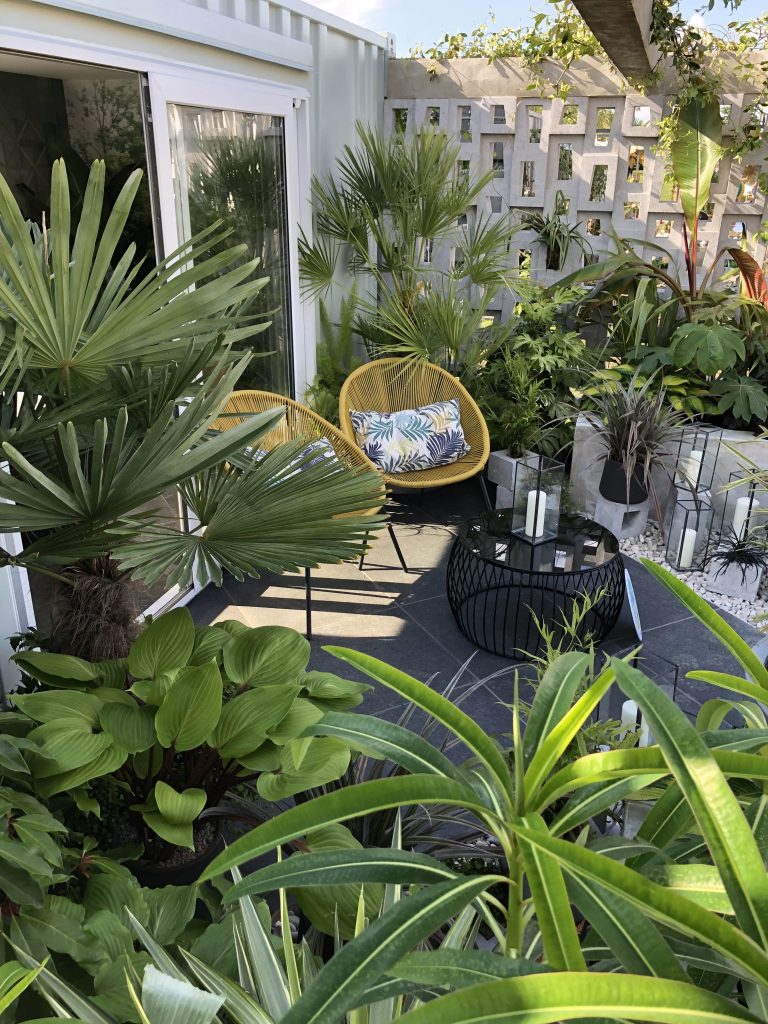 Defiance, by Sara Edwards, RHS Malvern Spring Festival 2019
'Defiance' lived up to its name with a verdant design by Sara Edwards for someone who'd returned from Brazil and had a balcony lushly at odds with the barren concrete of surrounding flats. Not only did her garden win Gold, but it also earned Best Green Living Space Garden. Well done Sara!
Built by Design It Landscapes, it incorporated our Black Basalt Porcelain in a triangular-shaped seating area that thrust dynamically into the surrounding planters. Using it in combination with pale pebbles gave a pleasing contrast between dark and light, and interestingly its sparing use gave it greater impact against the slightly brutalist feel of the grey concrete planters and feature block wall. Used indoors and out, the Basalt porcelain also created continuity between the two spaces.
An Artist's Studio At Home, designed by Jessica Makins, RHS Malvern Spring Festival 2019
Defiance was inspired by Roberto Burle Marx, the Brazilian artist, musician and landscape architect who influenced tropical garden design. In complete contrast, An Artist's Studio at Home, designed by Jessica Makins in collaboration with Stephanie Tudor, and built by Jeffrey Hart, was a warmly coloured space inspired by the life and paintings of Georgia O'Keefe, who spent many years in an adobe home and studio in New Mexico.
Textural grey-green planting stood out against the natural materials of clay and wood, and textiles were made of natural fibres such as wool and linen. That made the designers' choice of Heath Sawn Sandstone completely at home with its grey-brown tones. It's worth noting the choice of sawn paving as, for some, a riven stone might have felt the obvious choice in this setting. However, here we had a contrast between the crisply cut paving and the softly shaped clay walls and rounded containers, and a consistent texture and colouring that gave giving the architectural plants a background against which they could shine. It won a well-deserved Gold as well as People's Choice.
Mediterranean Terrace, designed by Gabriella Pill of Butterworth Horticulture, RHS Malvern Spring Festival 2019
Show gardens are always nerve-racking, as Gabriella Pill described in our blogpost on her Silver-Gilt awarded Mediterranean Terrace. This is where your contractor can be a real help, stepping in to solve problems at the last minute, provide solutions and make sure you have everything you want, where and when you want it. We pride ourselves on doing this, so we were chuffed to be included in this tweet from Rupert Keys of Keyscape who built a number of the gardens and guided designers through the build process:
Kind words from the incredibly talented Rupert Keys
Thanks, Rupert.
So, many congratulations to all the designers and contractors who have taken part in RHS Malvern this year, and especially to those in the Green Living Spaces who are setting off on their horticultural career. We can't wait for 2020 already!