London Stone's Exciting News For 2020 sees the company putting money into your pocket with a variety of great offers and initiatives
We have exciting news for 2020 - There has never been a better year to be a London Stone customer! With plans to extend existing offers, freeze prices, and introduce homeowner guarantees for many products, London Stone is entering its best year, giving you "more for less".`
The Big Price Freeze Continues into 2020 (Image courtesy of Good Grounding)
We are proud to confirm that for a second consecutive year we have successfully been able to achieve a price freeze across almost all of our products. We have been able to achieve this popular price freeze through careful and considered analysis of expenditure and continued cost control management. These considerations are made with the intention of putting money back into your pocket. We continue to strive to offer customers the best quality products and services, at the lowest possible prices.
With a delivery offer that extends nationwide, there's never been a better time to buy from London Stone
We have also been listening to our customers on other matters that are important to them. As a business, London Stone are renowned for supplying quality products. In the limited cases where there have been any issues, we are known for resolving these in a fair and timely manner. We are now taking this message of quality a step further by backing our products with a guarantee to the end customer. Our entire vitrified Porcelain range will soon be eligible for a 10 Year Homeowner Guarantee. With our Natural Stone products that have been pre-sealed with Dry Treat Stain-proof, we can also guarantee the Sealant for 15 years.
Pre-sealing natural stone with Dry Treat Stain-proof is highly recommended
There are numerous other ways in which we are developing our "more for less" culture this year. Many of our customers will already be aware of our helpful FREE Nationwide Delivery Service. This fantastic service is offered on all full packs orders of Porcelain, Natural Stone and Composite Decking, or orders over £1,000 (+ VAT) of these products. Free delivery means an increase in your profit margins when using our products.
2020 will also see the introduction of more exciting, inspirational product lines than any previous year. We are expanding many of our ranges. New lines are being added to our DesignClad Wall Cladding, Porcelain and Sawn Sandstone Paving collections. We will also be introducing a few completely new products: Clay Pavers, Fencing and Large Format Porcelain. All these products will be available shortly from our e-commerce website.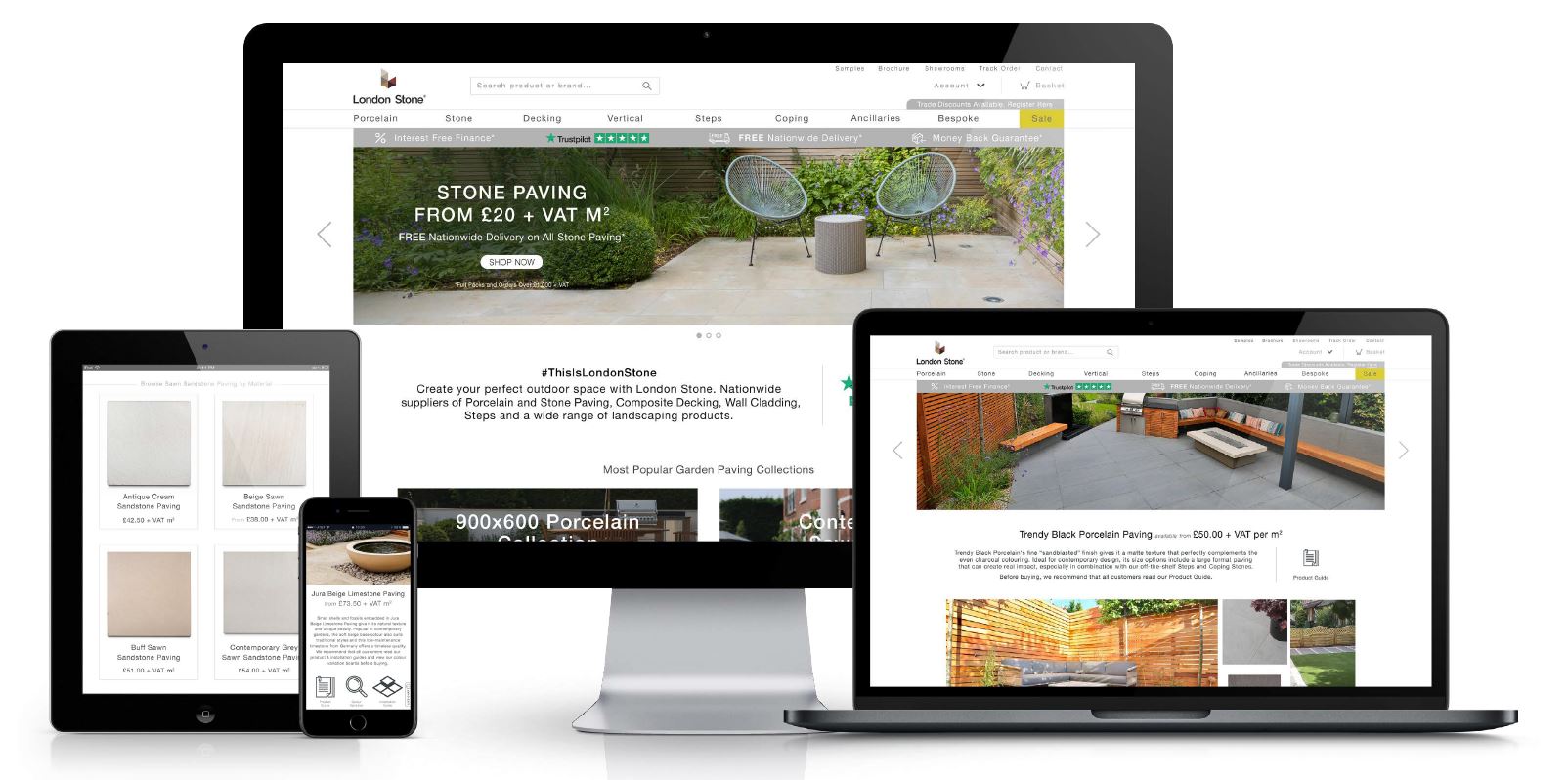 London Stone's e-commerce platform works around you
Don't forget that our new e-commerce platform can assist you, 24/7. Not only can you view product's stock levels in real time, you can order products at your convenience.
If you're in the trade, don't forget to attend one of our many upcoming "Evening With" events for full details on all of our exciting deals and information about our new products. Contact us for more details.
2020 is shaping-up to be our most exciting year yet – and we hope it to be your most profitable.