Keeping It In The Family With Team Felix And Duchenne UK - we discover the progress being made by Duchenne UK, and take a look at where your donated money ends up
Well, the vertigo's subsided, and our blisters are no longer bad enough for bragging rights. We thought that after last week's rundown of our hair-raising adventure to raise funds for Team Felix and Duchenne UK, we'd fill you in on where the £11,800 raised is likely to be directed.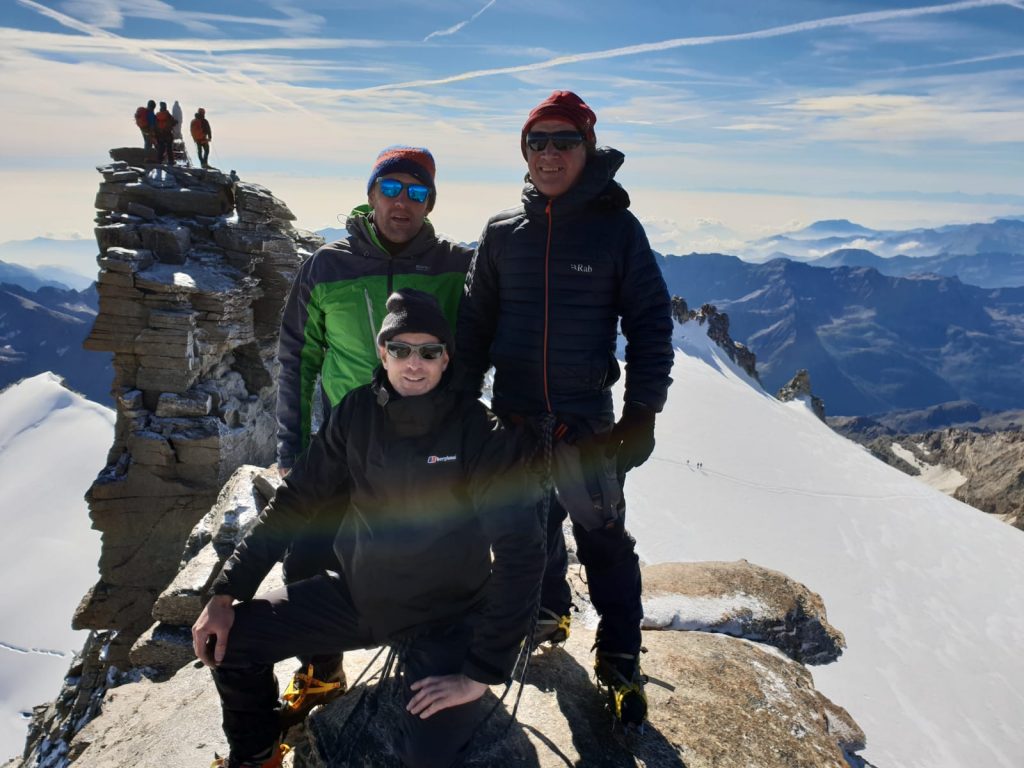 One of the climb teams from London Stone reach the summit of Gran Paradiso in September 2018 - a hike to raise funds for Duchenne UK
Duchenne UK is the charity that funds research into Duchenne Muscular Dystrophy, and Team Felix is a one of their Family Funds, each of which is dedicated to raising money for Duchenne UK.
"Duchenne Muscular Dystrophy is a rare condition," says Molly Hunt, Duchenne UK's Head of Communications. "Not many people have heard of it." Until a friend's child is diagnosed, that is, which is when a Family Fund is set up. "The personal relationship people have with a Family Fund, where they know the child involved, makes Duchenne more tangible." It also makes for some very focused fund-raising.
If you've read our past blogposts about Team Felix, you'll know that London Stone has a very personal connection, as Felix is the son of close friend Karl Kuhwald. Felix was diagnosed with DMD in 2013 and, sadly, Karl died in 2015. Since then Team Felix has been headed by Felix's mother, Lisa Kuhwald and we've been doing our best to help.
The World's Strongest Boys - an awareness and fund-raising initiative from Duchenne UK
This direct input by fundraisers into the direction of the charity is one of the elements that creates such a community around the children, and why, explains Molly, that community is so engaged. "Many of our family funds sit on our Patient Advisory Board who review any research project we are considering funding. Projects are also reviewed by our Scientific Advisory Board, which is made up of an international panel of experts, before final approval by our board of trustees. This means the community have a say in what we fund and we make sure that supporters know where the money's going."
Lisa is working with Duchenne UK to agree which new projects she'd like the funds raised to go towards. Look out for more updates in the future.
Duchenne UK have a pledge to 'end Duchenne in ten' years
It's a very hopeful time for Duchenne Muscular Dystrophy (DMD). This summer a breakthrough in gene therapy was announced in the States, while Duchenne UK has recently awarded £273,648 to research into taurine, a naturally occurring amino acid that is already available as a health supplement and which pre-clinical work suggests gives protection against muscle-wasting. Duchenne UK is the leading provider of funds into DMD in the UK and you can see how many research projects are benefitting by visiting their website.
If you'd like to add to our total (and here's a big thank-you to everyone who's donated to the £11,800 we've raised so far), please click through to our Just Giving page. Every penny brings the chance of a cure, or of finding ways to slow DMD's progression, a step nearer. Felix and other boys like him are still young enough to benefit from the discoveries. Please join us in bringing that possibility closer.