It is now exactly three months since I started my new adventure working for London Stone. The initial time here has been spent mostly planning and plotting, visiting as many amazing nurseries, inspirational colleges and skilled landscapers, to see how we could best help to bring our industry closer together. The biggest part of my new role by far is becoming the education side-of-things, and helping to bring our industry into colleges; something I am very passionate about and really love doing.
There are days when I truly believe I have one of the best jobs in the world. And this was most definitely one of them! On Tuesday 30th January, we visited Askham Bryan College in York, the college at which I studied my Level 3 Horticulture diploma for 2 years, before moving 'daan saaf' to study at RHS Garden Wisley. It is always such a pleasure to return, bringing back such happy memories of the time I spent here, the tea is also much better!
Askham were holding their annual 'Horticultural Open Day', a full day of horticultural indulgence (both practical and theory) to inspire existing students and captivate and encourage potential future students to consider this as a career path. We were tasked with engaging the students with a practical workshop; one that would spark imagination, and push the student's skillset at the same time.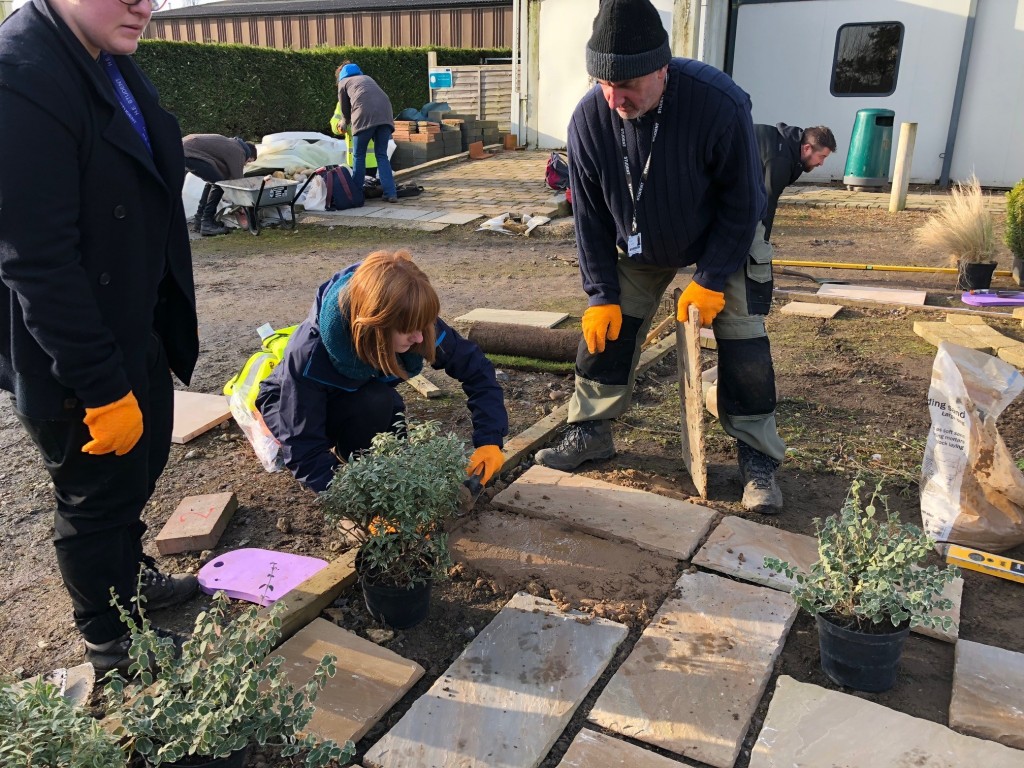 The students were split into groups of between five and eight, tasked with building a 4 metre x 2 metre garden in just one hour. A big challenge for any landscaper, never mind a group of students, most of whom had a fairly limited landscaping knowledge. They were provided with a selection of London Stone materials, plants from the expert in-house nursery team, turf from Lindum and Bark from Green Tech. It was 'Ready Steady Cook' meets 'Scrap Heap Challenge', with the students able to choose what materials to use, and of course, how to use them.
On-hand to provide expert advice and help we had Stephen Ensell from BALI's 'Go Landscape' initiative, who led the way on the landscaping front. RHS Gold medal-winning Garden Designer Tamara Bridge inspired the students on how to design and set-out the garden in such a small space, and our very own Garden Design Director Craig Potter, was on-hand to give stone laying advice. I played to my strengths and helped the students with the planting. We all got stuck in, and it was great fun!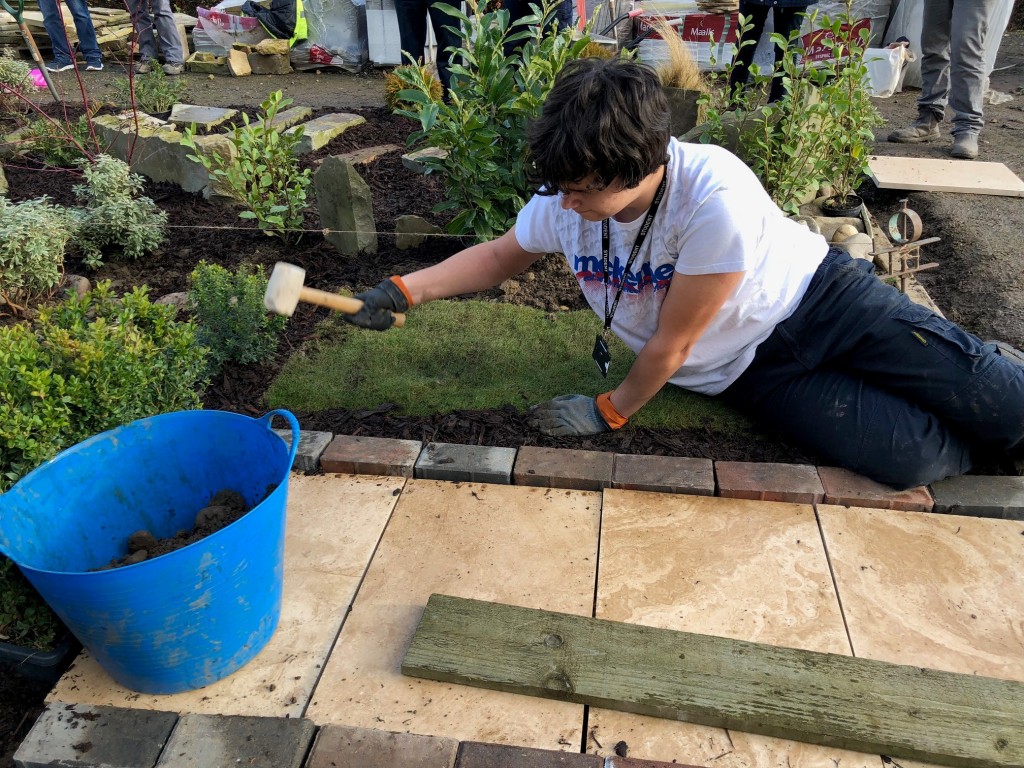 The results, as I am sure you will agree, were simply incredible. By using quick-thinking and even quicker landscaping skills, we ended-up with seven fantastic gardens, each brilliantly unique and showcasing how to use different materials and really transform a space in such a small space of time. Out of the seven gardens, we chose one winning garden, produced by a mixture of Degree students and Level 2 Landscaping students.
This garden boasted a large lawn, with a 'dry river bed' style path that curved around the lawn leading to a natural Yorkstone seat at the end of the garden. The planting was made-up of ferns and evergreens to provide year-round interest, and somewhere to enjoy on lovely summer's evening. The winning team were awarded with a £250 London Stone voucher as a prize.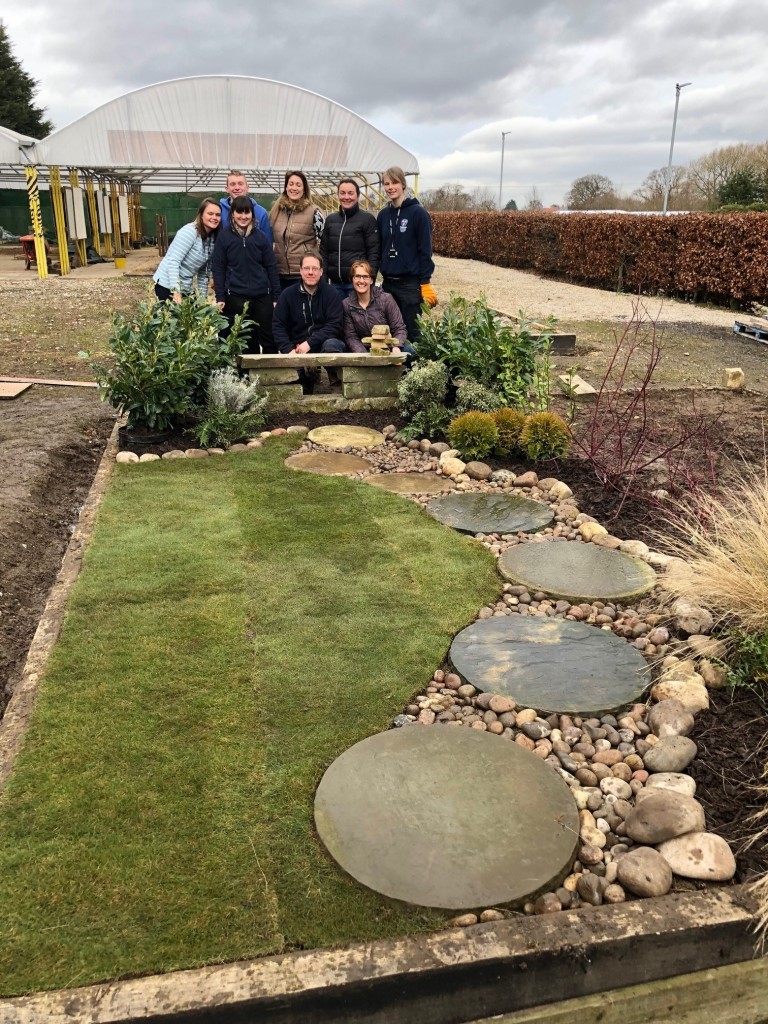 Days like these really do show that the new blood coming into our fantastic industry is genuinely exciting. If this is something that you would like to be involved in at further events, then please email jamiebutterworth@londonstone.co.uk, we would love to have you join us.