10 Ideas For Styling Lifestyle Garden Furniture In Your Garden
Every garden is different, and we all have our own taste. In this blog we will give you the inspiration to start designing your space. With 10 inspiring ideas with how to best incorporate lifestyle garden furniture into your garden, you are should find a style to suit your garden.
Picture yourself relaxing under this shade sail on this comfy sofa enjoying a good book. Image courtesy of The Landscape Design Studio using our Black Granite Paving
1. Small Space Solutions
Just because you have a small garden does not mean that you cannot make the most of it. Our range of garden furniture includes some great space saving ideas. Foldable or stackable table and chair sets that are perfect for compact spaces, and even some ottoman designs to make use of storage. A garden bistro set is perfect for combining style with functionality for a stylish dining setting. In small spaces, making the most of vertical opportunities is key. Try some vertical planting ideas, or if you have dark spaces, some artificial green walls. Make use of fences and walls with hanging baskets or lighting.
2. A Family Garden
Get smart with landscaping to utilise space in a family garden to make it work for everyone. A perfect example of this is this garden by Limebok Landscaping.
Kids love going out in the garden for some playtime but zoning an area is key, as family gardens can often be dominated by play equipment, leaving little room for anything else. While you would need to have a large garden to install a slide or playhouse, for more restricted spaces, sand tables or mud kitchen play sets in a corner will work well, and it will entertain kids for hours.
For furniture, a picnic bench is a perfect choice for young family to get creative on. Another great option is a lounger set with plenty of room for the whole family to relax around and enjoy evening meals or a games evening in the garden.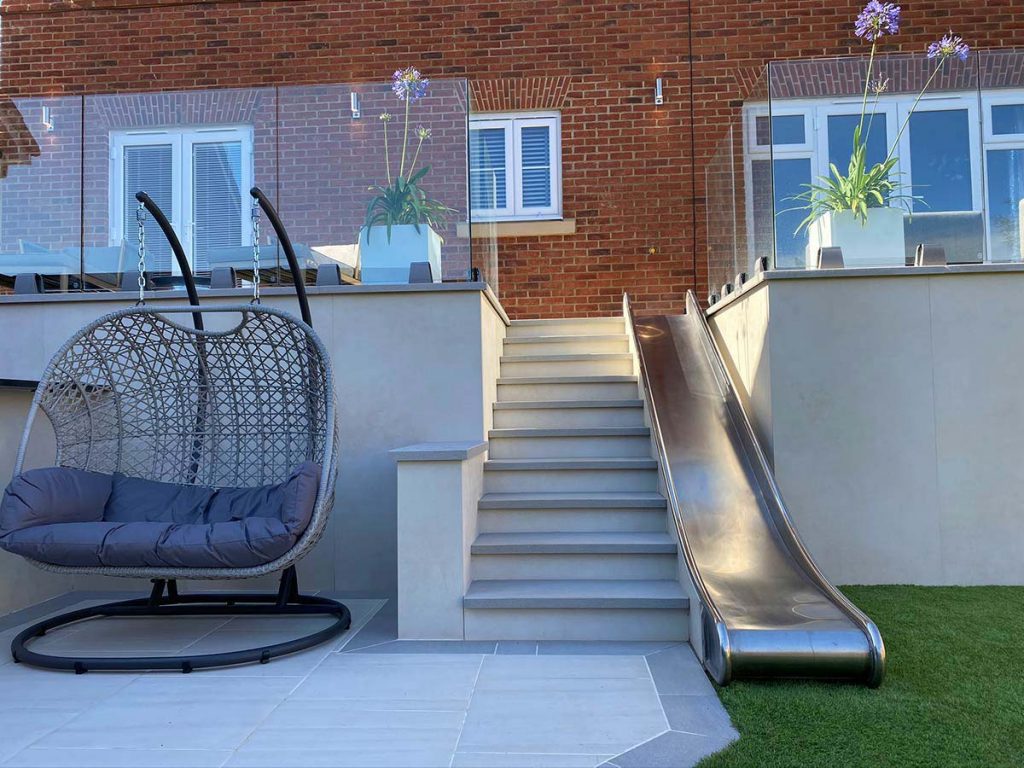 The perfect example of a garden with something for everyone! Image provided by Limebok Landscaping featuring our Desert Beige Premium DesignClad.
3. Small Courtyards
For smaller courtyards and patios, consider the space you have and the layout. Allow enough room for each person to be able to sit comfortably and pull out their chair to ensure a relaxed dining environment. Some great choices include folding furniture, or bench seating that can be tucked under a dining table when not in use. L-shaped sofas can be surprisingly compact but look and feel luxurious. And remember, you will also need room to walk around the table with everyone seated.
For that charming courtyard feel incorporate plenty of lights and planting, making use of what vertical space you have. Even add a few mirrors to the wall for an innovative design element that will also give the illusion of more space and light in the garden.
4. Cottage Garden
There are a few tricks to creating the perfect cottage style garden. Find the romance. Most cottage gardens have a romantic aspect. Pastel shades and fragrant flowers are the hallmarks of a cottage style garden. A metal bistro set is the ideal way to keep the romantic feeling going.
Enclose the garden to create your own secret garden. Think picket fences and lattice trellises. Our arbours and arches are the perfect way to create that cottagey charm. Incorporate some curves and corners to keep the mystery of a secret garden. Curved pathways are ideal.
Encourage lots of plants. Plant to promote informal crowding of perennials, annuals, vegetables, and foliage plants. Use rich organic soil and mulch and plenty of variation to inject plenty of colour into the garden. Add cute and fun elements like on old wheelbarrow filled with plants or lanterns and ornaments.
Transport yourself to a Parisian cafe enjoying a bottle of wine on a warm day on our Devon Bistro Set. 
5. Contemporary Garden
Creating a contemporary style garden relies on using lots of simple clean lines – think sleek but unique. The goal is to make the space appealing and functional. But do not forget to add your personality and make it relaxed and welcoming to create an outside living room.
Our modular garden sets are a wonderful choice for a contemporary style. The grey tones and clean lines match the design effortlessly. You can also make a focal point with a fire pit and use our metal planters to continue the design of clean lines. A metal pergola is the perfect finishing touch for a contemporary style.
6. Show Stopper
To create a show-stopping garden you will need plenty of planting and interesting focal points. Our Luxury DesignClad has been used to create incredible focal points in award winning gardens and can easily be used in your own space. Pair this with some unique furniture, like an egg chair, to create a design that is sure to impress. For an even more impressive garden, include a day bed or rattan bar.
Fire pits or metal pergolas are a great way to add show stopping elements. Planting is also key. Use tall, bright planting to catch attention as well as careful planning. Map out where to plant to create the most impressive design that works with your space. Use modern style planters or edge your garden bedding to create purposeful designs.
Sleek and stylish this garden is perfect example of a impressive modern garden. Image courtesy of GreenBird Gardening Ltd and uses our Steel Corten DesignClad
7. Mediterranean Style
Mediterranean gardens are a classic mix of rustic furniture and fragrant, colourful planting. With plenty of emphasis on spending time outside with friends and family, creating a relaxed seating area is essential.
Your dining set should have a classic feel. Aluminium sets are a great choice. If you do not have the room for a large table and chairs, then a little bistro set with a coffee table and two chairs will do the trick. If you have a larger space, then make sure there are not any sections of your garden that cannot be enjoyed from the comfort of a bench or chair. Mediterranean gardens often have several types of seating dotted around and along pathways.
For planting think colourful flowers in terracotta pots and exuberant climbers tumbling over walls. A Mediterranean garden will always smell as good as it looks. So, pick plants for fragrance as well as colour. Olive trees are a classic nod to the theme, and they work well in any size or shape of garden, either as a focal point, or nestled in the corner in a large container.
For your finishing touches, use a trellis or pergola to create a shaded space. Add some water features if you have space, or some ornaments. Pebbles and cobbles are a great choice and Mediterranean style tiles that are reminiscent of a mosaic if you are a little bolder.
8. Minimalist Gardens
A minimalist garden uses a limited number of design elements. It presents a simple and uncluttered elegant, relaxing appearance. It is an excellent gardening style for people who have a very busy lifestyle and prefer a minimalist home. The creation of this garden is enjoyable, but its upkeep is minimal.
Keep the design focused on simplicity. Limiting the number of hardscaping materials, as well as colours, is important to achieve a clean, simple look - too many and the scheme will feel fussy. Use lots of neutral colours, with the odd spot of colour.
Much of our furniture range will add the neutral tones your need and is fuss free. Whether your lifestyle requires furniture tailored to lounging or dining, we have styles to suit a minimalist garden.
Sit back and relax, catching up with friends on family on our comfortable Turin Modular Lounge Set.
9. Wildlife Friendly
You should always consider the impact your garden design has on wildlife. But for those that are particularly concerned about wildlife there is plenty you can do to for your garden environment. For example, do your best to help bees by planting bee-friendly plants. Speak to your neighbours about creating a hedgehog highway, and buy some bird feeders to hang on fences or from tree branches. Our bee or insect hotels will help encourage wildlife, as will ponds, log piles, plants for pollinators and compost heaps. Other frequent visitors to the garden are of course birds. Bird feeders or baths are a great way to persuade them to spend more time in your garden.
Once you have increased the wildlife, visitors to your garden you will want to make sure you have somewhere comfy to sit quietly and watch. Before you choose your garden furniture, take a moment to notice where the most wildlife activity is in your garden. This will determine the positioning of your furniture and in turn what space you have. A garden bench with an outdoor cushion for comfort, or a cosy garden armchair are great choices to sit back and watch. Another fantastic option is a bistro set where you can also enjoy a cup of tea with a friend as you watch the world (literally) fly by.
10. A Garden Room
Larger spaces are a great for full-on seating sets, with matching chairs, sofas and tables; sun loungers and day beds, or on-trend hanging chairs or swing seats. But there is also another option.
Create a garden room. These are a great way to maximise and extend your space. It can be the perfect space for entertaining guests over summer and can even be used as additional accommodation for guests if need be. Think about ways to make your garden more than just an outdoor area to eat, drink and soak up the sunshine.
For a less permanent option use a metal pergola to create an "outdoor living room". Position your garden furniture under the pergola and perhaps consider a firepit for the ultimate cosy destination.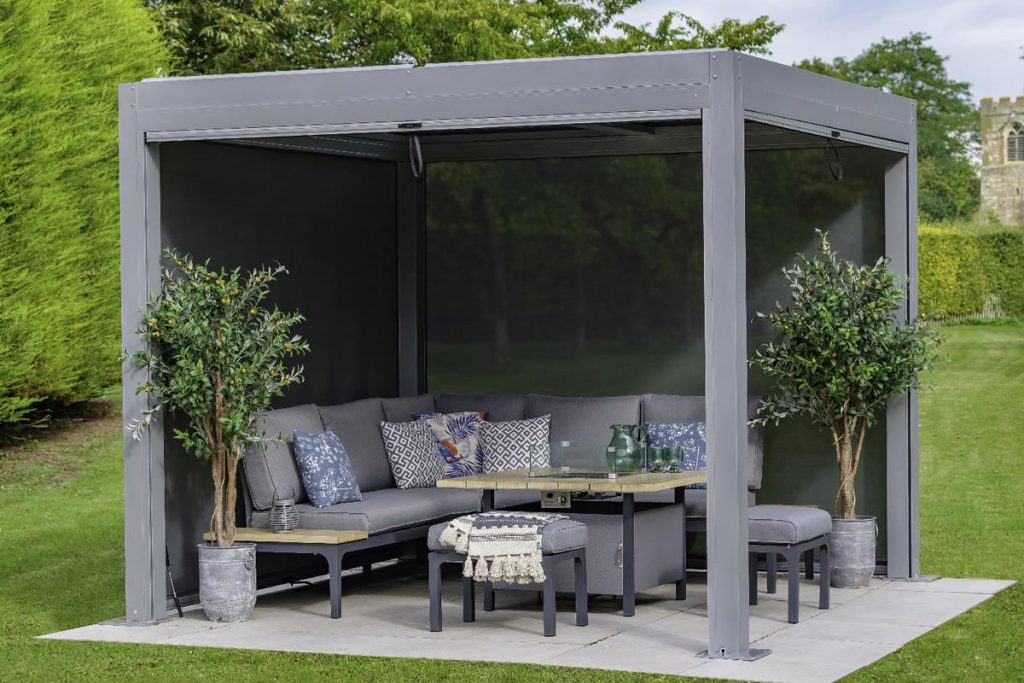 Enjoy spending time in your garden whatever the weather with our Dark Grey Metal Pergola. 
Some final tips
Chase the sun! A dining table works best in the garden that has early afternoon, full or partial sun. From here you can enjoy your evening meals with the last of the day's sun. Alternatively, put a smaller seating area where you can enjoy the evening sun. if you have space, add some additional furniture in other sunspots around the garden.
Invest in a good garden furniture set that will last for years to come! You should also cover furniture, or if you can, move it inside during colder months when it is not in use. This will keep your furniture in the best condition.
Finally, whatever garden furniture you buy, don't forget to accessorise with outdoor cushions for extra comfort. And let's not forget other garden must-haves, including fire pits, patio heaters, chimineas and barbecues to make the most of your garden.
All of our products mentioned in this blog are available here.