Create a charming space either inside or outside with a rustic farmhouse table with bench.
You do not have to live in the country to enjoy the ultra-chic style of a rustic farmhouse, you simply need to appreciate the décor. When creating this aesthetic, whether inside or outside the home, the key is charm and character.
This style cannot be rushed; peruse, meander, and collect pieces with a vintage feel or that have meaning to you. Nothing you add to this space should be too delicate or precious. Look for more hardy items that have some sophistication and style to them. Decorate with hand-me-downs and second-hand items combined with newer pieces. As with all designing, we need to start somewhere, so these design tips will start with our stylish rustic farmhouse table with bench.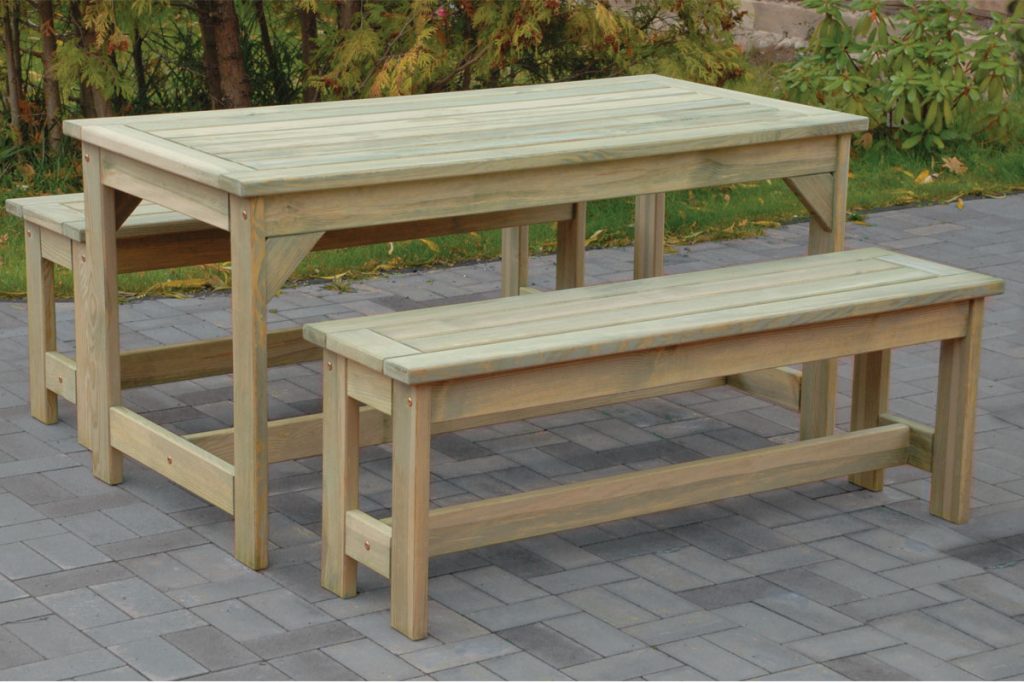 Outdoors
Find your balance between old and new and create a clean, stylish, and warm-hearted space. Start with the wooden table and bench as the focus piece; the organic feel of this garden set will instantly add a rustic charm. Next, add some texture—an outdoor rug with an interesting print will look right at home underneath the table. Add some wicker or rattan; a small touch of these materials will go a long way to achieve the overall appearance of this style. Add a wicker basket filled with some small details to the top of the table. A piece or two of rattan furniture will make a great addition if you have the space. How about a rattan egg chair to make a wonderful balance between old and new?
Most importantly for your outdoor rustic space you need to be in tune with nature. Surround your space with plenty of wildflowers. For potted flowers get creative with their containers—anything can be a flowerpot if you try hard enough. An old bicycle basket, a wooden ladder, old crates, or even some old metal planters. Look for unique items with a reclaimed feel; just make sure to drill some drainage holes before planting.
Indoors
The rustic farmhouse style should look as though it has evolved over time. Matching, modern pieces are a no-no; you do not want furniture or accessories to look as though they have all been purchased in the same place. Instead, find vintage pieces to accessorise with, which will create instant charm in your space. Make use of salvaged materials throughout your design and use reclaimed pieces to add texture and give an overall acquired-over-time feel. Our rustic farmhouse table with bench can be used for the family dining table to give a charming farmhouse feel that has age and character. Once you have your table positioned you can add small touches, like a faded checkered rug, storage baskets, and oxidised metal accessories to add to the rustic style.
Where you can, expose materials like brickwork or old beams to add that instant aged aesthetic. For those who are not lucky enough to have raw materials to expose in the home, an earthy colour palette of red and browns will work perfectly. Pair with touches of dusty blue on cabinets or in soft furnishings to add the finishing touches. Alternatively, there is no better classic combo then black and white; this works particularly well when paired with textures like woven baskets and plenty of green planting.

Now you are feeling inspired to try the rustic farmhouse style in your home or garden, shop our wooden tables and benches.