Britain offers a superb range of "home-grown" paving. Sometimes a stone and its story is so well known that it overshadows others. Portland Stone and Yorkstone are cases in point. Renowned as they are for their use in public spaces, it can be easy to forget that other stones are also highly regarded.
New to our range this spring is Forest Sawn Sandstone and we think this sandstone paving is worth every bit as much fuss of as those iconic stones. Although it is sandstone, we tend to think of it as a Yorkstone. This is because it shares many of the same attributes. It's supremely hard and tight-grained and the gentle colour combination of blues and beiges make it a beautiful alternative to Yorkstone.
It also has a venerable history. But of course the real interest is how it fits into your hard-landscaping designs. A major benefit is its hard-wearing quality. Forest Sawn Sandstone (once sealed with Dry Treat 'Stain Proof') is a relatively low maintenance patio slab due to its density.
With its mix of colours, a completely different feel can be gained from choice of paving size. Smaller slabs or bespoke plank paving create more of a mosaic effect with the variations of grey and buff. Oversized slabs lay a clear pool of changing tones across a wider area.
Also new to our stable, with a totally different character, is Antique Cream Sandstone from India. Its very consistent creamy colouring has a touch of warmth about it and we're really pleased with the way this colour works with the finish. The sawn stone is tumbled, to give a relaxed, time-worn feel to the edges, and the surface is then shot-blasted and brushed to carry through the softer look (which also has the bonus of increased slip-resistance). We decided to stock this especially for clients who like an even, pale colour without the ultra-modern styling that often accompanies it, so Antique Cream comes in project packs (comprising four sizes of patio slabs in equal quantities), allowing for more informal paving patterns.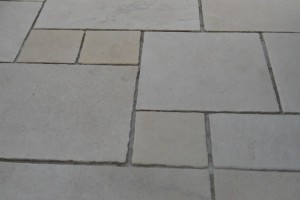 And there you are: two new sandstone pavings with completely different characters. They probably wouldn't come across each other much in day-to-day life, but we like to think they'd enjoy each other's company at dinner parties. Anyway, we're rather pleased to have got to know them and would love to hear whether you feel the same.