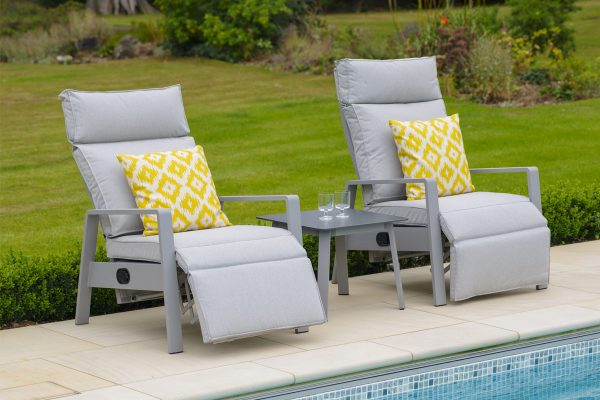 The perfect balcony set does exist
Finding the right balcony set to fit your style and space is no easy task. Here are some of our favourite pieces to fit those tighter spaces but still give you everything you could possibly want from your outdoor space.
Recliner set and table
A recliner set is the perfect multi-use option to make the most of your space. Two recliner chairs and a table are small enough to fit on most balconies. During the day, with the sun out, you can fix the chair into a sunbed position, lie back and soak up some rays. Alternatively, sit with a good book and enjoy the day on your balcony. When the evening comes around, enjoy a glass of wine with some nibbles sitting on the side table. Take a look at our Santorini Dawn Recliner Set.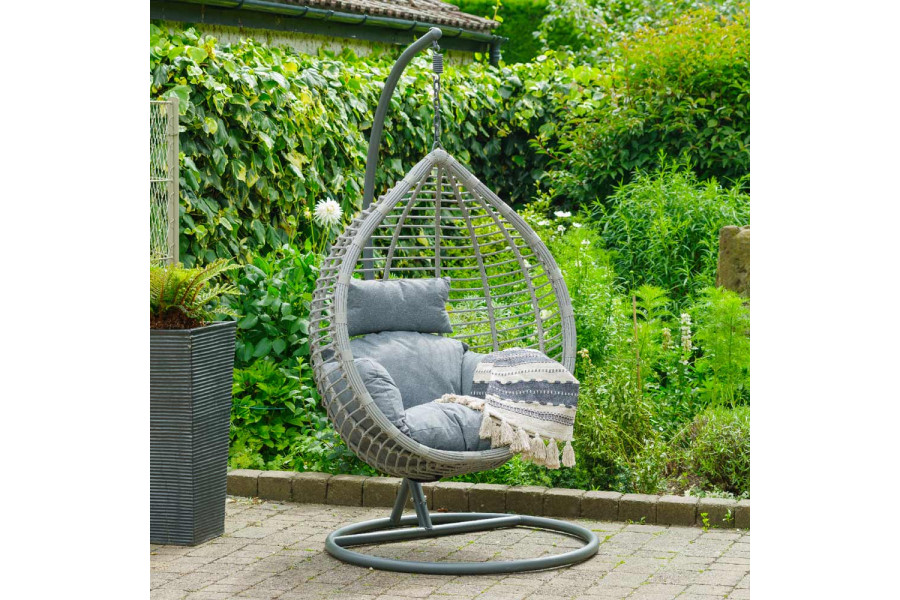 Egg chair
Perhaps not the first piece of furniture you think of when you are looking for balcony furniture, but an egg chair is a sure way to make a statement. An egg chair is the ideal choice of furniture to create a cosy little nook on the balcony. Position the egg chair in the corner of the balcony, be sure to have plenty of string lights, plants and soft furnishings, like an outdoor rug, some extra cushions and a throw blanket. These, combined, will create the perfect place to curl up. We have several stylish egg chairs that will make a great addition to your balcony.
Bistro set
A bistro set is great choice for intimate dining on your balcony. These small-sized dining sets are a perfect place to relax during the day soaking up some sun and then enjoying your evening meal on the table. The small stature of a bistro set will fit most balconies without taking up too much space, so plenty of room for your plants. Their charming appearance will transform your balcony into your own personal holiday destination. With plenty of options to choose from, including metal or rattan materials, there is a bistro set for everyone.
Small modular sets
This option may not be the perfect fit for every balcony but for those with a little more space it is ideal. A small modular set will offer a comfortable place to lounge and space for friends and family. With an accompanying dining table you can also dine alfresco, or have friends over for a drink. Before purchasing, make sure you measure up your balcony to be sure it will fit. You can even put masking tape on the floor in the footprint of the furniture to get a feel for how much room you will have left on the balcony once the furniture is situated. Try our Monaco Stone Dining Modular Set out for size.