We are excited to announce that we shall soon be opening our Birmingham Showroom
Coming soon - we will be opening our state-of-the-art new showroom. We wanted to give you a sneak peek into what to expect.
Why Birmingham?
Until now, if you've wanted to see any of our products "in situ", the only option has been to travel to one of our showrooms near London. This has put our loyal clients in the Midlands at a disadvantage.
Located in the middle of the country, a gateway to the Midlands, Birmingham is a great choice of location. Not only are we bringing a showroom to existing clients, so you'll be able to view our products more easily, but we're looking forward to welcoming new customers. With our aim to make London Stone a household name, this is our next step in creating a nationwide showroom network. Making choosing from our products a simple and enjoyable experience.
We are really excited to see what this new location holds for us and what we can do for you, our customers.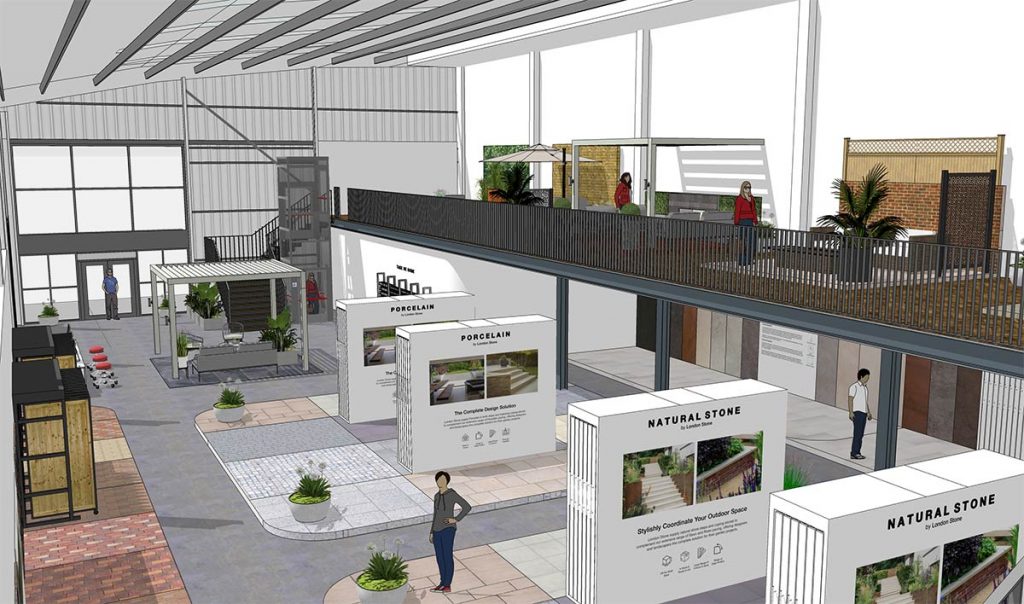 What are the benefits to you?
This new showroom will open up so much potential, for new and existing customers. For many of you, this new showroom will become your closest London Stone hub. Our goal is to make an easier journey for many of our customers to come and see us in person. Not just this, but you will also be able to send your clients to us to see the products first-hand.
It will be an indoor showroom, comfortably accessible throughout the year, making it a better experience for customers. So, you can come and see our products in all their glory, whatever the weather outside.
We have also been striving to be a brand that our customers can trust; having showrooms where you can see our products in situ is part of this. Not only will you be able to view many of our pavings actually laid, but there will also be much of our full range on show. From decking, furniture, and everything you could need for a garden transformation, this showroom will provide plenty of inspiration.
What might it look like?
The Birmingham Showroom will be a completely indoor experience. Laid across two floors, the showroom will display one of our largest collections of products under one roof. The showroom has been designed to give you a comprehensive idea of how the products will look in your own project.
Ground Floor
On the ground floor you will find our core ranges: porcelain, natural stone, decking and clay pavers—all the products we are best known for. Our most popular products in these ranges have been laid to give you a full sense of how they would look in your space. The remaining products are all displayed in our sliding-wall sample displays. On this floor you will also find other products from our comprehensive collections. Garden gates, DesignClad wall cladding, Vistafolia artificial walls and metal pergolas are all also displayed here.
For those who want to take a few paving samples home, to see how they look in your garden, you will find our sample wall here. Last but not least, located next to the impressive water feature that's part of the living wall, there's a meeting room, small kitchen area and sales counter, where our experienced staff members are on hand to help.
First Floor
Take the stairs or lift onto the next level and find more of our indoor and outdoor products. On this floor you will see our displays in a more real-life setting. Garden furniture has been paired with many of our other products, like pergolas, shade sails, metal garden screens, fencing, artificial walls, brick walls, DesignClad and decking floors. These combinations of products give you a real sense of how they could look in your project.
Also in real-life displays are our interior tiles. These show just how impressive our range is. If you cannot find the tile you are looking for on display, you'll get a sense of how it looks through the on-hand samples. Once you have taken your time to view all the products, sit down with one of our members of staff around the large planning table and discuss how we can achieve your dream space.
We are so excited to open this impressive showroom and welcome you in. Look for updates on the progress of the build and we hope to see you soon.