Beginners Guide To Weatherproof Rattan Garden Furniture
When our customers ask if they can leave their garden furniture outside, the short answer is, 'yes!' Our top-quality weatherproof rattan garden furniture is season proof. It is perfectly safe to leave your rattan furniture outside, however, we have some tips and pointers for keeping it looking its best.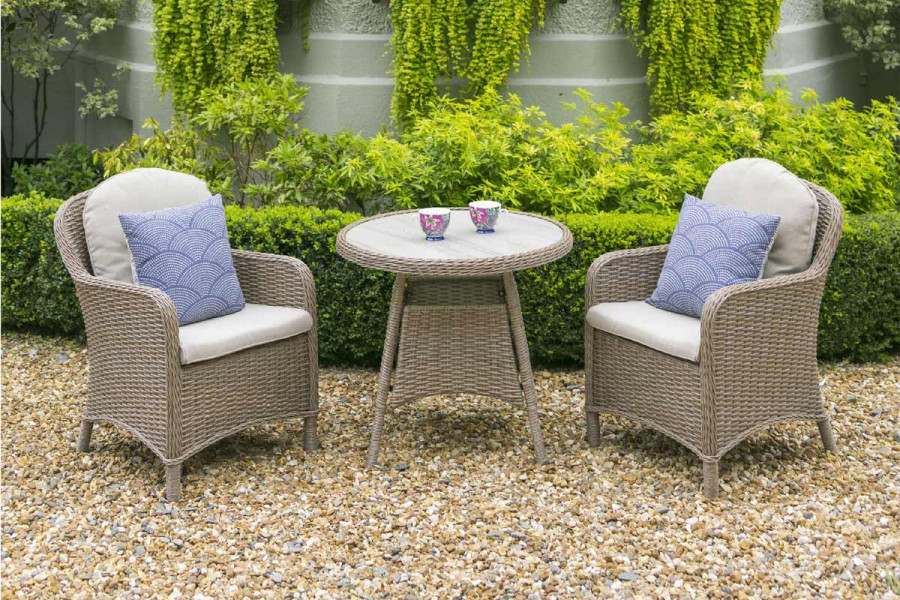 Just picture yourself sitting back relaxing with a morning coffee or glass of wine on our Bergen Bistro Set.
The range
Garden furniture is essential for every garden. Whether you are looking for somewhere to enjoy a quiet cup of coffee, entertain friends, or enjoy family meals, we have the right choice. Our range has everything from bistro sets, to fully modular and even egg chairs. Designed to last, the durable weatherproof rattan will withstand adverse weather conditions.
Bringing style and comfort to your garden, rattan furniture is a classic choice. In a range of colours and styles, there is something for everyone. Whether your garden has a traditional, or more modern feel, large or small, rattan will suit any space.
What are these "top qualities" we are talking about?
Much of our collection is made with EverWeave, as opposed to natural rattan. The advantages of EverWeave are that it will withstand outdoor elements such as humidity or damp conditions. Natural rattan, however, will break down and become mildewed in wet environments.
The high-class frames are made from long-lasting aluminium. Aluminium is much more resistant to rust then other metals and can be left outside in cold and wet weather. Even the cushions for our rattan furniture are weatherproof! Water repellent, UV resistant and quick drying, they are designed for longevity. You can even remove the cushion cushions easily for a quick and easy clean.
As a general rule of thumb, our synthetic rattan garden furniture requires minimal maintenance making it a popular choice. This low maintenance material can be left outside all year round without suffering from weather damage.
Our Monaco Large Square Modular Dining Set provides space for the home family to relax and dine! 
Further protecting your rattan garden furniture
This being said, after buying your new furniture there are some things you can do to improve its lasting condition. There is plenty you can do to add extra protection to your furniture during the winter.
We recommend taking the cushions off and storing them indoors when not in use. This will keep them looking their best and reduce the frequency you need to clean them.
Where possible, you can even store your furniture indoors to keep it from being exposed to the elements. In many cases this is not possible, but you can still add an additional layer of protection with covers. Garden covers will stop your furniture from collecting dirt such as falling leaves and bird droppings which require you to regularly clean your furniture. If you want to avoid frequent cleaning, add provide your furniture with the ultimate protection, our specially designed covers are perfect. Garden furniture covers are particularly handy during the winter months as they will keep your furniture clean from snow and frost which can leave dirt stains on your furniture.
Keep your garden furniture looking its best with our furniture covers! 
How to clean rattan furniture
Follow these simple steps to perfectly clean your rattan furniture:
1. Remove loose dust and soil. You can do this in several ways. Either use a handheld vacuum cleaner with a brush attachment, or even just a dustpan brush.
2. For stubborn soil or debris, use a toothbrush, cocktail stick, or any other fine tool to really get in there.
3. Use a bowl of warm, soapy water and a garden hose to wash down the furniture.
4. With a soft cloth, wash the rattan surface.
5. A toothbrush is the perfect tool to get into cracks and crevices.
6. Hose off any remaining bubbles.
7. Once the furniture is all cleaned place it in the sun, or a well-ventilated area outside and allow it to dry thoroughly.
Shop all our garden furniture, as well as covers, here.