RHS Hampton Court 2018 – Live Outdoors with Garden House Design and London Stone - read more about what's in store at next week's show.
A long way to go! Garden House Design begin their build-up at RHS Hampston Court Palace Flower Show 2018
Only days to go before Hampton Court Flower Show 2018 opens on Monday and, this year, you'll not only find London Stone products in six show gardens (more about those below) but also one of us, in person, on Garden House Design's trade stand.
This gives you the chance to discuss what you've seen and ask any questions you have about the rest of our range. You'll also find more of our products used on the stand.
Garden House Design's aim has always been to maximise the use of outdoor spaces to make them a natural extension of a client's home, so their theme this year is very much about learning to live outdoors.
Debs Winrow, GHD's Creative Director, explained the approach. "It's an education programme," said Debs. "People don't even know really how to dress to live outdoors. Everyone thinks that you've got to eat outside and that you need a table and chairs, but you've just walked past their dining-table onto the patio. Open the doors; put a sofa, chairs longue and a fire-pit on the patio. You can take rugs, red wine, a bowl of chilli outside. People can feel they're going on holiday in their garden."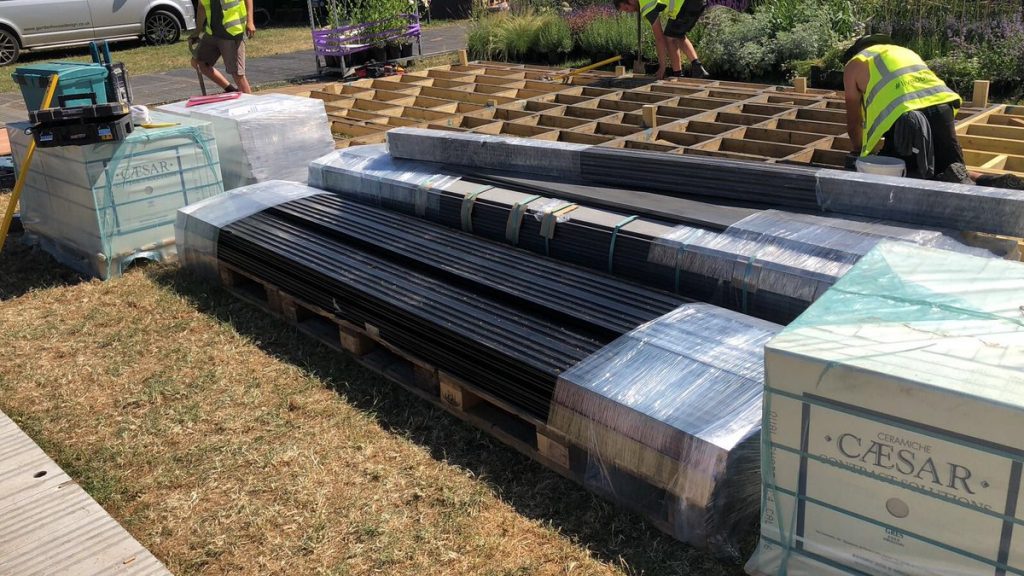 London Stone's hard landscaping materials will take centre stage on the GHD Trade Stand
On the stand, at 50m2 the largest stand Garden House Design have had to date, you'll find three large Renson canopies sheltering scenarios from three different times of day: breakfast, lunch and evening. "It's quite subtle," said Debs, "but it's showing that a garden can be used all through the day and evening, extending outdoor life."
As part of the design, you'll also see some of our most popular products: Porcelain, in Slab Coke and Slab Khaki, and DesignBoard in Luna and Charcoal. "We find our older clients prefer brown and creams to greys, so under the evening canopy we've got the Slab Khaki, a brown Renson canopy, corten steel and a fire-pit," explained Debs. DesignBoard provides a clean, contemporary base for the breakfast patio.
"This is very much about taking the client/supplier journey to the next level. We see ourselves as garden stylists, pulling great brands together."
At London Stone we bonded with Garden House Design quite a while ago. "We're a bit like John Lewis," said Debs. "We look at the ethics of our partners, their commitment to customer service, and we want people who are cool to work with; the guys at London Stone are a lot of fun."
And we definitely feel the same about you guys, Debs!
Like this; only bigger and better! Garden House Design's Trade Stand at this year's BBC Gardener's World Live
Now, here's a quick rundown of what will be on show at Hampton Court Flower Show 2018: Jura Grey Limestone in The South West Water Green Garden and The Landform Garden Bar (check out the countertop for Moleanos Beige too); Blue Grey Granite, Hard Buff Yorkstone Setts and Reclaimed Yorkstone in Best of Both Worlds; Midnight Black Limestone in Brilliance in Bloom; Faro Porcelain and Moleanos Beige (with some nifty inserts) in A Very Modern Problem; and Grey Yorkstone and Corten Steel DesignClad in The Entertaining Garden - more on these next week!
If you're visiting the show, you'll need some refreshment because of the boiling-hot weather, so pop along to the Garden House Design stand. We'll not only quench your thirst, but we know there's some very comfortable outdoor furniture for a sit-down!