Chelsea leads the way; Hampton Court backs it up. That's often the way, as award-winning gardens display the latest thinking in design. This year was no different.
Bright colours
There's an obvious swing towards bright, bold colours. They caught the eye in the "ribs" of the Silk Road Garden, Chengdu, China by Laurie Chetwood and Patrick Collins, and the brightly painted walls of Inland Homes: Beneath a Mexican Sky by Manoj Malde at Chelsea, and glowed in the sunshine in the rainbow-coloured backdrop of Edward Mairis' Journey of Life at Hampton Court.
However, unchanging tropical colours on your garden walls might not appeal as a view from your window every day, which is where the accompanying trend for vibrant planting comes into play. Peonies and rhododendrons, lupins, and jewel-like blooms added zing and pops of colour in several designs around Chelsea. Charlie Bloom's Colour Box at Hampton Court showed how blending neutral backgrounds with brightly coloured blooms can give the same zingy, exuberant effect.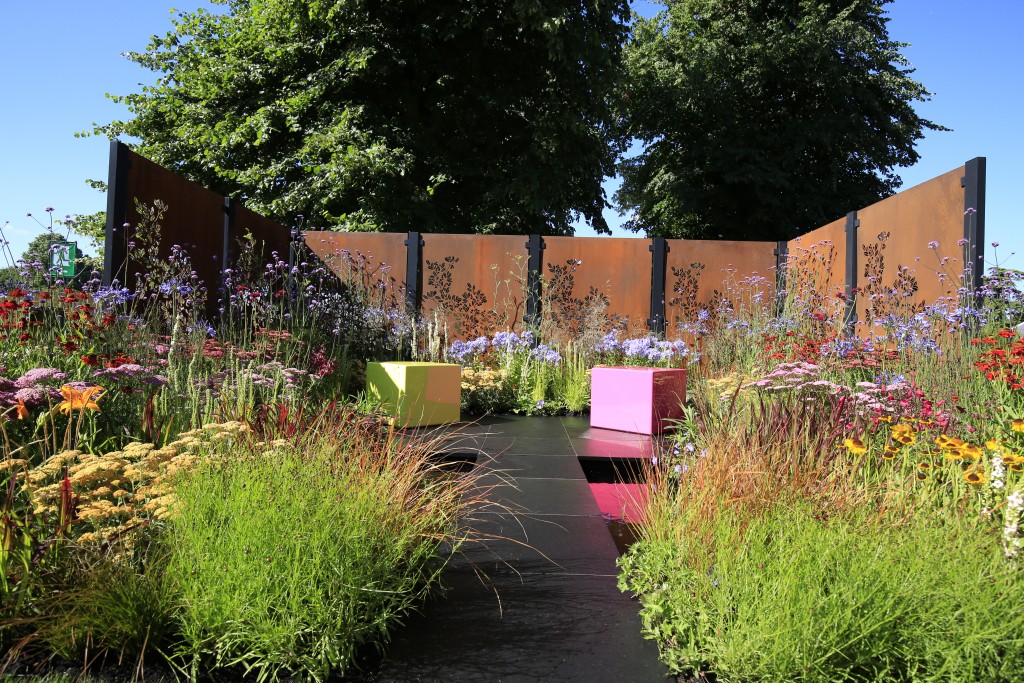 And you can't get a much more perfect background than greys and blacks. On vertical surfaces, DesignClad's neutral colours look superb as a backdrop to tall colourful planting. Designs at both Chelsea and Hampton Court showed how, as well as being applied directly to a solid wall, DesignClad lends itself to being fixed to MDF installed between posts. This intriguingly opens up all sorts of options. How about creating a living wall? Bright pockets of planting would look superb against its sophisticated surface.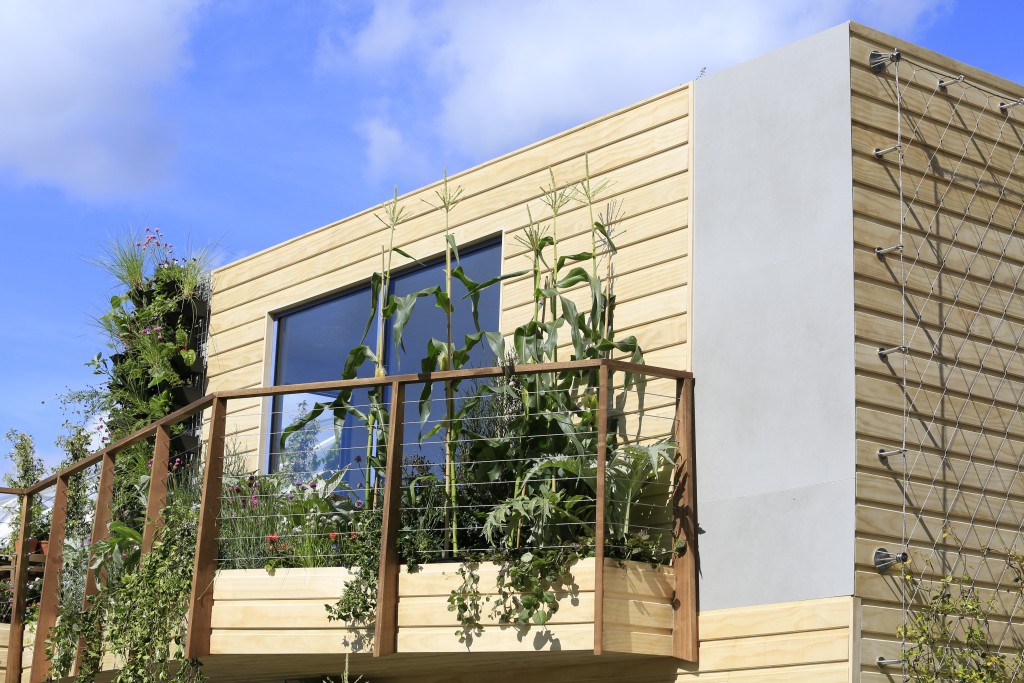 On the ground, though, Grey Yorkstone continued to captivate designers as, with several finishes available, it offers great versatility. Catherine MacDonald underpinned her Chelsea Seedlip Garden with Premium Honed and also Sawn Grey Yorkstone. Matt Keightley decided on both Sawn and Premium Honed and added another finish, Premium Honed with Colour Enhancer, and Grey Yorkstone proved ideal for another trend that emerged at Chelsea…
Angular Paving
Just when you think a style will never make a comeback, crazy paving has poked its nose over the parapet, albeit in a sophisticated, modern reincarnation. Angular, irregular paving appeared at Chelsea but of course in no way emulating the uncontrolled, thick-jointed effect so often seen gardens of the past.
Matt used large-format Grey Yorkstone in irregular shapes to create a minimalist, contemporary feel that nevertheless gave dynamism to the pathway through the garden.
Putting together individually shaped pieces, in order and without hassle, depends on careful numbering and packing, both of which we provide at London Stone.
If you have ideas of how you'd like to incorporate current trends into your next project, then we're eager to discuss them with you. We love to do something different, and our bespoke capabilities and the accuracy our cutting, thanks to expert programming and state-of-the-art CNC machines, take the headache out of irregular patterns, giving you the freedom to imagine paving that puts a unique stamp on your garden design.