Blue Black Slate creates a path to contemplation - RHS Chelsea 2018
With only days to go before RHS Chelsea opens for 2018, garden designer Robert Barker is challenging his biorhythms. "I haven't been to bed for five days," he told us earlier this week. He aims to create a path of contemplation at RHS Chelsea 2018.
The Skin Deep garden, sponsored by Harley Street Skin Care, designed by Robert Barker, and built by Terraforma Landscapes. Copyright: Robert Barker.
Skin Deep is Robert's first Chelsea garden, one of the new 'Space to Grow' category that is replacing the 'Fresh' gardens of recent years. Sponsored by Harley Street Skin Care, and dominated by nearly two hundred concrete blocks, it examines our relationship with the largest organ of the body; our skin.
Running through it is a zigzag path of London Stone's Blue Black Slate. "I wanted to use something that has a lot of texture and character, but is also sophisticated," he explained. "It has texture without being dramatic." That's because Blue Black Slate not only has subtle tones within the black but also offers a natural split that is finer than some slates from other parts of the world.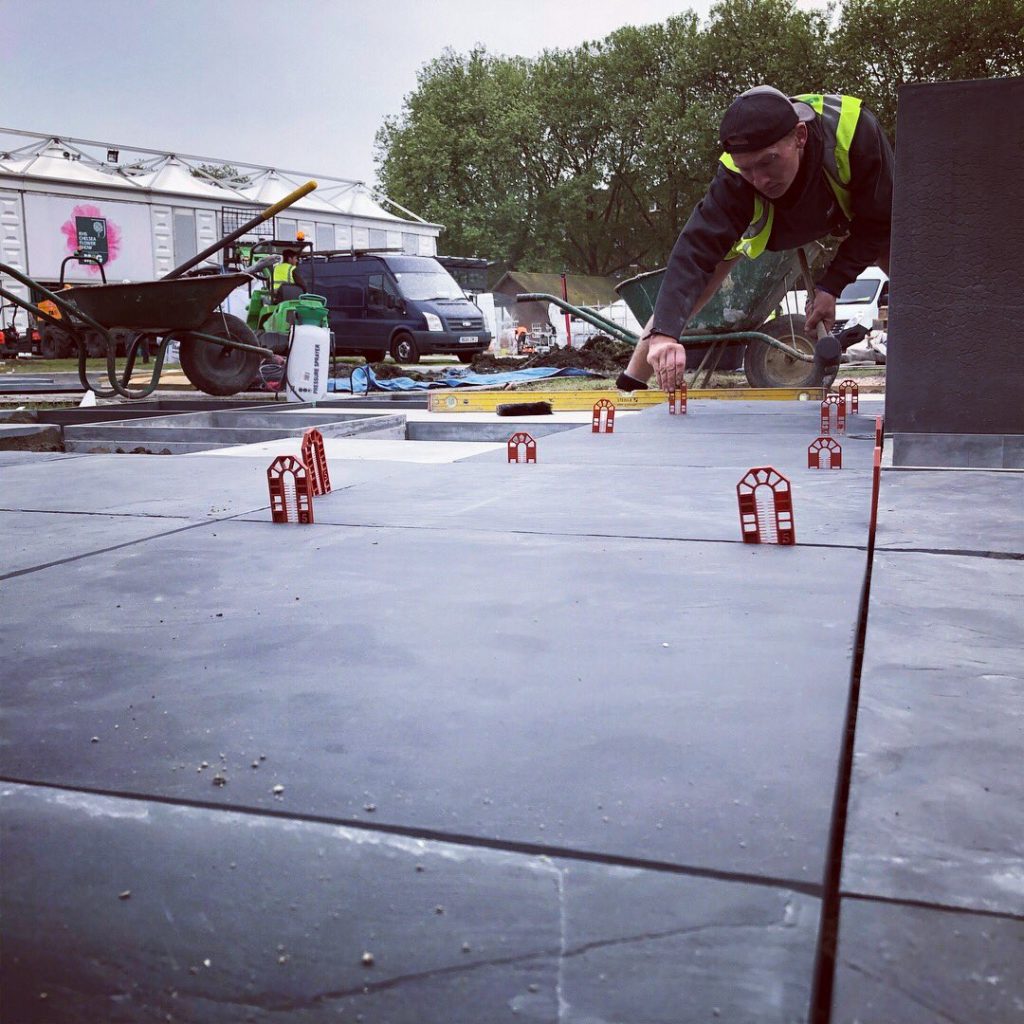 Blue Black Slate being laid to exacting standards on the garden. Image courtesy of Robert Barker.
With the design based on a grid of 600 x 600 mm squares, it's important that edges line up accurately, so to match the slate slabs with the concrete blocks, water features and planting pockets, while giving an allowance for the mortar joints, we shaved 5mm off every individual slab. Robert was delighted.
From the path, visitors will be very close to the sculpture in which the various sized blocks represent groups of people with certain skin conditions such as scars and enlarged pores. The material underlines a paradox. "Concrete is so adaptable," says Robert, "and that's in-line with the concept that an individual can feel weakened by their appearance, but collectively people can be strong, like concrete."
Concrete blocks being installed during RHS Chelsea 2018 build. Image courtesy of Robert Barker.
Unlike some skincare approaches, the emphasis is not on eradicating a person's story. "It's about making more of what you have," explained Robert.
This chimes perfectly with the Space to Grow category, which aims to offer visitors ideas and trends that they can take home to transform their outdoor space. Robert has used planting that's perfect for anyone wondering what to do with a shady spot. "It's got very muted tones and lots of texture. Shady doesn't have to be boring. You can give it lots of character and interest, and it's beautiful."
Cleverly, Robert's planting also has something to say about skin conditions. Look out for Boehmeria platanifolia with its wrinkled leaf appearance and the spotty leaves of Pulmonaria 'Sissinghurst White'.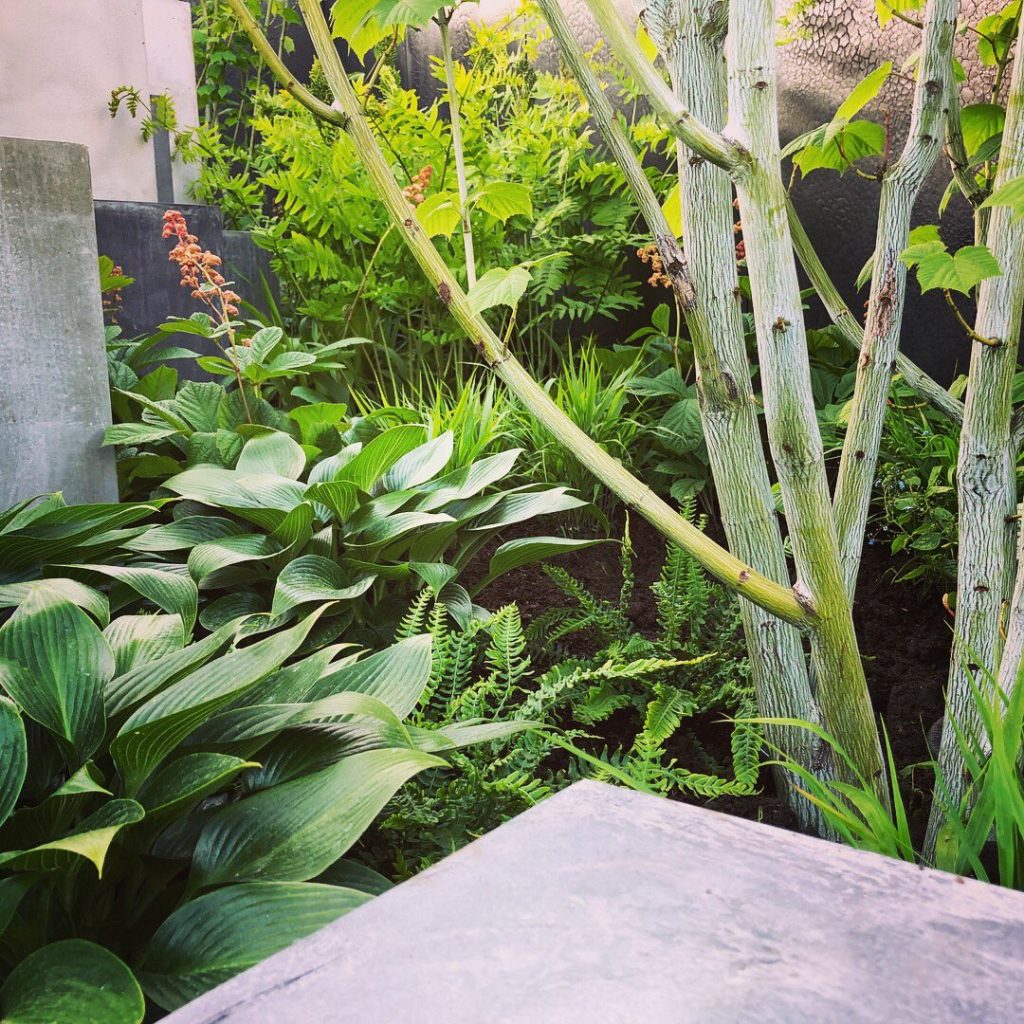 Planting combinations for shady areas in the Skin Deep garden, RHS Chelsea 2018. Image courtesy of Robert Barker.
At the end of the Blue Black Slate path, after passing highly reflective water features which act as mirrors, is a contemplation area. ""I was very interested that the skin tells a story," says Robert. "Singer-songwriter Tom Waits said that when you're down on your luck and only have one pair of shoes, you need to buy new pair because your shoes tell the story of your past. The skin is the same. I've known people who have scars, really minor ones, which carry the weight of painful memory. And it shows health too—smiling, wrinkles."  The contemplation area allows visitors a moment to reflect on the story behind their own skin.
Two years ago, Robert had his debut garden at Hampton Court Flower Show, landing a gold medal on his very first try. At the time, Pro Landscaper reported him as saying, "Who knows? Maybe Chelsea beckons." We're thrilled for him that this had indeed turned out to be the case.
Come back next week for a full report on the garden after the big reveal.