Giving to charity – it takes on a whole different feel when you meet the people involved. Team Felix, as many of you know, is particularly close to our hearts. Run by Lisa Kuhwald, its aim is to raise money for Duchenne UK which funds research for Duchenne Muscular Dystrophy, the cruel muscle-wasting disease that currently condemns sufferers to disablement and an early death.
Alex Johnson is one of the two co-founders and joint CEO of Duchenne UK. When she first started fund-raising, she had no idea where it would take her. "It's one of the major lessons learned. I was very naive. I thought we'd just find a drug and start a clinical trial. I hadn't envisaged that we'd have to do so much at so many different levels. There are regulatory issues; we work with NICE and NHS England. Before my son's diagnosis, I didn't know what those organisations were."
Thanks to Alex's hard work, and that of her co-CEO Emily Crossley, it's a very exciting time for the charity, which is the largest funder of research into Duchenne in the UK. "It's growing; we're exploring more and more avenues. We're funding from early stage to pre-clinical research and looking to add value to the drug development pathway."
One of the most exciting developments is an upcoming 48-week study of the cancer drug Tamoxifen, to which Duchenne UK is contributing a massive £575,000.  It seems likely that the drug will reduce the thickening of muscle fibres – fibrosis - and increase muscular strength. This study is part of the charity's commitment to developing treatments from existing medicines which have already passed safety tests in humans, meaning that they could be adopted far more quickly and cheaply than new drugs.
"Trials are due to start in the fourth quarter of this year," says Alex. "When it's finished, they'll analyse the data, and if it's effective we'll have to get the treatment approved for Duchenne. That can take time."
This is why Duchenne UK are also involved in engaging with regulators and advocating early access schemes for drugs, to cut the time it takes to get effective treatment into use.   "Tamoxifen isn't expensive. It's a generic drug, so there are no problems paying for it. Other drugs for Duchenne cost hundreds of thousands and it's much harder to get funding."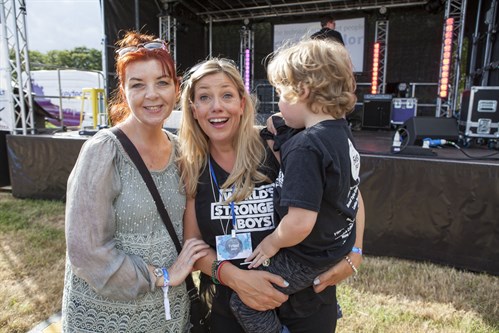 Many of you know that we support Team Felix in memory of childhood friend Karl Kuhwald, who died of cancer in 2015 and whose son, Felix, was diagnosed with Duchenne in 2013 when he was three. Since Karl left us, his widow Lisa has worked hard to raise funds, this summer garnering an astonishing £57,000 by organising a weekend festival and camping for 500 guests. "I'm in awe of Lisa," says Alex. "She has amazing drive to help us, gets involved, sits on our patient advisory board, and comes to all the events."
At London Stone we were determined to get involved in support of our friend Lisa and Team Felix and we're currently just-over halfway to reaching our fundraising target of £30,000.
Everyone knows that just one breakthrough could create a world of difference to these children, and the faster we find one, the more boys can be helped. That's why so many parents who have a child with Duchenne Muscular Dystrophy strive so tirelessly.
To donate to Team Felix and voice your support, click through now to our Just Giving page.