There are very few gardens which are completely flat and s
ome homes have been built on significant slopes, making the garden difficult to use to best effect without creating level surfaces in the form of terraces. Even if you have a level site, steps are still required from exterior doors as any hard landscaping needs to sit below the level of the damp proof course.
Whether you have just a couple of steps up to the front and back doors, or a series of connecting terraces, there are a number of design considerations to be taken into account when choosing the most appropriate stone step treads.
The width of the steps
The depth of the step tread from the front edge to the riser
The shape of the steps
The height of the riser
The overhang at the front of the steps, which creates a shadow
The finish of the front edge of the stone tread
Architects and designers will usually provide detailed constructions drawings of the step treads and risers to ensure the correct ratio between the height of the riser and the depth of the tread. Broadly speaking the steeper the slope, the narrower the step tread and the greater the height of the riser. For shallow steps, the step treads will be broader with low risers. The plan will also show how the steps are to finish to either side.
The pictures show the difference between steps on a shallow slope (above) and steep slope (below):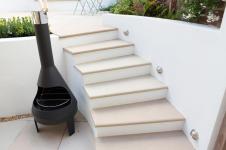 Wide choice of Stone Step Treads
Bullnose steps have a beautiful rounded edge which creates a practical and visually appealing step tread. There is also the option for a sawn front edge for a smart, sharp look. These are both available in sandstone, basalt and slate in two sizes.
If you are looking for a specific size then our bespoke stone step treads give you a wide choice of stone and shape. Our computerised cutting machine takes your design and translates your vision into a reality. Curved stone steps really add that touch of style to a project creating an elegant transition between levels in the garden.