Learn more about our new range of Trex Decking, now available.
An exciting new addition to the London Stone collection of composite decking is the extensive range of Trex products. With four distinct styles in a range of colours, as well as ancillaries, there is a product to suit your next design.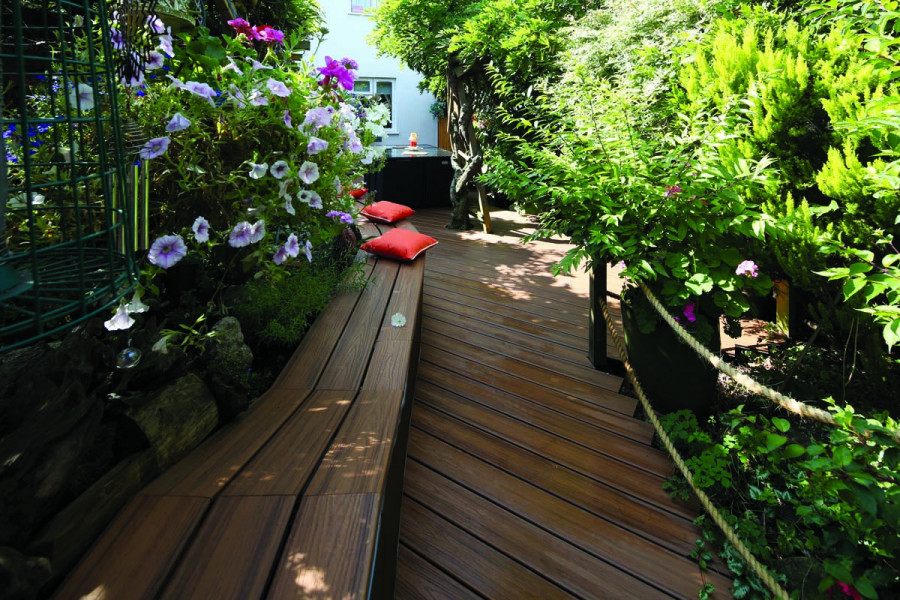 Dark and rich, the Spiced Rum Trex Decking brings true luxury to the garden.
The Ranges
The four ranges are Trex Transcend Grooved, Trex Square, Trex Grooved Long, and Trex Square Long. We also stock all the required ancillaries for these ranges.
The Trex Transcend Grooved has a distinctive grooved edge that is ideal for allowing rain to run perfectly off the boards. The groove also allows for airflow underneath the board, preventing the build-up of moisture.
The Trex Square range has a sleek and stylish finish. They are perfect for creating steps, seating, planters, borders, edging and fascia boards. When you pair the Grooved and Square range you will produce an impressive cohesive design in your garden.
Both of these unique ranges can also be supplied as 4.8m long boards. These extra long boards will create stunning designs in the garden.
Of course, once you have chosen your boards you need to install them. You will find everything, from Hidden Fastener Clips, Starter / Stop Clip, Colour Match Screws and the Pro Plug System, in the range of ancillaries: everything you need for the perfect installation in one place.
Picture yourself relaxing on this statement decking area after a long day - perfection. Using our Trex Island Mist Grooved Decking.
The Colours
Trex Square and Trex Transcend Grooved have a deep timber-grain pattern in rich, fade-resistant colours that mimic the appearance of real timber in a premium, natural look.
Gravel has a beautiful green/grey ambience about it. The cool colours are perfect for creating a relaxed space that will pair perfectly with vibrant green planting.
Island Mist also has grey hues; however, this board has a much darker appearance to it. With a dark-edged grain throughout, this board is perfect for contemporary settings.
Spiced Rum has a rich and luxurious feel. In a stunning appearance of real wood, dark browns are paired with black, with plenty of natural-looking variations. This board is perfect in a setting that is looking to create the organic feel of real wood but without the ongoing maintenance needs.
Tiki Torch has a much lighter and brighter tone to it, perfect for creating a warm and inviting space. The boards will complement almost any surroundings, from stone to metal, planting, and furniture.
Lava Rock is the boldest and richest of the colours. The deep reds and browns in these boards ooze luxury, ideal for making a real statement in the garden.
This snug spot is the perfect place to relax with a good book and enjoy the surrounding nature. Featuring our Trex Gravel Path Grooved Decking.
What makes Trex special
The boards are hassle free. They do not require any sanding, staining, or painting; there is no time-consuming preparation needed before installation.
These composite decking boards are fade-, stain-, scratch-, and mould-resistant, so you know they will remain looking their best for years to come. A blend of plastic and timber fibres creates their sturdy core. The core is then encased in a synthetic shell on three sides which gives it its durable qualities.
Trex decking is made with minimal upkeep in mind. It is easy to keep your deck beautiful for years to come with just a quick clean with a brush, soap, and water.
Explore the ranges today and shop online.