Experts always make a job look easy, but of course it's the underlying knowledge that makes that possible. Laser templating is an ideal example of something which looks simple but hides complexity, so the completion of this lovely amphitheatre project for a school in Kent seemed an ideal moment to explain the stages involved.
First off is the site visit. This is the stage when, if we're going to get a surprise, we will. It can prove especially frustrating if the job is behind hand. Our Project Estimators are old hands, however, and we avoided a potentially wasted visit on this occasion by requesting images of the current state of the site. Then it was an easy decision to hold off until the concrete substrates were in place.
Once the underlying structures were constructed, Project Estimator Tom Naumczuk got to work, producing the laser template you see below.
From this, our Project Estimator Kate Buckle developed a choice of 2D CAD drawings for the client to look at. Skill and knowledge are vital at this stage when overhangs, riser height, cladding and joint widths need to be factored into the measurements.
Meanwhile, we keep the client informed of progress. "When creating drawings like this," says Kate, "there's a lot of interaction between myself and the client, to ensure all parties are happy with the stone placement."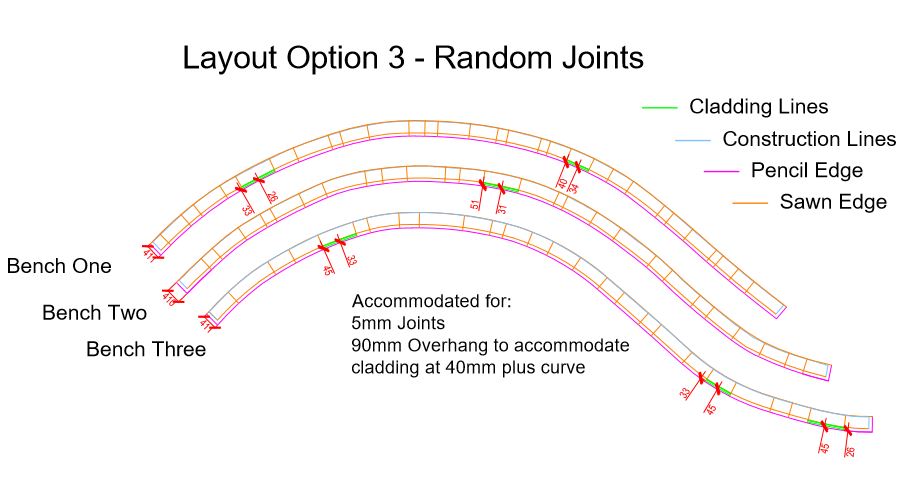 Drawings typically take around two weeks to complete. Then, once the client had chosen the drawings they wanted, Kate created a DXF file of each item, which then went to the CNC machine to produce the solid pieces.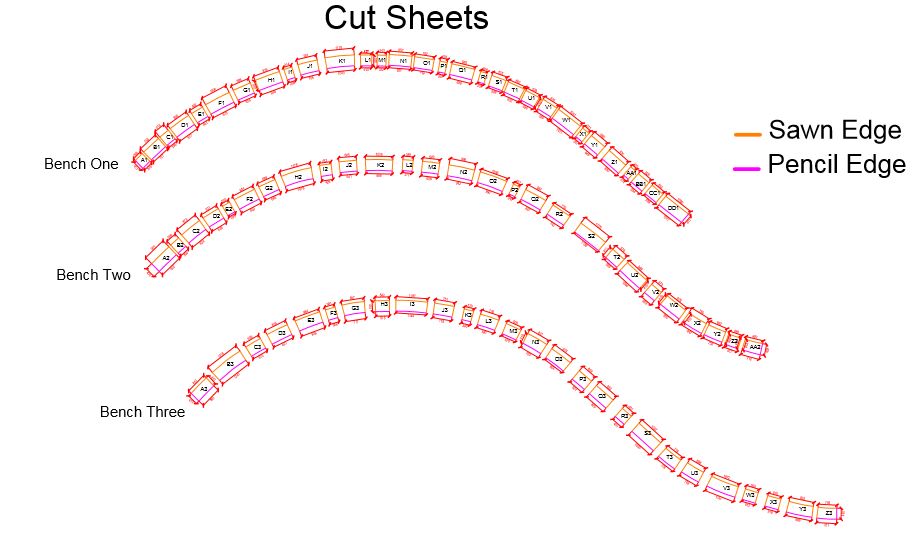 Some clients require segments on curves like these to be identical, which demands detailed working so that the radius on each segment looks comfortable. In this project, Nik Edser of Langdale Landscapes wanted random segments, which made the cuts easier to place. The ultimate result is the Cut Sheet above which shows all the individual segments.
And voila! The finished result. A super little amphitheatre just waiting for open-air productions in the warm days of summer.
As you can see, its simple lines are the elegant result of a lot of complex calculations. If you have a complicated project—or a small corner—where difficult angles and curves make measurements a headache, then get in touch to ask how laser templating can provide you with a solution.