It's become clear, at talks I've given recently, that ethical sourcing is of increasing concern to our landscaping industry. As a designer or landscaper, you want the right stone for the project but it's also clear that you want to know that the stone you specify comes with a clean provenance.
The idea that the pristine Indian sandstone, looking so great in your client's back garden, hides a history of child labour, or the thought that stone workers are going without the most basic types of PPE is very unpleasant.   Neither do you want the worry of where your stone has come from; that should be up to your supplier.
The challenge of ethical sourcing is a huge one. I've been regularly visiting our Indian suppliers for over ten years and despite seeing lots of improvements, nothing will erase the memory of one of my earlier visits, when I realised that the distant mountain ranges, which looked breathtakingly beautiful in the late afternoon glow, were actually spoil heaps. This is something I always go back too, as it underlines the enormity of the task we face in trying to improve conditions for workers in the Indian Stone industry
Indian Stone supply chains are complex and fragmented, making supply chain mapping—which traces your supply chain from quarry to factory—particularly difficult.
Ask any stone supplier if their material is ethically sourced, and the answer will be yes, but in many cases the answer is based solely on visits to Tier 1 suppliers.
Tier 1 factories are the clean face of stone production. It's where stone is sawn, calibrated, textured and tumbled and it's from these factories where UK companies buy their products from. The big investment required in machinery and infrastructure guarantees professional standards, good working conditions and a well-trained workforce. This is probably true of the majority of Tier 1 stone suppliers.
"You want the right stone for the project but you also want to know that the stone you specify comes with a clean provenance"
It's when you start delving further down the supply chain though that the problems can be found—in processing yards (Tier 2 suppliers), where riven material is hand-finished, and quarries (Tier 3), often family-owned, where most work is carried out by subcontractors.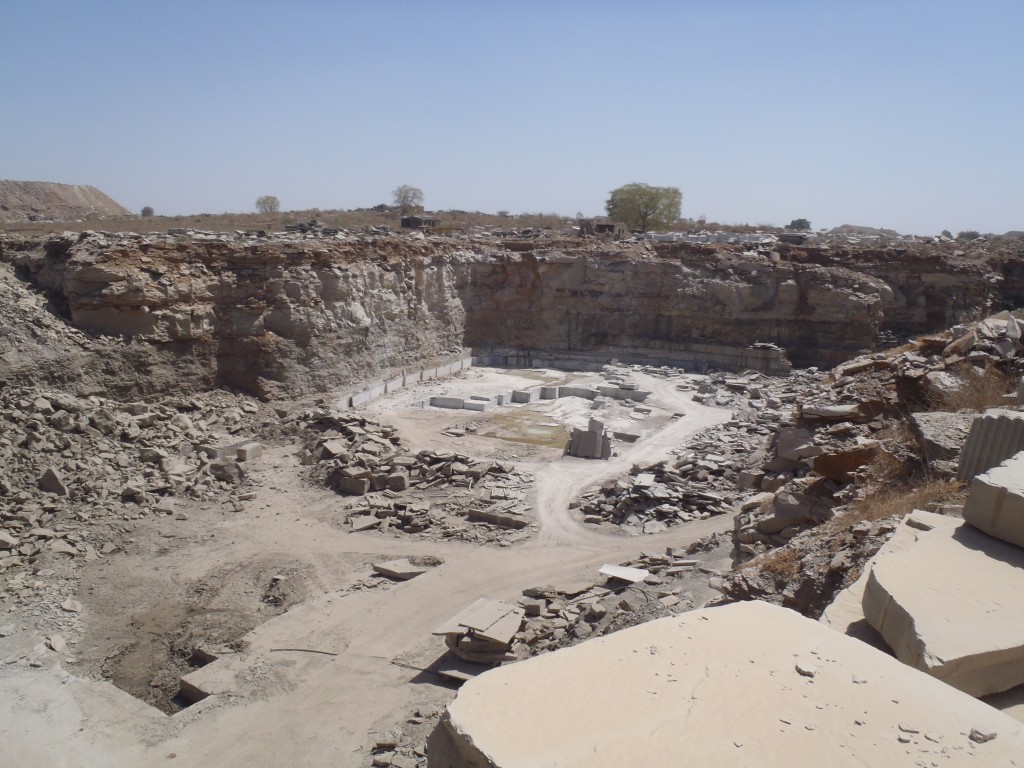 Figures offer another perspective on the issues. Total international export of sandstone from Rajasthan, which produces more than 70% of India's total output, doubled in value between 1999 and 2004—354,298 tons was exported in 2003-04*. Yet just 5% of this material is exported and when you combine this with a lack of local appetite to address working conditions, it's clear that we don't have a great deal of leverage over the supply chain -Given this lack of leverage we should be very proud of our stone industry, UK importers like Marshalls, Brett, Pavestone, Hardscape and CED are all proactively working to improve conditions for workers in stone supply chains-We do have some leverage though and this has been a key factor in the success of a project we are supporting to establish Child Labour Free Zones in Budhpura.  We're working with Belgium based importer, Stoneasy on the project and bringing the weight of our combined suppliers to the table has given us much greater influence over local cobble traders to come together and reject child labour.
I don't mind admitting that when London Stone first got involved in ethical sourcing—when we joined the ETI—I saw it as a commercial decision, one that was good for the brand. As we've become more involved though, the importance of running an ethical supply chain has become obvious.
In the next articles, I'll be looking at how ethics and good business go hand in hand, and what suppliers, landscapers and designers can do to support workers in their supply chains.
*Budhpura "Ground Zero" Sandstone quarrying in India Study by P Madhavan (Mine Labour Protection Campaign) and Dr Sanjay Raj, commissioned by India Committee of the Netherlands.