Urban Landscape Products – Bringing London Stone To The North West – read more about the event to celebrate our new service initiative
Last week our second "An Evening with London Stone" event with one of our Partners took place, this time at Urban Landscape Products in Great Barrow, Chester.
Garden Designers and Landscapers based in Cheshire and the surrounding area attend 'An Evening With London Stone', March 201
You can't argue that it's a good sign when people are reluctant to leave – and after a presentation from our Garden Design Director Craig Potter, more from Managing Director Steve Walley and Urban's Mark Youde, not to mention some scrumptious food from The Cheshire Dining Experience, we didn't say goodbye to all our guests until 10 p.m.
This was our opportunity to introduce our new Service Offering for 2019 to designers and landscapers in the North West. Holly Youde, Co-Director of Urban Landscape Design with her husband, Mark, said, "Price is always a big factor, so reducing prices on products I think will have a great response." We also gave a heads-up on our forthcoming e-commerce website. "It sounds fantastic," added Holly, "and will make customers' jobs a great deal easier. We can't wait to see it live."
There was plenty of refreshments to wash down all of the information on offer
Urban Landscape Products is one of our three partners around the UK. Our partnership not only means that our products are now very easily accessible in the North West, but buying through Urban gives you the same trade discount as coming direct to us. "We're looking forward to working together to encourage more people to look at new ways to use the range of products," said Holly.
Visitors to Urban will find products in a design format in the new show area that was launched last year, so you'll get a good idea of how they look in use. "We appreciate that we have a unique facility in the area," said Holly, "and partnership with London Stone will introduce contractors and designers that we may never have come across. We're finding that porcelain is massively growing – also DesignClad is so desirable and DesignBoard is being specified more and more."
From l-r – Craig Potter, London Stone's Garden Design Director, Managing Director, Steve Walley and Urban Landscape Products Co-founder and Co-Director, Mark Youde
There are several strings to Urban Landscape Designs' bow. Alongside a landscape and design service, they also have a great facility for use by local contractors, landscape professionals and trade customers.
Just as you can be comfortable bringing clients to any of our showrooms around London and Surrey, Urban is somewhere you can confidently bring clients, knowing they'll be impressed, or have meetings with them in the design studio. The team at Urban appreciate the boundaries and intricacies of working with other garden designers' clients.
You can also send your clients along to look round without you, confident that they'll be treated professionally on your behalf. We're extremely pleased to have found partners in Mark and Holly, as they share our philosophy of offering the trade outstanding service, as well as quality products.
Holly said some nice things about us too! "It makes us really proud to be associated and partnered with a leading supplier in the industry. I'm sure they don't take the decision lightly, and we share the desire to offer the same excellent knowledge back-up and customer service that London Stone provide."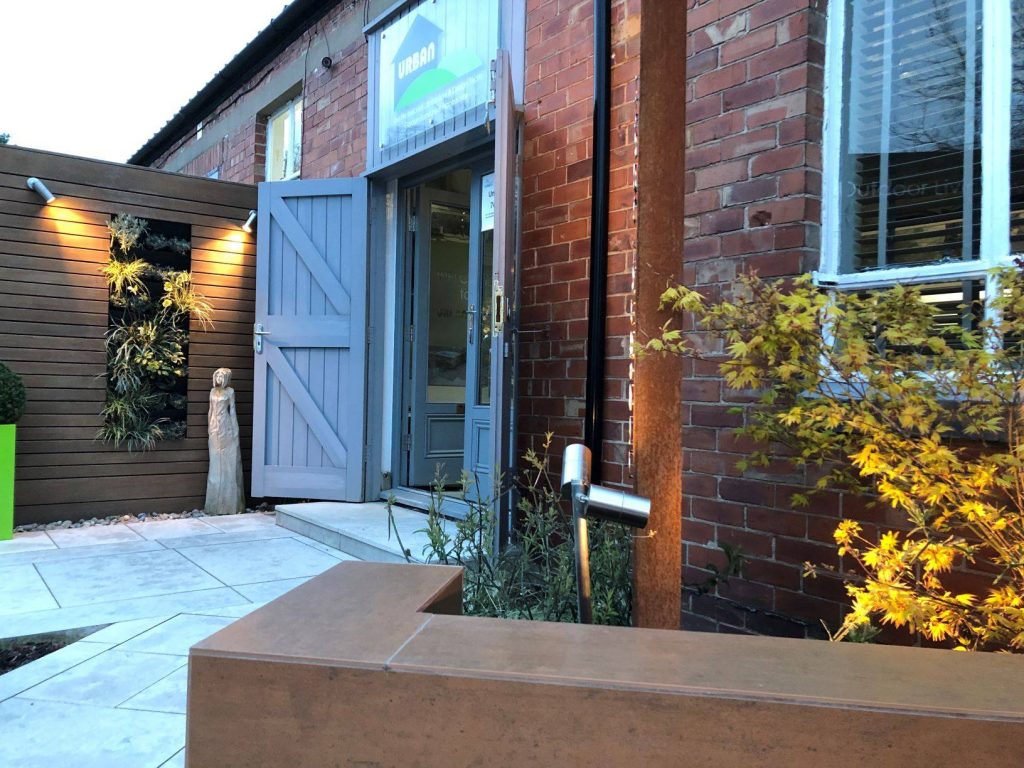 Urban have an inspirational display or London Stone product to view outdoors
You can be sure of a warm welcome. "We love meeting new people in the industry," added Holly, "and often conversations lead to new ideas, pushing the boundaries on new innovations."
For more information on the facilities available at Urban Landscape Design, and to talk to Holly and Mark about London Stone products, get in touch on enquiries@urbanlandscapedesign.co.uk or 01829 740194.