Whether you have a patio, terrace, veranda or courtyard the choice of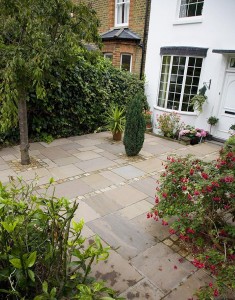 paving slabs is one of the most crucial when it comes to creating or renovating these paved areas.
The term 'patio' is derived from the Spanish word of the same spelling meaning 'forecourt', 'courtyard', or 'yard'. Usually paved, it is an outdoor space used for dining or relaxation which is next to a building. Historically, the patio is an inner, uncovered courtyard often associated with hot climates such as Spain, Italy, North Africa, and central and southern America. The surrounding buildings provide shade throughout the day, resulting in a cool space frequently including a pool or fountain.
For gardens in Britain, a patio is an integral part of a garden design forming a transition between the rear of the house and the garden beyond. The trend is for larger paved areas than previously as entertaining and relaxing outdoors has become so popular in the summer months. London Stone has a vast range of patio slabs  suitable for both formal or informal and modern or traditional paved areas. For a formal patio in a modern setting, sawn paving provides a smooth surface. The selection of stone on offer means there are colours to suit every situation. Our tumbled paving which is tumbled takes on an aged look is perfect for an informal patio in a country or traditional setting as are the range of setts which resemble cobblestones.
The all-important colour comes from the type of sandstone, limestone, slate or granite and ranges from palest cream of travertine through to black basalt, with shades of grey, beige and brown in between. London Stone has standard sizes for patio slabs but is able to cut them to meet your requirements resulting in a completely unique patio.