One of the first things to hit the news this year about RHS Chelsea was the small number of Show Gardens – eight in total – so we're particularly proud to be featuring in one of them—Breaking Ground—and with our latest material, Designclad.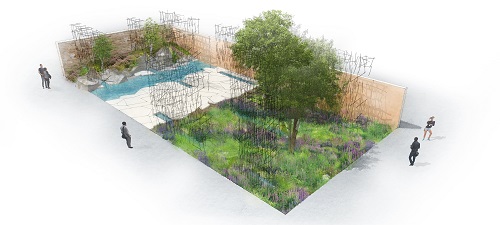 Breaking Ground by Andrew Wilson & Gavin McWilliam
Copyright: Andrew Wilson & Gavin McWilliam Credit: Andrew Wilson & Gavin McWilliam
In fact, you might think that things had been a little quieter, preparation-wise, this year, given the smaller number of gardens. Not at all! With seven different gardens and trade stands to provide for, the CNC machine's been red hot, as has the coffee machine (not that we've had much time to drink any).  Here's what to look out for at the show next week.
Breaking Ground, designed by Andrew Wilson and Gavin McWilliam and built by the Outdoor Room, will be featuring Designclad in one of the most popular colours, Steel Dark, which, forming a background to planting that's inspired by the heathland around Wellington College, will contrast with the wildness, underlining the message that our heathland is more endangered than the Rain Forest. Blues will create the main colour scheme, forming another contrast against the dark, industrially inspired cladding.
DesignClad will also feature in one more garden, no surprise after the enthusiastic reception it received when it launched last year.
Jeremy Vine Texture Garden designed by Matt Keightley
Copyright: Royal Horticultural Society Media Image Collection
Matt Keightley has chosen Grey Yorkstone Paving and Granite Paving for the water wall for the Jeremy Vine Texture Garden, one of the five BBC Radio 2 Feel Good Gardens celebrating the station's fiftieth anniversary. Matt has designed it as an immersive experience, with textural contrast exploited in different material finishes, planting structures, sharp foliage and soft, feathery grasses. We can't wait to see how the grasses contrast against smooth texture of the Yorkstone.
RHS Greening Grey Britain Garden 2017 designed by Professor Nigel Dunnett
Copyright: Nigel Dunnett Credit: Nigel Dunnett
Greening Grey Britain this year, designed by Professor Nigel Dunnett, aims to inspire apartment dwellers with the potential afforded by communal space and will be bounded on one side with a two-storey apartment block. Look out for DesignClad forming a backdrop to a stimulating, layered garden layout.
The Seedlip Garden designed by Dr Catherine MacDonald
Copyright: Dr Catherine MacDonald Credit: Dr Catherine MacDonald
The Seedlip Garden, designed by Catherine MacDonald for the Artisan category, uses Grey Yorkstone in combination with copper abstract sculpture and planting to echo the Seedlip colour scheme of grey, green and copper. As Seedlip distils non-alcoholic spirits, expect to see lots of herbs in the planting, inspired by those listed in the seventeenth-century book, The Art of Distillation.
Hartley Botanic designed by Longview Design & built by The Outdoor Room
Picture courtesy of Hartley Botanic
Elsewhere our materials are featuring on some impressive trade stands. Hartley Botanic is covering two hundred square metres this year, designed by Longview Design and built by The Outdoor Room. They've chosen Antique Yellow Limestone which is heavily tumbled and just right for adding a warm base with a traditional look that will complement five handmade greenhouses and glasshouses, each displaying a different growing theme.
On Emma Stothard's stand Bespoke Outdoor Spaces is laying plank paving in Sawn Buff Sandstone, so we're looking forward to a dynamic feel to echo Emma's gorgeous energetic sculptures in willow and wire.
David Harber Trade Stand by Langdale Landscapes
Picture courtesy Nik Edser, Langdale Landscapes.
And last, but certainly not least, on David Harber's stand, we're eager to see what Nik Edser of Langdale Landscapes has created with Trendy Black Porcelain and Millboard Composite Decking. These two materials combine really well, and both offer the peace of mind of high slip-resistance which, given the downpours this week, might be a jolly good thing with lots of visitors tramping around the stand.
One of the most overlooked accolades of the show is the award for Best Trade Stand. David Harber won last year, and as ever there'll be stiff competition.
As ever, the run-up to Chelsea has been a huge round of mad activity as we've ensured that everyone got what they needed when they needed it. We wish everyone lots of luck and are really looking forward to seeing our hard landscaping in action.
And of course, don't forget to come and see us on our very first Chelsea stand - you'll find us at stand CW312 on Cross Way.
Now, where's that coffee?