It's so important to keep an edge over the competition. Here at London Stone we've got off to a running start in 2016 with loads of new products. With our extensive range, you have the latest trends at your fingertips, more to offer your clients, and the time-saving convenience of being able to source as much as possible from just one place.
Black Basalt plank paving – one of our new off-the-shelf sizes.
So what have we got? Well, our new range might surprise you. First, to add texture and versatility to your designs, we've added an interesting range of aggregates. Chippings and smooth pebbles in a variety of colours and sizes mean that you'll find something to blend with just about any of our paving products.
White Sky Pebbles, 20-40mm, a soft shade of white to blend with light-coloured sawn paving.
Second, Millboard composite decking. We'll be telling you more about this in a later blogpost, but yes, it's decking, No, not the hated, slimy wooden stuff. Much easier, much more user-friendly, much lower maintenance and - just like our Managing Director (where did that come from?) - very good-looking. We have it available now in no less than eleven different styles.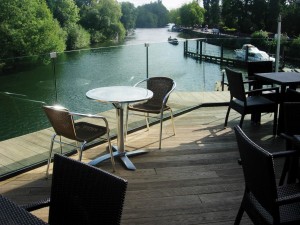 Millboard composite decking offers a genuinely good-looking alternative to real wood.
Our natural paving hasn't been neglected, either. We increased the range of our off-the-shelf plank pavings like Black Basalt at the top of the page, giving you faster availability on some of our most popular natural stones for modern designs. And we've given new finishes to some old favourites, to give them a lovely on-trend edge.
For another ultra-contemporary twist, Contemporary Grey Sandstone has been given a touch more texture with a flamed surface and lightly tumbled edges, giving us Flamed Grey Sandstone. We still have it Sawn and Sandblasted, though, as we aim to ensure you get exactly the look you need.
We've widened the choice of natural stone paving too. You already know about our new grey limestones, Graphite Grey and Jura Grey, as we featured them in recent blogposts.  Also new to our natural stone paving range, try Antique Yellow.
Antique Yellow Limestone: soft, tumbled and mellow.
Antique Yellow Limestone has hand-dressed edges and a heavily tumbled finish which, along with being shot-blasted and brushed,  gives a soft, time-worn profile that's a good alternative to reclaimed stone. Antique Yellow has a strong mottled effect, ideal for those who want a little more variation for a rustic setting.
And, finally, we haven't even mentioned our extended Porcelain range. We'll fill you in on those next week!