December is always a headlong rush, so a short pause is a relief, if only to catch your breath. We're having just that, with a quick round-up of 2017, and a brief look forward to an exciting 2018. Grab a cuppa and a mince pie and check it out, just in case you've missed something over the past twelve months!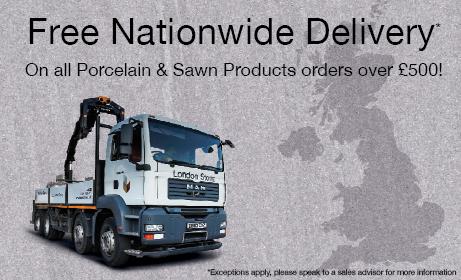 With customer service at the heart of our business, we started the year with a bang with the introduction of our offer of Free Nationwide Delivery of Sawn Stone and Porcelain for orders over £500 + VAT. The consequence is that you've found our products more accessible for projects around the country, with more premium paving delivered to Scotland, Wales and, in particular, the South-West, an area now boosted by our presence at independent stockist Lowarth and Co. Ltd in Truro.
As you'd expect, our paving range has continued to expand, with new Sawn and Riven Sandstones (Camel Dust, Desert Sawn and Golden Sawn) and Slates (Rustic and Brazilian) to bring you up-to-the-minute colour and textural choices. Most exciting, though, was the growth in our DesignClad as an alternative to render, and the introduction of DesignBoard; a contemporary take on decking that offers real choice for minimalist and modern designs. We're thrilled at how well our new products have been received; DesignClad even made it onto ITV's Love Your Garden in August!
Innovatively, 2017 saw our services for landscape design greatly extended. In February we launched our Garden Designer's Partner Scheme, with Craig Potter ably filling the post of Garden Design Consultant, offering advice and information on the best stone in a location, or for a particular effect. He'll even visit your project to get an all-round idea of your requirements.
We followed this up in October by welcoming horticulturalist Jamie Butterworth to the fold, with the specific remit of being on-hand to help landscapers and designers with their planting plans, planting/paving combinations, and where to source what you need.
Together, Craig and Jamie make a team that points the way to greater integration of the hard and soft landscaping sides of our industry; an idea that was enthusiastically received at Futurescape last month.
How can we possibly top all this in 2018? Well, we're not putting the brakes on. Our commitment to Free Delivery, as outlined above, continues. We'll be announcing two new Showroom locations in the very near future, following on from our recent refurbishment of our Knockholt showroom, completed this month.
We'll also be letting you know about more Training Days and Open Days, so you can get the best out of our products and, of course, we've got a number of new products to keep-up with changing trends. You'll be hearing a lot more from Jamie, too, in his role as Horticultural Consultant.
And, of course, as ever, we're looking forward to continuing to offer the highest level of customer service you've come to expect from London Stone.
Now, if you'll excuse us, after that sit-down over a nice cuppa, we'd better get on with things; those gifts won't wrap themselves!