London Stone's Quality New Paving Products
For 2020 we have introduced several new, quality products. Our new products are as unique as they are versatile and are sure to get your creative juices flowing. They also represent incredible value.
Large Format Porcelain Paving
Sidewalk Porcelain is sure to add a touch of elegance and interest to modern schemes
The first product we are excited to introduce is our Large Format Porcelain. Porcelain's popularity with designers and landscapers is ever-growing, and this new style is completely on-trend. With its impressive dimensions of 1200 x 1200 x 20mm, this porcelain will make a bold statement in your project. The large format slabs will produce seamless lines that are well suited to minimalist projects looking to make an impact.
As intriguing as it is beautiful, this inspiring and imposing porcelain is available in two distinct colours. If you are looking to draw light to darker areas and add warmth to a project, then Built Porcelain is the ideal choice. The light creams and greys of Built will establish a stunning backdrop to lush planting for a Grecian feel.
On the opposing scale, Sidewalk Porcelain's dark tones bring a sleek and sophisticated feel. Dark greys and streaks of charcoal give this porcelain visual depth an interest. Using this porcelain in a modern scheme will bring effortless elegance and give a stunning finish. At £70.00 + VAT/m2, these porcelains won't break the bank.
Florence Porcelain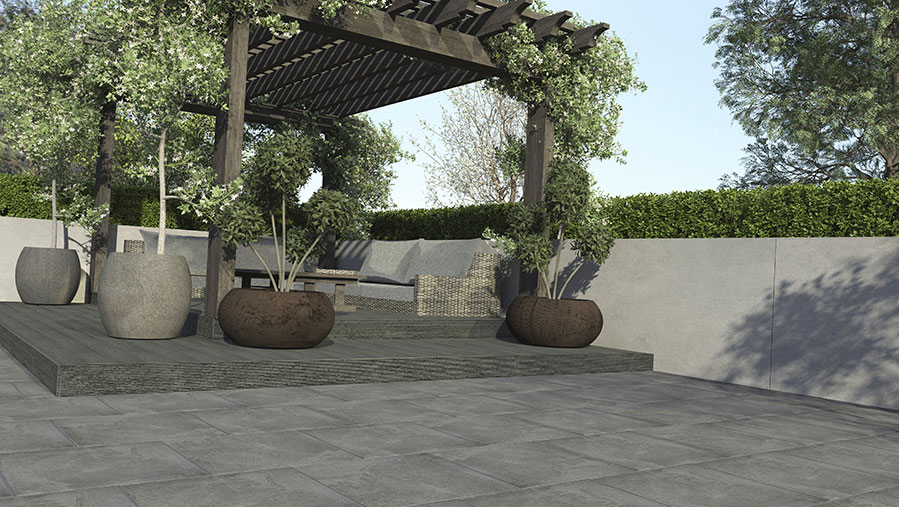 Florence Dark Porcelain Paving creates an sophisticated look whilst not breaking the bank
Our Florence collection has established itself as a firm favourite; forming part of our mid-priced Premium Italian Porcelain range that makes luxury affordable. For 2020 we have increased the range with two new 'Florence' colours.
Florence Dark Porcelain Paving has deep black tones with subtle variations to the texture and veining. Incorporating darker tones into a project will always inject a sense of elegance. Florence Dark offers this elegance at a cost-effective price.
Florence Storm Porcelain Paving meanwhile, offers movement and character. The billowing cloud formations of the soft grey tones deliver an inspiring visual impact for a more classic, natural feel.
These porcelain's will bring exceptional quality and value to your next project, and are available in a 600 x 600 x 20mm dimension, as well as our innovative 900 x 600 x 20mm size. The range starts at a budget-friendly £36.00 + VAT/m2.
Clay Pavers
Nic Howard used Clay Pavers with our Silver Grey Porcelain to wonderful effect at RHS Chelsea, 2016
Clay Pavers are a completely new product for London Stone this year. A classic and esteemed product amongst designers and landscapers across the industry, it was logical for us to introduce them to our collection. This product is extremely versatile; pave an entire driveway with them or use them to border other paving product, either way they will make a stunning impression. High-quality and easy-to-install; Clay Pavers are a simple way to bring interest and character to a scheme. Clay Pavers carry an incredible life-span. This product is used commercially and can last decades in public schemes.
The range is available in four colours that will suit a host of design styles. Antique Red Clay Pavers will bring a rustic feel to a project with their classic blend of browns and reds. Burnt Orange Clay Pavers will add a warm touch with its calming blend of orange and red. For schemes that require a darker tone, Charcoal Grey Clay Pavers will make a bold statement with their burnt charcoal colouring. Walnut Clay Pavers will add movement and interest with the warm, charred grey tones and flecks of white. Whether used as single colours, or mixed together, Clay Pavers are sure to bring long-lasting and sophisticated quality.
With so many exciting new options, why not head over to our e-commerce site for a browse and to start planning your next project with one of our exciting new products.