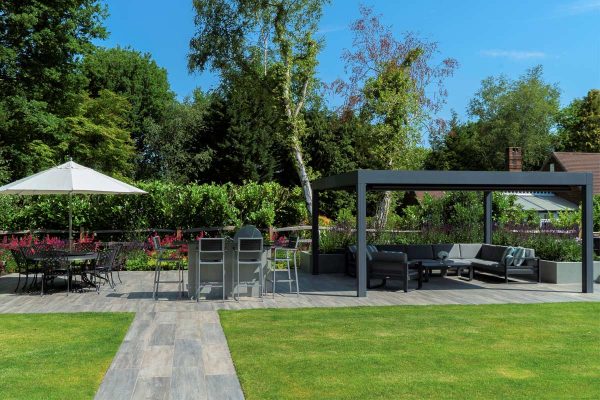 London Stone's Porcelain Guarantee - learn more about how the industry views our reassuring service initiative
By now you'll have hopefully heard about our impressive 10 Year Homeowner Porcelain Guarantee. But let us look at it from a different angle – how does this guarantee effect you? We spoke to some of our clients to better understand their viewpoint.
A Landscaper's Perspective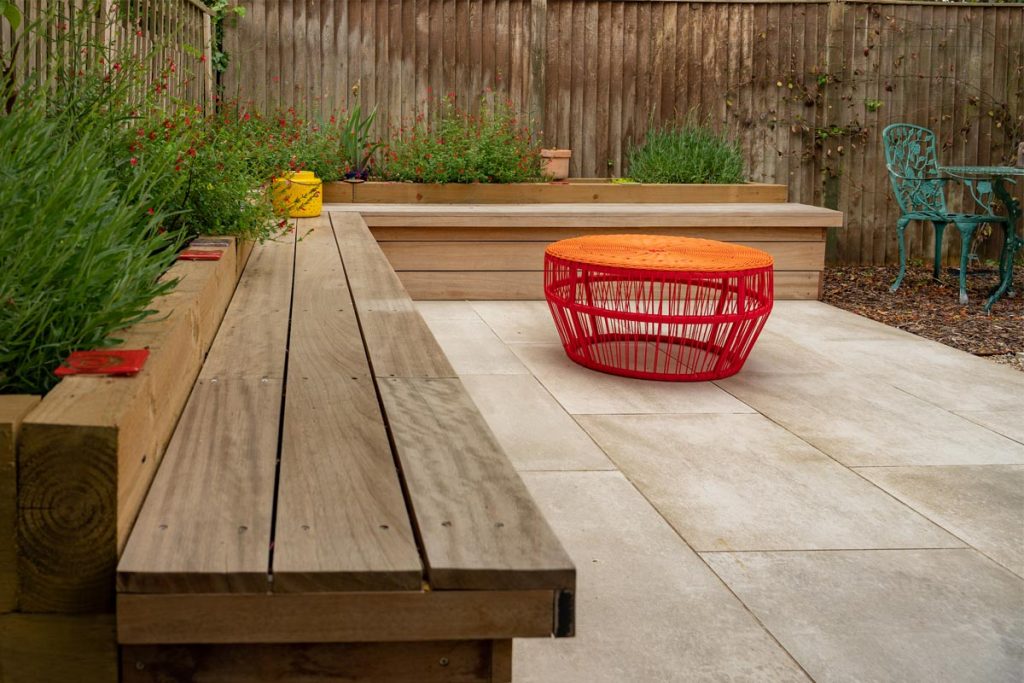 Hythe Garden Landscapes' Cream Porcelain scheme - the material is from our Project Range, which represents great value
Ben Powney, owner of Hythe Garden Landscapes, has used our porcelain paving in projects such as this beautiful scheme, using our Cream Porcelain Paving.
We asked Ben if our guarantee had provided him with any direct benefits. Ben's first thoughts were that not only are we offering a competitive price on the porcelain itself, but that we're also backing this up by offering a guarantee at no extra cost. Thus providing even more value-for-money. He went on to elaborate that the peace of mind that accompanies backing a product with such a comprehensive warranty is invaluable.
Ben has used colourful furniture and accessories to help accentuate the pale porcelain paving - the result is marvellous!
London Stone stand by the quality of our products (whether guaranteed or not) and our hope is that by providing this warranty, our customers can see that we fully support our claims that porcelain will stand the test of time. As Ben puts it, "the industry is not used to such extensive warranties being provided on larger garden products such as paving." We always strive to lead industry standards and hope that this is just one more example we can set.
Another interesting point Ben Made was on the explosion of porcelain in the industry and its ever-growing popularity. With new porcelain products, "flooding the market all the time, it can be overwhelming to know where to begin." Not all porcelain is of the same quality, so our guarantee should provide you with the confidence you need when choosing the right product.
The Designer's View
Built by Langdale Landscapes, this Urban Grey porcelain garden from Karen McClure MSGD complements its surroundings perfectly
Karen McClure MSGD is an award-wining garden designer based in Kent. We spoke to Fiona Campbell, who is Head of Projects at Karen McClure Garden Design Ltd to find out how the porcelain guarantee effects them.
"Sourcing the best materials is of great importance to us. Being able to offer our clients a 10 year guarantee on London Stone porcelain is invaluable. It helps us build trust with our clients, as well as giving us – the material specifiers – peace-of-mind that should we need assistance from London Stone, they are there to support us. The porcelain guarantee is another feature that helps strengthen the relationship between designer and supplier. Another reason why we love working with London Stone!"
Karen and her team have used London Stone porcelain extensively for years across their designs in London and the South East. You may notice their Cinder scheme built by Esse Landscapes from our homepage.
Karen's Cinder scheme shows off the best of this hard-wearing material, using the paving to create stunning pathways and entertaining spaces
A recap of what the guarantee offers
Our 10 Year Homeowner Guarantee is available with all our vitrified porcelain paving and includes the following:
- Like-for-like replacement material free of charge, in the unlikely event of our Porcelain Paving products failing.
- Should your product no longer be available, a material of equivalent value will be provided.
- We will also cover the direct reinstallation cost for a period of up to five years.
We're so confident in the durability and longevity of our porcelain we will cover several potential failings:
- Frost damage to the paving slabs.
- Cracks or breaks in your paving slabs.
- Should the paving begins to delaminate
Full terms of the porcelain guarantee are published online. To apply for your guarantee, click here.