A Special Porcelain Offer To Celebrate Ten Years In Business – read about the way we've expanded our porcelain range as well as giving you a little something extra this year
London Stone has had a few milestones along the way to this, our tenth year in business, and perhaps none has been more significant than the opening of our Bespoke Stone Centre in 2012.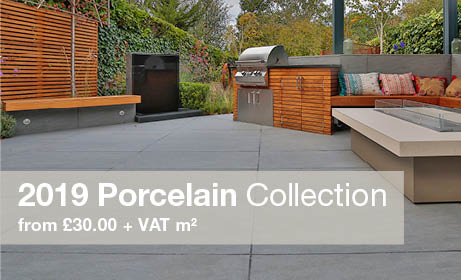 With a porcelain range that starts at just £30.00 m2 + VAT, London Stone have something for every project this year
What this means is that, when we introduce a new product, as we did with Porcelain in 2015, we're in a position to learn for ourselves everything you need to know about working with it. And we're celebrating that this year with a Special Porcelain Offer.
The knowledge and expertise of our skilled team of stone masons in our Bespoke Stone Centre has allowed us in recent years to expand our Porcelain range to include profiled step treads and coping stones. We work with Porcelain daily, so we have the answers to all your questions about cutting, shaping and laying.
As part of our new Service Offering for 2019, we've introduced new colours, giving you a choice of 28 different colours and textures, new Porcelain price points and a new paving format of 900x600x20mm – an industry first, with eleven colours to choose from.
We're giving you free grout and slurry on porcelain orders over £1,000 + VAT
We are also, for 2019, making your Porcelain purchase even easier with the special offer of free grout and priming slurry on all orders over £1,000 (+ VAT). You'll also receive free delivery nationwide.
On top of that, for orders of £2,000 (+VAT) we're adding an 125mm Diamond Precision Blade worth £32.50 + VAT. With a continuous rim to reduce the chance of chipping, our blades have been designed to combine good length of service with accuracy of finish, to ensure that you get precise, smooth, straight cuts, used wet or dry.
Buying from us means cutting out the middle men and getting the information you need on products straight from the people who know most about it. It also means we bend over backwards to get you the order you want when you want it and, last December, our efforts were recognised when we won the BALI Principal Award for Affiliate Exceptional Service.
A major change in the London Stone service offer – FREE nationwide delivery on full packs of natural stone, porcelain, and composite decking
So, ten years on, we're as dedicated as ever to giving you the materials, tools and knowledge you need to complete your projects to the highest standards.
Look out over the next few weeks for a full rundown on our new e-commerce, launching next month, to make ordering even easier. In the meantime, email, phone or use Live Chat above for more information on our Porcelain range.