Whatever you may think about the economic forecast, there's one area where we don't think expert ability is in any question, and that's stone cleaning.
Credit: Mackenzie and Temple
The results of not knowing what you're doing can be all too plain. There are plenty of red-faced contractors out there who have used the wrong solution in the wrong concentration on the wrong stone and ended up with a rather angry householder raging at the state of their patio.
That's exactly what our Paving and Bespoke Cleaning Service avoids. Add in specialist Stain Removal, and we've got you covered.
Mackenzie and Temple recently called us to a build they completed a couple of years ago in Portchester Terrace, London. After the damp summer and autumn of last year, it had taken on a rather green tinge, typical of sandstone that has been deprived of proper attention.
Credit: Mackenzie and Temple.
"We used the cleaning service because we wanted a fail-safe," says Rupert Mackenzie. "Once before we had a contractor use the wrong chemicals." Having a stone specialist was altogether a more comfortable experience. Our cleaning service soon had the paving looking new-laid. "It was more expensive," added Rupert, "but for the price, it's worth it."
Mackenzie and Temple don't just design gardens. They're an architectural practice with a portfolio that includes residential refurbishments and new-build houses. So they've seen some of the worst things that can happen to stone. "We had one client who went away for months, leaving shower gel leaking onto the stone in their bathroom," said Rupert. The result was a lot of black marks (no, we're not talking metaphorically!).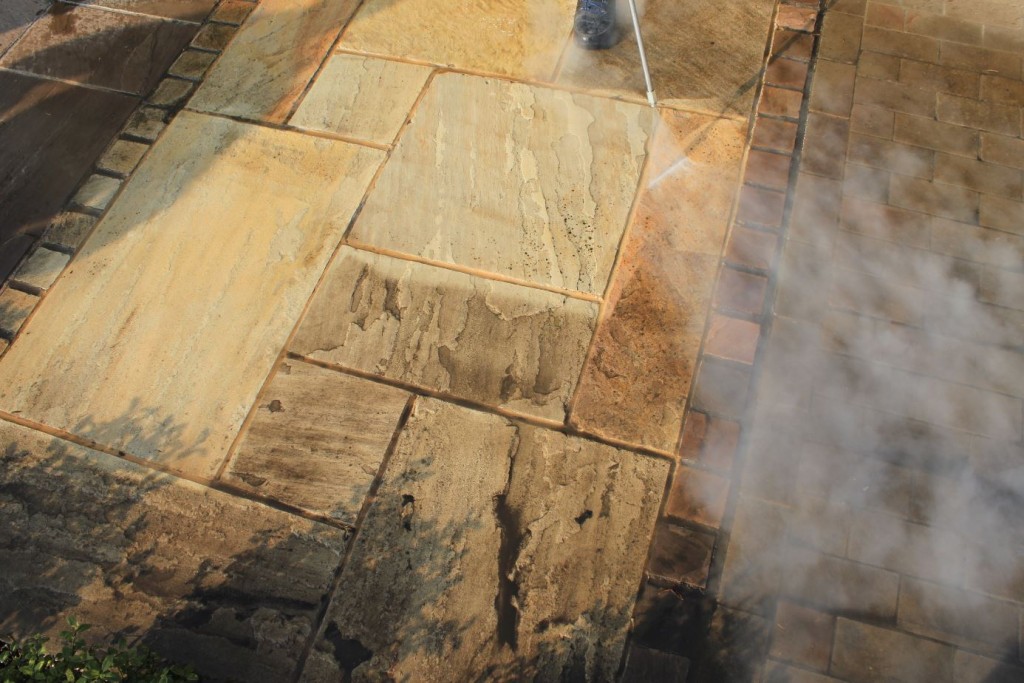 An accident like this, involving substances such as grease, oil and pigment, demands expert stain removal with specialist equipment. We took a lot of time examining the options on the market before selecting DOFF's state-of-the-art technology. Using superheated water and steam, it cleans deep into the pores of Natural Stone, and chemicals are frequently unnecessary.
For us, introducing a Stone Cleaning Service was a natural step. After all, we understand stone; we live it and breathe it (not literally; our dust extraction is industry-standard!) every day, and this way we get to spread our knowledge and look after you beyond the purchase.
What could be more reassuring than getting in experts in stone to give your stone an expert clean?